Since Alain Vigneault arrived, the Rangers have had great success. They appeared in a Stanley Cup Final, went seven games in the Eastern Conference Finals the following year, and are currently in a good position to make the playoffs again this year; but a troubling trend that's caught my eye, has been this coaching staff's decision to play veteran players in the most critical moments in the playoffs, despite said player struggling to bring their best game.
We saw this in Vigneault's first season with Brad Richards, again the next year with Martin St. Louis, and it looks like we'll be seeing it again this season with veteran Dan Boyle. Now I hate to sit here, and pick apart decisions, because the fact is that Vigneault and his staff are excellent, that being said I've watched several of these high pressure games, and thought to myself, "there has to be a better option." It certainly isn't easy for any coach to ask such accomplished hockey players to sit or play a small role on the team, but in some cases that's the price of winning; and with the Rangers' window to win rapidly closing they will have to make the tough call.
The Past
It's 2014, and the Rangers are in the finals against the Los Angeles Kings, but for this series, Brad Richards legs have failed him, and he can no longer make a hard play. Despite this, Richards continues to average 18:00 minutes a game (keep in mind, there were five periods of overtime in the series), and get key power-play time, he finishes the series a minus four, with one assist. The Rangers would only notch two power-play goals in the series, but Richards continued to lead the team in power-play ice-time in every contest with the exception of game five. One quote that stood out to me during this final, was this tweet from Arthur Staple.
Brad Richards looks "Get off my lawn" level old tonight.

— Arthur Staple (@StapeNewsday) June 8, 2014

It was random, but so incredibly accurate for the display on the ice. These were the kind of soft plays that he was making all series. Richards was key in getting the Rangers to the Finals. but he's also a big reason that they couldn't push through and win.

Now St. Louis was a huge part of the Rangers making it to the Cup in the season prior, but in his second year in blue, he became Richards 2.0. Suddenly the legs were gone, he started missing the net on huge chances, and getting premium ice-time all the same. Easily the most infamous moment was game two of the Eastern Conference finals on a Rangers five-on-three advantage, where St. Louis lost a puck in his feet, had it poked past him, and the sent Henrik Lundqvist, and the puck flying into the net for good measure.

Now the legendary winger wasn't in a giant role, but he was still in too large of a role for his level of play. He was averaging 16:30 per game on average, (12th on the team),  and 2:51 on the power-play per game, (sixth on the team); doesn't seem so bad on paper, but he was still playing more than Rick Nash (2:19), Keith Yandle (2:33), Ryan McDonagh (2:26), Kevin Hayes (1:42) and J.T. Miller (1:42). All of these players were playing better, yet they were behind St. Louis on the totem pole.
Now to be fair, both situations are hard, because with Richards the Rangers didn't have another center to put in at even-strength, playing him so much on the power-play was a mistake, but it's also a matter of, "where do you put him?". St. Louis was kind of in the same boat, in that the Rangers are trying to get this guy going, they couldn't trust him too much at even strength, they couldn't bench him, because of the media fire storm it would create, and the coaches couldn't put these players on the fourth-line, because they aren't suited for such work. I'm not saying it's an easy choice, but the coaches get paid so well because it's not easy. The fact is, the Rangers didn't win those years, and a big reason was the dreadful play from their "experienced veterans."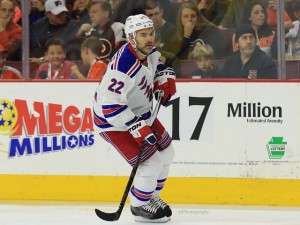 The Present
We're back to the present, and we have Boyle, headed down the same road that his former Lightning comrades had in previous years. As it stands Boyle is averaging 19:14 per game which is sixth on the Rangers, but he's still clearly ahead of Dylan McIlrath on the depth chart. Now factor in that he's fourth on the team in power-play ice-time per game (2:29), and we start to see what the Rangers plan to do once the playoff role around.
Now I like Boyle, he works hard to have success, but right now he's starting to look like his legs are failing him, and once that happens to a hockey player, there's only so much they can do. At the moment, he has 10 points on the man-advantage, good for fourth on the team. But that doesn't change the fact that his overall play seems to be headed in the wrong direction.
For the record, in 2014-2015, St. Louis was second on the Rangers in power-play points with 13, and fourth on the team in overall points with 52; all in 74 games played . When the post-season came he had only seven points in 19 games, one of those was a goal, and three were on the power-play.
In 2013-2014, Richards was third on the Rangers in scoring with 51 points, 19 of those on the power-play, which was best on the team. He was decent in the playoffs up until the Finals, where he had one point in five games played.
Boyle hasn't been terrible all season, but neither were the other players I'm comparing him too. It's been these past games where I've been troubled by some of his decisions with the puck, and his speed all over the ice. Rangers' Head Coach Vigneault said as much before the All-Star Break.
Vigneault on Boyle:"Dan looked a little tired in the last couple games,didn't play real well, so I just felt it's time for Dylan to come in"

— Pat Leonard (@PLeonardNYDN) January 26, 2016
If he's already looking a bit slow, it stands to reason that when the playoffs come around he will only look worse. In that situation the Rangers will have to make a decision, perhaps to protect the player from himself.
My Take
It's interesting that for Richards and St. Louis, these poor playoff performances spelled the end of their Rangers careers, and that says something to me, it says that the coaching staff is seeing the decline, in play, but simply has their hands tied. Remember our old friend John Tortorella? He took some heat for benching Richards against the Bruins, and embarrassing the player, but the fact is that Tortorella had nowhere to put him. Richards didn't deserve to play, and the grinders that stepped in for him did a better job, and helped the Rangers actually win a game against the Bruins in 2012-2013.
Vigneault can learn from this, don't flat out bench a guy and draw media attention, just give them limited minutes, and allocate power-play time to the guys that are helping it. If Boyle gets to the point where he looks lost in space the Rangers can't afford to let him become an anchor on an already inconsistent unit.
All three of the guys I mentioned have had terrific careers in hockey, and that's what makes any decision hard, because the coach also has to try to get these guys going; I just think that when there is no tomorrow, the team can't afford to take the chance.
The featured image was provided by Amy Irvin / The Hockey Writers
I graduated from Brooklyn College with a B.S. in Broadcast Journalism. Shortly after, I began writing for the Full Tilt Hockey Network, where I still contribute, covering a broad range of topics across the NHL.
I have been contributing to The Hockey Writers since February of this year focusing on the New York Rangers. My articles tend to focus on analysis of players, and possible directions that the organization could go.