Free Agency is set to open in a few hours and the Sabres have areas on the roster that they'll look to address.  Buffalo filled their biggest need of a top six forward at the draft and will now focus on filling out the remainder of the roster.  With around 16 million dollars in cap space according to capfriendly.com, the Sabres have flexibility to explore a few different options.
Defense the Top Priority
Buffalo's top priority heading into the free agent frenzy will be signing a veteran defenseman to round out their defense group.  In particular, Tim Murray will be looking to add a left-handed shot to even out his blue line.  The free agent class for defenseman isn't terrible when you compare it to the other positions.  A few names will be available that can make a significant impact to the roster for the next few years
A player that fits what the Sabres are looking for is Pittsburgh Penguins defenseman Paul Martin.  The 34-year-old Minnesota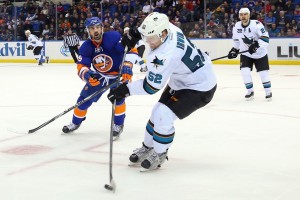 native is familiar with Sabres Head Coach Dan Bylsma.  Martin would bring experience to the blue line and is a solid stay at home defender.  At his age, Martin may be looking to join a team with the opportunity to win right away, but a good sell job and of course a solid financial commitment, could entice him to sign the dotted line.
Matt Irwin is another player the Sabres could quietly target.  He is a left-handed shot which fits the requirement and his age of 27, lines up with the currently constructed Sabres roster.  The Canadian born defender would come a lot cheaper than the big names like Oduya and Martin.  Irwin isn't a flashy name, but he was effective in his time in San Jose.  As a bottom pair blue liner, he could be a perfect fit for the club.  The lower salary will also leave the Sabres the space to utilize the money elsewhere this season or next season with the expectation of a Ryan O'Reilly extension coming in the near future.
Buffalo could look at other options including Francois Beauchemin, Cody Franson, and Matt Hunwick.  Any of these blue liners would match the qualities the Sabres are looking for in the open market.
Searching for Goaltending Competition
Buffalo likely acquired their starting goaltender on day one of the NHL Draft in Robin Lehner.  However, the need for goaltending still exists.  Murray is looking to bring in another goalie to compete with Chad Johnson who the Sabres acquired
during the trade deadline as part of the Neuvirth trade with the New York Islanders.  Johnson has been a career backup and never played a game with the club last season after an injury.
The Sabres can look to bring back a familiar face like Michal Neuvirth, Jhonas Enroth and Anders Lindback.  Enroth is the least likely option I believe due to the fact that Murray likes his goalies to be tall, which seems to be the new NHL trend.  Lindback seems like the most realistic option to me.  He can be a serviceable back up and he thrived during his brief time in Buffalo.  Lindback would welcome a return back to the Sabres where he got his career back on track.
Other goaltending options that make sense include Karri Ramo and Jonas Gustavsson.  Ramo played great for Calgary during last season including the playoffs.  It's a bit surprising the Flames are willing to let the 28-year-old walk in free agency, but he would be a great signing for another team.  The Finnish keeper could form a great one-two punch with Lehner.
The All in Option
Murray appears to have made his big move in the forward ranks already by acquiring O'Reilly.  However I wonder to myself if the Sabres try to see where their luck takes them and make an all-in move.  I don't mean looking to sign a"big" free agent like Matt Beleskey.
I wonder if the Sabres want to try their luck in an offer sheet of a restricted-free-agent.  Offer sheets have been the talk of the offseason so far.  The Sabres have plenty of cap space and could be interested in seeing if they can steal  a young rising player off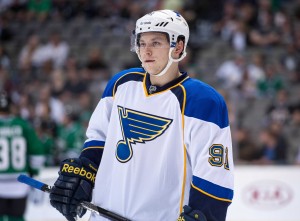 another teams roster.  My target in particular would be St. Louis Blues winger Vladimir Tarasenko.  The Blues have roughly 15 million dollars in cap space, but already have a lot of money tied up in big contracts.  They also currently have only four NHL defenseman under contract.  Doug Armstrong will be looking to add to his blue line for sure this offseason.  Also next season they'll be looking to resign Jaden Schwartz and David Backes to long-term extensions.
If the Sabres present Tarasenko with a 6 year 42 million dollar offer sheet (7 million per) it would only cost them a one first, one second, and one third round pick.  The Sabres farm system can handle losing those picks and the team this year would be a sure bet to be a playoff contender next season.  It's unlikely that the Blues would not match the offer, but if the Sabres front load the money and get creative they may back the Blues into a corner.  This is an option that if I were Murray, I would try to accelerate the rebuild further and set my team up for the foreseeable future.
Chad DeDominicis was born and raised in Buffalo, NY. Chad is currently a Buffalo Sabres contributor for The Hockey Writers. He is an avid sports fan and is passionate about the game of hockey. Chad works hard to share creative and quality content with his readers.