It became abundantly clear that the weakest area of the Boston Bruins game this season was their defense. Like most teams around the NHL, the Bruins depth on the back end is rough.
Captain Zdeno Chara anchors the blueline as the No. 1 defender, followed by offensive minded Torey Krug. One can argue that Kevan Miller would sit third on the depth chart and then trade deadline acquisition John-Michael Liles would fill out the top four. That leaves Adam McQuaid, Joe Morrow, Colin Miller and possibly Brandon Carlo as the remaining defensemen to compete for the final two positions.
One major change came prior to free agency as general manager Don Sweeney decided to buy out the contract of longtime veteran Dennis Seidenberg, leaving a huge hole in the experience department. Sweeney also decided to cut ties with third-year pro-Zach Trotman, allowing him to become a free agent.
The Bruins pursued soon to be free agents Keith Yandle and Alex Goligoski prior to the draft, only to see them sign long-term deals in Florida and Arizona respectively. They also went after Panthers defenseman Dmitry Kulikov, willing to give up a significant bundle in order to obtain his services. Ultimately, the Buffalo Sabres acquired Kulikov on the second day of the draft in a package deal.
So where does that leave the current state of the Bruins blueline?
Currently in Progress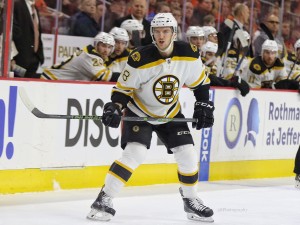 One of the biggest concerns with upgrading the defense position is the salary cap. As it stands right now, the Bruins have $6.7 million in cap space according to General Fanager. They have seven defensemen under roster at the NHL level, accounting for 29% of the team's overall cap hit.
The recent signings of Colin Miller and Joe Morrow suggest that Don Sweeney might be looking for the youngsters to step up and show what they have to provide.
Miller, who split last season between Boston and Providence, recorded 16 points in 42 games which ranked him sixth in scoring among NHL rookie defensemen (tied with Brett Pesce). He was third among rookie defensemen in points per game (0.38) with more than 20 games played, trailing only Shayne Gostisbehere and Colton Parayko. He also recorded 12 points in 20 games with the Providence Bruins. Even though he was sent down to the minors, the B's management was impressed by his offensive flashes and calm presence on the back end.
On the other hand, Morrow has struggled to establish himself at the NHL level. Only in his second year, Morrow found himself out of the lineup more times than in it. He posted seven points in 33 games last season, a number that many have said is low compared to what he was able to do at the junior level with Portland. He's on his third organization and is the only piece left from the Tyler Seguin to Dallas trade. Consistency and a more aggressive nature will help with his adjustment to the big leagues. He could prove to be an asset on the team's second power play unit if coach Claude Julien is willing to give him a chance.
Kevan Miller proved last season that he can be a reliable source on the blue line. His +15 rating was second best to Brad Marchand on the team while averaging 19 minutes per game. His physical play and shot blocking ability were major factors in his success last year. He ranked in the top 50 with 123 blocks and a strong blocks-per-60 minutes rating of 5.45. He'll be going into his third full season with the B's next year and was awarded for his strong play with a four-year contract extension back in May.
Veteran Presence
The Bruins blue line starts and ends with captain Zdeno Chara. Going into his 19th season in the NHL, Chara has certainly made an impact on the game over the last two decades. His role with the Bruins at this stage of his career might be troubling considering his age (39) and some injury issues in the last few years. He has two years left on his contract and some wonder if Chara will continue to play or decide to retire. His experience is valuable to a transitioning Bruins defense, and his 37 points in 80 games showed that he still has some left in the tank.
Although the physical part of his game might be lacking, he can still be effective defensively with a strong poke check. His mobility is a concern and he has a penchant for taking bad penalties at the wrong time. However, Chara's slap shot is still in top form and always intimidating for opposing forwards, defensemen and goalies alike.
A month ago, the Bruins signed Torey Krug to a four-year, $21 million contract. Impressed by Krug's 44 point season, GM Sweeney decided to lock down Krug for the future while the team develops some of their defense prospects. Krug finished fifth on the team in points and first among defensemen. He established several career-highs, including games (81), assists (40), points (44), penalty minutes (33) and shots (244). The offensive side of his game helps the Bruins immensely, as he can provide both at even-strength and on the powerplay.
The fifth-year vet has had issues with the physical side of the game, being pushed around and bowled over because of his small stature. He also isn't one of the quickest players on the ice so when he takes a chance offensively, sometimes he can't get back in time. Positioning has been problematic for Krug at times as well. While his offensive numbers are impressive, Krug's defensive capabilities might be an issue. Is he a number one defenseman? No, but he's one of the Bruins best and might have to anchor the blue line if Chara decides to retire in the near future.
Deadline acquisition John-Michael Liles is an interesting candidate. The Bruins picked him up on February 29 for Anthony Camara, a 3rd round pick in 2016 and a 2017 5th rounder. In the 17 games he played in the black and gold, Liles posted six points while averaging 19:19 in ice time. Sweeney re-signed Liles before he could hit the open market, locking him into a one-year deal worth $2 million.
Following a strong collegiate career, Liles spent seven years with the Colorado Avalanche producing 275 points in 523 games. Quick stops in Toronto and Carolina weren't as productive and saw the Indiana native get a reduction in role and ice time. Once the Bruins acquired Liles, he was given another opportunity to prove that he still has an ability to make an impact on the back end. While he shares some qualities with fellow diminutive defenseman Torey Krug, the 12-year veteran has the mobility and speed to keep up with some of the game's younger players. While he won't be leaned upon as much as Chara and Krug, Liles can be well worth the price as long as he can stay consistent, provide offense, continue blocking shots and crack down on defensive miscues.
Finally, we get to Adam McQuaid, one of the chief concerns among the Bruins defensive squad. On the plus side, McQuaid possesses the size and strength that most of the Bruins roster does not and he is always willing to stick up for his teammates. For a team that isn't physically intimidating as they used to, having McQuaid in the lineup to grind it out can always help give the Bruins an edge.
The only problem is that McQuaid has shown that he can be a major liability in his own zone. Constant miscues, poor judgment and lack of mobility are all causes of less than stellar defensive play by the seventh year pro. McQuaid's penchant for taking bad penalties doesn't help matters either. His skills with the puck are problematic but head coach Claude Julien has always paired him with an offensive minded d-man. He has improved in the penalty killing department, however. In order for him to thrive, the third defense pairing is where he is most comfortable.
So where does this leave the Bruins for next season? They're going into it with virtually the same defense but could be better with the improved play of Torey Krug, Kevan and Colin Miller. Or it could take a step back if Krug or Chara get injured for any long period of time. Either way, the Bruins are going to need the team to improve their all-around defensive game if they are going to get back into the playoffs.