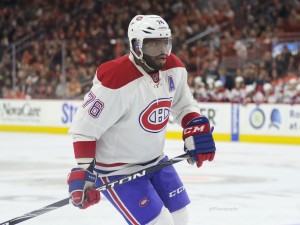 It's been an interesting Montreal Canadiens offseason, filled with many unexpected twists and turns. Maybe fans will have better luck predicting how this coming 2016-17 campaign turns out.
Many might have been able to predict that changes were coming care of general manager Marc Bergevin. However, few could have foreseen the significance of the moves he did end up making, with Shea Weber replacing P.K. Subban in the lineup as a result of one trade and Andrew Shaw essentially taking Lars Eller's roster spot following two others.
However, while this is a drastically different team on paper, in practice it seems more than likely the same old story will unfold. Here are the top five likeliest outcomes in 2016-17 from least to most:
5. Canadiens Stumble out of Gate, Get Bergevin and Therrien Fired
In many ways, this would be a best-case scenario in spite of what would have to be a pretty horrendous start to the season.
On the plus side, if Bergevin and head coach Michel Therrien get fired early enough, the team would still be able to turn it around and make the playoffs. On the minus side, it would probably take the team proverbially missing the playoffs in October for owner Geoff Molson to pull the trigger and fire those responsible for failing to improve the team following a catastrophic 2015-16 season.
If you take Bergevin at his word, Molson seems to be a relatively hands-off owner, at least based on the former's NHL.com interview with Dave Stubbs. As such, it's hard to imagine Molson intervening should anything short of a complete and utter meltdown occur on the ice. With goalie Carey Price presumably 100%, that just doesn't seem like it's in the cards.
Just spoke with @CanadiensMTL @CP0031 ,says he's 100% ready to go. Good to go for World Cup and regular season. Full interview on TH at 7et

— Gino Reda (@GinoRedaTSN) June 21, 2016
4. Canadiens Miss Playoffs with a Healthy Carey Price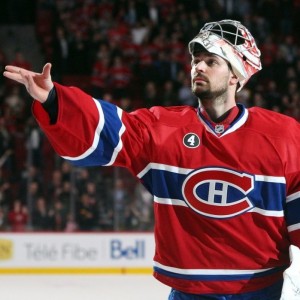 It's much more likely that the only scenario in which Therrien and/or Bergevin get shown the door is if the Habs miss the playoffs in spite of a healthy Price. Unfortunately, based on Therrien's system, which plays perfectly to that strength in between the pipes, that's only slightly more likely than No. 5 on this list.
With two division titles since the last lockout, including one as recently as in 2014-15, it's much more reasonable to assume Bergevin was correct when he said at his post-mortem press conference: "I believe with a healthy Carey Price we're not sitting here today."
The fact of the matter is, when this team is completely healthy, they are a force with which to be reckoned during the regular season. And, on the off chance Price does have a mediocre season, resulting in Montreal missing the playoffs? It's unfortunately not completely out of the question that Bergevin and company weasel out of that gong show alive as well.
Remember, it was only in 2012-2013 that the Canadiens played well in spite of Price and not because of him. He has a history of inconsistency that could rear its ugly head again. In which case, should Canadiens management be held responsible for the near-consensus top goalie in the world not performing up to standards?
I mean, probably, yes. But take a step back for a second. If it were any other superstar on any other team, couldn't you just imagine the bad press revolving around that one player all season long and not the front office? Sad, but true.
3. Canadiens Miss Playoffs Without Price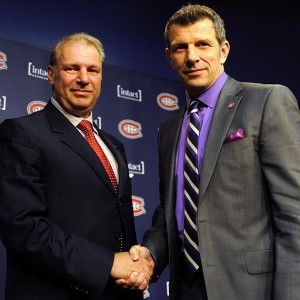 One reason why Price might not play up to his standards is not just his history with inconsistency, but injuries as well. He, of course, played in just 12 games last season, but, prior to that, he failed to finish two of the last three Habs postseason runs as a result of lower-body injuries He also had to sit following the Sochi Olympics with another.
Add it all up and Price may very well be susceptible to yet another injury, in which case the Habs missing the playoffs becomes very realistic. Consider how they started last season 9-0 with him and ultimately finished 38-38-6 and out of the playoffs. There's no doubt all the other injuries played a part, but it's very conceivable, had Price been healthy, the Habs would have persevered. He's that valuable.
The only reason this possibility is this low on the list is because of the sheer unlikelihood Price suffers two serious season-ending injuries in consecutive seasons. There comes a point where there's such a thing as too much bad luck.
Hopefully.
2. Canadiens Contend for Stanley Cup
This isn't just in reference to a strong regular-season finish that places the Habs among the league's elite. I'm talking an Eastern Conference Final appearance at the very least, and it's not completely out of the question, considering the Habs are just two seasons removed from reaching that third round, only to bow out to the New York Rangers.
Most of the parts are still there and, in the case of Price, Max Pacioretty, Brendan Gallagher and Alex Galchenyuk, they're either firmly in or entering their primes. That is a good core, even without Subban, with the Habs getting back a great defenseman in exchange in Weber. Unfortunately, as great as Weber is, he's symptomatic of the reason this is only at No. 2.
Weber obviously does not take all the blame for why the Predators have yet to reach the third round as a franchise. However, when your franchise defenseman is losing a step, it certainly doesn't help.
It helps less when the team you get traded to a) doesn't seem to understand the value of advanced stats and b) seems determined to play rope-a-dope all the way to a championship when it's never successfully happened before in this current analytics era.
The Weber acquisition, due to his playing style relative to Subban's strong possession stats, plays into this theory that the Habs are ready to live and die with Price. And, while, yes, Price is great, that just won't work.
Many fans consider the Stanley Cup the hardest trophy in pro sports to win. Many might hyperbolically refer to the playoffs as war as a result. It is to a certain degree, albeit against as many as four separate opponents. However, playing purely defensive hockey? That's akin to fighting a war of attrition and expecting the majority of your fire to hit right on target en route to a decisive victory.
How likely is that if you're buried deep in a foxhole, blind to the world around you?
#Habs Bergevin: "If you're ever in a foxhole, you want that guy next to you. That's what Michel is to me."

— Chantal 🐾 (@pucksnlife) January 21, 2016
1. Canadiens Get Eliminated Early in Playoffs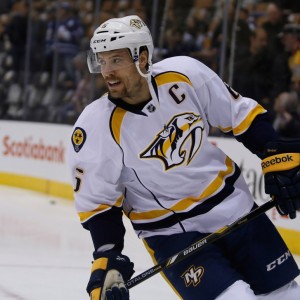 This is probably the year the Habs have to go for it, based on a variety of factors. They include Weber's well-documented decline, Price and Pacioretty having their contracts run out in two and three years respectively, Galchenyuk likely being due a massive raise next season and top-six forward Alexander Radulov having just signed a one-year deal that likely won't be able to be re-upped.
Unfortunately, as explained above, the Habs will have to leverage some incredibly high shooting percentages in the playoffs if they indeed plan to ride Price all the way to a championship. It's much more likely they get eliminated early on, moving on as far as the second round. That's how far they got in 2015, in spite of decent possession stats, which are likely to take a nosedive in 2016-17 without Subban.
In spite of it all, the Habs are a playoff team. That is undeniable. There are too many good players here for that not to be the case. Nevertheless, barring any additional personnel changes on the ice or off it, logic dictates that's all they'll ever be under this current regime. Nothing less, and certainly nothing more.