It has been just over 40 years since the Philadelphia Flyers won their second of back-to-back Stanley Cups in 1975. It was only the franchise's seventh and eighth years of existence and since then every attempt to climb back up the NHL mountain has been thwarted — including six trips to the Stanley Cup Final that ended Cup-less. Some teams (12 of 30 franchises) have never even won one, other teams (six of 12) have never even played in the Final for a chance to win the Cup.
Without a doubt the Stanley Cup is the most difficult trophy to win in major team sports, which is why the players that captivate us all are some of the most passionate professionals in the world. Just like Indiana Jones searching for a Holy Grail, the Philadelphia Flyers have been searching for the missing piece of their championship puzzle and over the years they have accumulated quite the talent in their quest for hockey's Holy Grail.
Some of the players brought in were drafted by the Flyers, some were free agent signings and others were acquired via trade. For this particular article we will only go back twenty seasons, starting with the 1994-95 lockout shortened season — when they made the postseason for the first time after missing the previous four. From the 1995 playoffs until the 2006 playoffs Philadelphia was a regular participant. After missing the 2007 playoffs, they returned again until 2012 — and now have missed the postseason again in two of the past three seasons.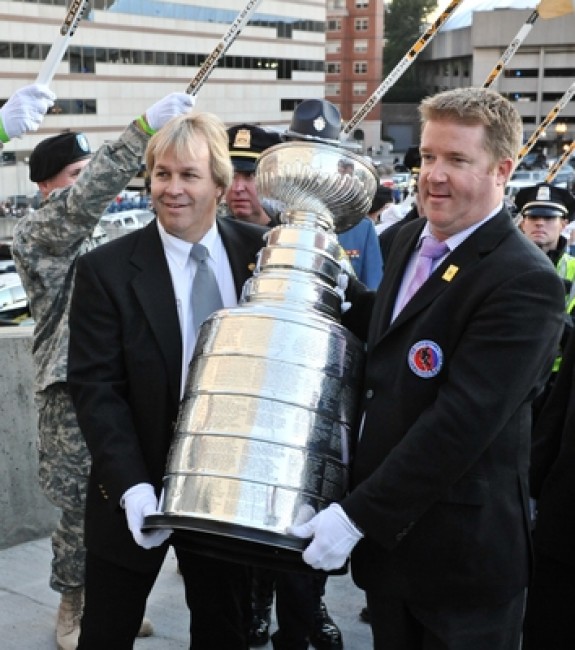 The list of players is a who's who in NHL history in itself — All-Stars, Hall-of-Famers, legends of the game, Stanley Cup winners (with other teams obviously) and some even had more than one tour of duty with the orange and black. On the surface this may seem like a jab at the Flyers, but I assure you it's not even if my job is to primarily cover the New Jersey Devils: they have had 14, 40-win seasons, four Eastern Conference Finals and two Stanley Cup Final appearances in the time period that will be written about. They are an excellent franchise, there is nothing to be ashamed about in being a consistent force in an ever changing and evolving NHL and they have some of the most passionate fans that you will find in any city in North America.
Goalies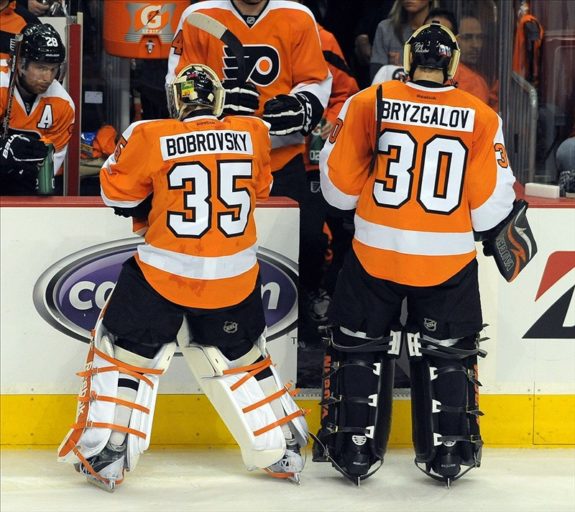 The second Ron Hextall-era in net began in the shortened 1995 season after being their starter from 1986-1992. After Hextall left in 1999 the Flyers had thirteen notable goaltenders ending with the recently-completed 2014-15 campaign and you may or may not be familiar with, or remember, some of the following names: John Vanbiesbrouck, Brian Boucher (2x), Roman Cechmanek, Robert Esche, Jeff Hackett, Sean Burke, Antero Niittymaki, Martin Biron, Michael Leighton, Ray Emery (2x), Sergei Bobrovsky, Ilya Bryzgalov and Steve Mason. Some of them were gambles, others perhaps overpaid; but you can never, ever say that their management has never tried to do what ever they could to give the team a solid chance to contend for a championship.
Defensemen
Just like in net, there have been a plethora of solid, defenders that have patrolled the Philadelphia blueline over the past twenty seasons. Truth be told, fans of other teams have always been jealous of how many excellent NHL players have been acquired one way of another by the Flyers; obviously not all of them have worked out by they have very rarely not tried to make their team better. The twelve most notable that we found while researching this project were: Eric Desjardins, Paul Coffey, Janne Niinimaa, Steve Duchesne, Andy Delmore, Eric Weinrich, Kim Johnsson, Joni Pitkanen, Derian Hatcher, Kimmo Timonen, Chris Pronger and Mark Streit. Obviously Coffey and Pronger are Hall-of-Famers but the latter was acquired when he was still a major difference-maker on a night-in, night-out basis until he was forced to retire because of post-concussion syndrome symptoms that plagued him.
Added 2 pucks to my @NHLFlyers collection today. The Big E/John LeClair and Eric Desjardins Flyers HOF game issues. pic.twitter.com/tlx5NkYY7f

— Cade (@PegCityCade) April 9, 2015
Forwards
Up front you could almost put together about four teams with four lines apiece with all of the magnificent players that have skated for Philly over the past two decades. Out of all of those players none can come close (in my mind) to the game-changing trio that was known as the Legion of Doom line: Mikael Renberg-Eric Lindros-John LeClair.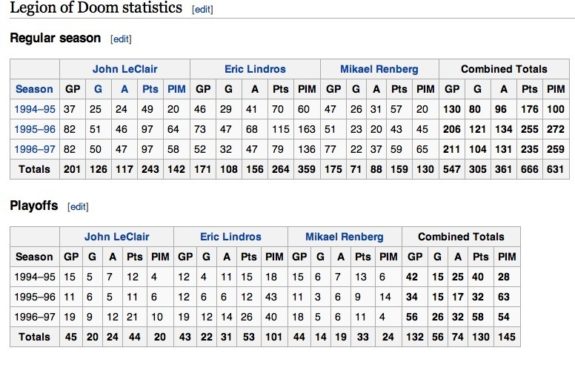 From 1995-97 the trio was among the best, if not the best line in the NHL, wrecking havoc on whomever the opponent was — cumulatively averaging almost a point a game (130 points) in 132 playoff games and in 547 games combined in the regular season they averaged over a point per game (666 points).
Some of you may be too young to remember, but here's a taste of their dominance in 1995-96:
Other players that have come and gone throughout the last twenty Flyers' seasons that you may recognize included: Rod Brind'Amour, Dale Hawerchuk, Craig MacTavish, Kevin Dineen, Joel Otto, Vinny Prospal, Dainius Zubrus, Chris Gratton, Alex Daigle, Mike Sillinger, Keith Jones, Mark Recchi, Simon Gagne, Keith Primeau, Rick Tocchet, Ruslan Fedotenko, Justin Williams, Kevin Stevens, Jeremy Roenick, Adam Oates, Tony Amonte, Sami Kapanen, Patrick Sharp, Michal Handzus, Alexei Zhamnov, Mike Comrie, Peter Forsberg, Jeff Carter, Mike Richards, Petr Nedved, Mike Knuble, Scottie Upshall, Scott Hartnell, Daniel Briere, Joffrey Lupul, James van Riemsdyk, Claude Giroux, Jaromir Jagr, Wayne Simmonds, Jakub Voracek, Max Talbot, Brayden Schenn and Vincent Lecavalier. Quite the list, eh?
14,700 days. (300 to go!)

— SinceFlyersLastCup (@SinceFlyersCup) August 24, 2015
This upcoming season the Flyers will enter with their tenth head coach (Dave Hakstol) since Terry Murray was coach from 1995-97 and the expectations in the minds of many will be the same as they ever were: Stanley Cup or bust. We all know that if Philadelphia is in a playoff position when the trade deadline rolls around that they will likely not be sitting still, instead they will be looking to upgrade — or add that missing piece that they have been seeking since 1975.
Dan Rice can be reached via Twitter: @DRdiabloTHW or via Email: drdiablo321@yahoo.com