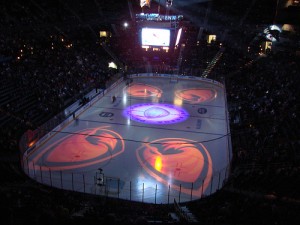 As Pittsburgh has won their revenge for the second consecutive Detroit/Pittsburgh series, so begins an NHL offseason for all 30 teams. The draft is approaching, and shortly thereafter, the free agnecy frenzy. This is the point where those struggling teams' owners get their butts in gear to reach a playoff berth the next season. Some start the rebuild with the draft. Some get their ducks in a row for the free agency frenzy.
For the Thrashers, it's different. Atlanta is heading into the single most important offseason since their inception in 1999. For the Thrashers, it doesn't start with free agency or the draft. It starts with #17, and it's a daunting task for general manager Don Waddell. It's no secret that if Atlanta fails to build a contender, they will lose their most important superstar in Ilya Kovalchuk, and subsequently the fans.
How do you build a contender in Atlanta, a team that has only once made the playoffs and failed to win a single post-season game? How do you recover from the damages of Erik Christensen and Jason Williams as the supposed salvation to the top-6, the Alexei Zhitnik/Braydon Coburn switch, the draft of Alex Bourret, the tragedy of Dan Snyder, Curt Fraser as head coach, an ownership that would rather have their NBA team succeed, and a myriad of disappointed season ticket holders? To condense, how do you convince Ilya Kovalchuk that things have finally turned around, no bluffin'.
It can be done, and I even argue that Atlanta could find another playoff berth as soon as the 09/10 season, but much needs to be done. I'm not a fan of the 1, 2, 3 Guide to Success, so I'll be somewhat broad.
Identify the needs. It seems now, defense needs a boost to save their inexcusable GA from last season. Kovalchuk has found his RW in Bryan Little, but he wants Slava Kozlov's RW. Colby Armstrong has been doing a fine job, but fine isn't good enough. I believe he would fare better with newly extended Marty Reasoner on a checking line. Finally, most of the goals against can be thanked (or blamed) on the team's penalty killing. Is Colin Stuart really the final answer?
Identify the untouchables. Of course Ilya Kovalchuk needs to be a part of the organization, but there is also a core of great players that were integral in the Thrashers late-season success. Bryan Little has proven at his young age that he is a legitimate 30-goal scorer. Slava Kozlov has a no-trade clause, Todd White had a career year and developed excellent chemistry with Kovalchuk and Kozlov on both lines, and Colby Armstrong adds some needed grit to any forward line. Rich Peverly, a waivers acquisition from Nashville, puts up nearly a point per game. In the Thrashers case, they will need to identify the players that fit with coach John Anderson's championship-winning system. Jason Williams and Erik Christensen couldn't do it, and free agents like Eric Perrin may have to skip town for good.
Setting the bar. Building a contender requires a team like the Thrashers to be realistic. The [Atlanta] Flames may say different, but Atlanta hockey since 1999 isn't exactly rich in its history, nor has their excessive failure convinced the league's players that they could win a cup in Atlanta. Last offseason, the Thrashers failed to convince Brian Campbell as a top defenseman or Todd McClellan as a head coach. Atlanta is no top option for any quality free agent. Not that Atlanta shouldn't attempt to grab a Jay Bouwmeester for D or a Brian Gionta for RW depth, but they shouldn't invest their future in those names or names of similar quality. It leads to disappointment, it will catch management off guard, and before they know it, the free agency pool is sucked dry. Good players want to win, and they will first listen to offers from teams that win. Realistically, a Ville Koistinen type would be more open to rebuiliding Atlanta than Bouwmeester would.
The goalie. Atlanta realizes that in order to get big, they will need to give big, and the Thrashers have one great advantage. Goaltending. Atlanta has a promising young prospect in Ondrej Pavelec, and they have current restricted free-agent goaltender Kari Lehtonen. Advantages come with both of them: Lehtonen is an NHL-level goaltender; Pavelec is young and still cooking in the farm system. Disadvantages come with both of them: Inconsistency for Lehtonen, uncertainty about Pavelec. There are a number of teams willing to give up big for solid goaltending, and that may be the Thrashers ticket to picking up needed skating depth.
The draft. Given that Atlanta is not ready to grab quality free agents, the Thrashers in their 4th overall pick will need to choose someone who is ready to make an immediate impact. This opens up the drafting-best-player-available versus drafting-for-need debate.
What has been done so far? Good things. Very good things. This last weekend, it was reported that Rick Dudley, assistant GM of the Chicago Blackhawks had resigned and hours later, had accepted an associate GM position with the Atlanta Thrashers front office. Speculation warning ahead: does it make you wonder why Dudley would leave a growing and successful organization to accept the same position in a failing and slightly corrupt organization? On top of that, why would he work next to somebody who is highly criticized, and is the one constant since the team's inception? Could this be a replacement in the works? Methinks Dudley is seeking a promotion, and he knows it may happen in Atlanta.
The movement favored by the fans has to be the re-signing of center Marty Reasoner who had a career high season in his first year in Atlanta. The fans are excited, and so is the checking line. Also, promising defenseman and a hand-picking by Lou Lamoriello by name of Anssi Salmela has decided to extend his stay in Atlanta for two more seasons.
So far, before the draft, the organization is identifying those players that have been integral in the late season surge and confidence of the Thrashers. As Don Waddell is entering his most critical and stressful offseason, rest assured, he will not sleep at night until Atlanta is a contender, and Ilya Kovalchuk gets comfortable in his Thrashers sweater. Good moves are happening now, but there are still many high mountains to climb before October.