By: Andrew Nawn
For the better part of last season the Minnesota Wild looked to be a Western Conference playoff team and at times a top 3 seed as they flew out of the gate in the 2011 season going 20-7-3 through December 10th. With injures decimating the Wild, the team went into a drought in which they won just 2 games out of  their next 17 games and slipped to the middle of the Western Conference. After another rough month of continuing injuries haunting Minnesota, they managed to win just four games in the month of February and fell out of the playoff race. The Wild finished the 2011-12 season 35-36-11 (81 points) good for 4th place in the North West Division and 12th place in the Western Conference.   For what some people thought could be a breakout season for the franchise became just another season in the State of Hockey.
With that being said, here are my three keys for the Minnesota Wild to achieve success this season and give the State of Hockey a taste of the NHL playoffs again, something the state has been missing for over four seasons now.
1.      The Rejuvenation of Dany Heatley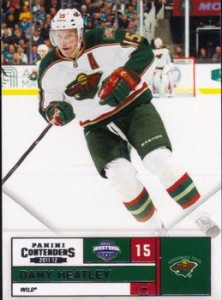 It wasn't too long ago that many considered Dany Heatley to be one of deadliest scorers in the game as he posted back to back 100 plus point seasons in his first two seasons with the Ottawa Senators. Unfortunately though it seems like those two years with the Senators have only been a glimpse of Heatley ultimate potential, as he has gone down in total points every season since posting a career high 108 points (50 goals, 55 assists) with Ottawa in 2006-2007. Last year seemed no different in Heatley's downward spiral as he posted a mediocre 53 points (24 goals, 29 assists) in 82 games, in his first season in Minnesota after being traded for Martin Havlat in the 2011 off-season.
The 24 goals Heatley scored where the lowest he had scored in his 10 year career and his 53 points were also the lowest of his career. The dramatic struggles Heatley endured can be a direct result of Mikko Koivu, (Minnesota's best playmaker) missing 27 games last season. Forcing Heatley to skate with a second line center, but that excuse can only go so far for who guy has seen his numbers going down for five consecutive seasons.
With the addition of star forward Zach Parise and a healthy Mikko Koivu, Minnesota needs a productive Dany Heatley to make this one of the top lines in the NHL. If Heatley can return his old form, this line could be a scoring threat every time they touch the ice.
2.      Zach Parise and Ryan Suter need to live up to their contracts.
When Minnesota signed this off season's top free agent prizes New Jersey Devil's Forward Zach Parise and Nashville Predators Defenseman Ryan Suter to identical deals of 13 years for 98 million, this put Minnesota in talks of winning the Western Conference or at least being a strong contender for it.
The two natives of Minnesota will be highly depended on to fill holes on the offensive side as well as the defensive side that have haunted the team in seasons past. Parise has been a natural goal scorer in the NHL, averaging 32 goals over 6 seasons, if you exclude the 2010-11 season in which he only played 13 games because of a shoulder injury. He will be counted on to generate goals for a team that finished in dead last in goals scored a game with a measly 2.02 goals, as well as the Wild's power play which finished in 27th only converting 15.1% of their power play opportunities.
On the blue line Ryan Suter will be depended on to log solid minutes and provide leadership to an at best mediocre defensive core. Suter has proved he is a respected and well liked guy as he was Alternate Captain for Team U.S.A at the 2010 Olympics and seems to bring the most out of skaters around him, hopefully this will be the case in Minnesota. If both of these big name free agents can live up to what they have done so far in their NHL careers, Minnesota will have something they have been missing since the departure of Marion Gaborik, a true hockey star to dawn the Minnesota Wild Jersey.
 3.      Prospects need to make immediate impact
Mikael Grandlund, Charlie Coyle, and Jason Zucker lead the list of players that are currently playing in Houston but could be called up in the next week to participate in the Wild's abbreviated pre-season camp. These three have used their time to develop their skills down in the American Hockey League during the NHL and will look to provide some added depth and scoring to Minnesota throughout the short season.
Grandlund, Minnesota's 9th overall pick in the 2010 draft is considered by many as Minnesota's top prospect. Grandlund who decided to finally come over to the United States after gaining more experience in his native Finland posted a nice line of 21 points ( 8 goals, 13 assists) in 21 games down in Houston. He will be counted on to provide depth in the Center department along with other prospect Charlie Coyle, who was acquired in the Brent Burns deal. Coyle is a big forward with great speed and has been solid down in Houston tallying 20 points (12 goals, 8 assists) in 35 games, he still needs time to develop but can provide depth for Minnesota if needed.
Jason Zucker rounds out the list of prospects that could impact the Wild. Zucker a 2nd round pick in the 2010 Draft as well has been dominate down in Houston averaging a little more than a point per game as he's registered 32 points (15 goals, 17 assists) in 31 games and could be looked upon to add to the secondary scoring for Minnesota.  All three of these top prospects could add that extra spark that propels Minnesota for a deep playoff run.
With a few new key additions, a healthy Mikko Koivu, and a rejuvenated goalie in Niklas Backstrom, Minnesota will look to enter a territory they have become unfamiliar to, the NHL Playoffs.