It is common knowledge, especially in the hockey world, that the short person gets overlooked. Both literally and figuratively. I am saying this based off of experience. A four-foot-ten girl trying to make it in the sporting world gets just as overlooked as hockey players under five-foot-ten. Most players that size go undrafted, *cough* Marty St. Louis.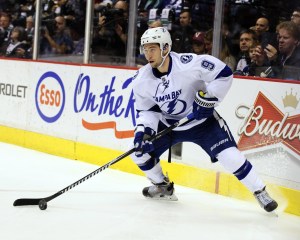 Marty is a little powerhouse on the ice and when he left the Lightning, he was quickly replaced by another undrafted shorty. Tyler Johnson. T. Johnny, as he is known, has become a superstar for the team and a fan favourite. As if Johnson's playoff run was was not already going well, he helped his team top New York at home with a hat trick. He became the first Lightning player to record a hat trick during the playoffs, as well as scoring a short-handed goal and a power play goal in the same period.
In the 2015 playoffs, Johnson has a league best 11 goals, runner-up Corey Perry has seven, and he also has 16 points, Perry has 15. His four game winning games area also first in the league.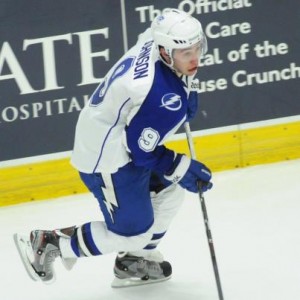 When Johnson was signed by the Tampa Bay Lightning in 2011, he was given a three-year entry-level contract and played with the Norfolk Admiral's the following year. In March 2012 he went on a 13-game scoring streak that included back-to-back two goal games. It was the longest by a rookie in more than six years and helped him earn the Reebok/AHL Player of the Month award.
His rookie season with the Lightning finall came in 2013-14 where he became a prominent member of Tampa's offence and finished with 24 goals, 26 assists, and 50 points in 82 games. That year, along with fellow Bolt, Ondrej Palat, he was named a Calder Trophy finalist for top rookie, but both Bolts lost out to the Avalanche's Nathan MacKinnion.  This past season he scored 29 goals and 43 assists that totaled 72 points in his 77 games. His 72 points put him at 15th overall for points in the league. Quite a feat for an undrafted player. The twenty-four year old was also chosen for the NHL All-Star Game, but dropped out at the last minute due to injury.
We can't stop watching Tyler Johnson's hat trick from last night: http://t.co/j6IBElzThJ

🎩🎩🎩

— Tampa Bay Lightning (@TBLightning) May 19, 2015
Although he is only five-foot-nine, Johnson continues to shine on the ice and his happy-go-lucky smile makes him one of the favourite Bolts amongst the fans. This cute little countdown from @BoltProspects shows how the fans enjoy @tjohnny09
4-1 final. Eight down, eight Tyler Johnson game faces to go. #tblightning pic.twitter.com/SFAuoWdxOE

— Bolt Prospects (@BoltProspects) May 13, 2015
The Lightning are one team who takes chances on undersized players and it pays off for them. Martin St. Louis, Cory Conacher, and Tyler Johnson are three smaller than average players who have had stellar careers with the Lightning. After Marty St. Louis went to the Rangers, Johnson stepped up and took his place on the team. The Triplet Line that includes Johnson and fellow young guns, Ondrej Palat, and Nikita Kucherov is one line that all hockey fans should be keeping an eye on. They are strong alone, but stronger together and with these two guys flanking him, Johnson's play in the rest of the playoffs and the future is sure to be that of superstardom.
On her previous stint with The Hockey Writers, Casey covered the Tampa Bay Lightning, but she has returned to take on the Carolina Hurricanes. Even though she is Steel City born, a former season ticker member with the Lightning, and lives in Orlando, the Canes have always been her favourite team. She started her hockey career as Keeper of Time for the California University of Pennsylvania Vulcan Hockey Club while going to school for Sport Management. She hopes to one day work with Hockey Ministries International as a team chaplain. You can usually find her tweeting about hockey or posting pictures on Instagram.