When Penguins GM Jim Rutherford revealed to us that Marc-Andre Fleury would begin the season with the team, the general consensus in Pittsburgh was that it's only a matter of time before he's moved in advance of the upcoming expansion draft.
Jim Rutherford just told me that MA Fleury will start the season with the Penguins.

— John Shannon (@JSportsnet) June 25, 2016
Local pundits push the "certainty" that Fleury will be dealt at the trade deadline for draft picks, prospects and cap relief. Many believe that if he were to move, he'd be a piece that would return a potential overhaul to the farm system.
If He Were to Move?
While others are preparing their eulogy, there's another side of this story to consider. There's been talk locally that upper management is split when considering Fleury's future as a Penguin. And if they truly are split, they aren't without good reason. The regular season that Fleury had in 2015-16 was one of his finest performances as a Penguin. It's tough to believe that he'd have done much worse than Matt Murray in his historic playoff run. Would it really be that simple to send the franchise's all-time goalie into the great unknown?
Playing devil's advocate, this reveals the unthinkable notion that it just might be possible to gain something from the situation while still retaining Fleury. Matt Murray is certainly not untouchable in a trade. Surely, he's close to it, but by no means is he cemented into the roster.
Exploring this deal from the strictly logical point of view, we can see a number of factors in its favor:
Matt Murray is a young, talented goaltender who played a key role in winning a Stanley Cup
Murray is also incredibly affordable
Pittsburgh has incredible young goaltending depth (and they can't all play at once)
Fleury has proven that he's still performing at a high level
Our Most Marketable Asset
Prior to the improbable run to winning the Stanley Cup on the goaltending of Matt Murray, the Penguins were more than happy to have a franchise-caliber goaltender to be locked up with such a reasonable contract. The emergence and arrival of Murray should not be cause for buyer's remorse on behalf of the Pens' brass. Correctly answering the most important question of Pittsburgh's offseason is paramount. "Who is the better goaltender right now?" Many can choose to ignore the developmental inadequacies of Matt Murray's positioning in the net, or his weak glove hand. Many will also choose to incorrectly identify Fleury's playoff loss as a step towards decline.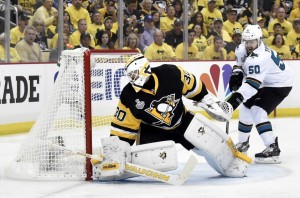 Let us not forget, the rumors have Fleury moved at the deadline for picks and prospects. A move like that would be awfully curious for a team poised to defend their title. Those kinds of moves are typically initiated by non-playoff teams whose tenured veterans have worn out their welcome. Those are the rebuilding teams. Dumping a franchise goalie at the trade deadline in a move destined to help the future won't help the team recapture the cup in 2016-17.
Like it or not, at this very moment, Marc-Andre Fleury is the best goaltender in Pittsburgh right now. Perhaps that will change in one way or another in the near future. The Penguins have the depth in upcoming Tristan Jarry to make an educated gamble. If they truly believed in Fleury and their goaltending depth in the minors/juniors, they can capitalize on perhaps the highest trade value that Matt Murray will ever realize – a young, affordable Stanley Cup champion who could fetch a king's ransom on the trading block.