When the Ottawa Senators parted ways with Jason Spezza last July, it was the end of an era in Canada's capital. Spezza, who had been the cornerstone of the franchise for nearly a decade, was traded to the Dallas Stars in exchange for right winger Alex Chiasson. But while the trade was a good move for the Sens financially – Spezza earning $7.5 million per year next to Chiasson's modest $900,000 – it brought them a promising forward in return.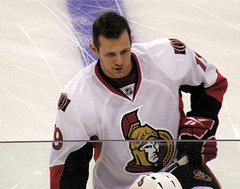 Drafting him 38th overall in 2008, the Dallas Stars had high hopes for Alex Chiasson. The team's Director of Player Personnel Les Jackson gushed over the Montreal native's hockey intelligence.
"He's a pro," Jackson said. "Like (Jack) Campbell, (Patrik) Nemeth, (Brenden) Dillon, he's got it. You can tell by watching a player whether or not he's got hockey intelligence. And he's got it. There's no question."
Two weeks ago, the restricted free agent filed for arbitration and you can be sure that general manager Bryan Murray will seriously consider giving Chiasson a big raise.
In his first year in Ottawa, Chiasson scored 11 goals and added 15 assists in 76 games, and while those numbers are modest in comparison to teammates Bobby Ryan and fellow RFA Mike Hoffman, Chiasson nevertheless has proven that his acquisition from Dallas bore more significance for his new team than a mere salary dump.
Last season, Chiasson was instrumental on the power play, scoring three goals and adding three helpers, while using his 6′ 4, 205-pound frame to his advantage, dishing out a career-high 93 hits.
As of now, Chiasson is, at best, a second-line winger in Ottawa, but he brings just as much to the table as the aforementioned Ryan and Hoffman. Even though his contributions may not always result in his name appearing on the scoresheet, the Boston University alum does possess great potential as both a scorer and a power forward.
When the 2015-16 season kicks off, Chiasson will have just turned 25 and, assuming he does re-sign with the Sens, will have plenty of time not only to hone his strengths – which include his aforementioned size, hockey I.Q. and power play efficiency – but will also have room to improve his defensive game which admittedly needs work.
Fans in Ottawa ought to be prepared for a better, hungrier version of their No. 90. After all, with the NHL's salary cap increased, Chiasson's new salary will most likely leave Bryan Murray and company with ample wiggle room.
That paired with Chiasson's tireless contributions and tremendous potential will definitely be something that the Ottawa Senators can take to the bank.