The Pittsburgh Penguins have had some outstanding young defensemen within their organization for the last five years. However, one has stood head and shoulders above the rest in terms of production, speed adapting to the NHL game and hockey IQ and his name is Olli Maatta. He was the Penguins first-round draft pick during the 2012 NHL entry draft (22nd overall) and was the biggest surprise in Pittsburgh during the 2013-14 season.
During the offseason that followed the 2012-13 season, very little was known or expected from Maatta. He was a blue chip defensive prospect who figured to need a few years to develop into an NHL-ready defender. This was not a knock on Maatta or any other young defender, but the truth is that defensemen often take the longest time to develop and be ready for NHL action.
However, Maatta proved that he was not going to fall into this trap and during the training camp preceding the 2013-14 season he worked his way into the starting lineup. He appeared in 78 games during that season and was one of the Penguins' best and most consistent defenders. Maatta also showed to many that he has quite the offensive flair to his game as he scored nine goals and assisted on 20 more, while maintaining a +8 rating.
Maatta's Forgettable 2014-15 Season
Everything looked to be going great for the then 18-year old defender. But during the 2013-14 playoffs, Maatta's shoulder was hurt and he played through the pain. During the following offseason, he underwent shoulder surgery and looked to miss the start of the 2014-15 season.
If Maatta proved anything during the prior season, it's that he lives to defy the odds. He not only recovered from his surgery and was ready for the start of the season, but he participated in training camp before opening night. It had appeared that the Finnish player was ready to go for another full season, but looking back, he wants to put the 2014-15 season in the rear view mirror.
After just 10 games into the season, it was announced that Maatta had to have a potentially cancerous tumor removed from his thyroid. Surgery was a success and within two weeks, Maatta had rejoined the Penguins. But all was not well inside Maatta's body. He made in through just 10 more games before it was announced that he would miss the rest of the Penguins' season. The same shoulder that was surgically repaired did not hold up and he was going to have another operation.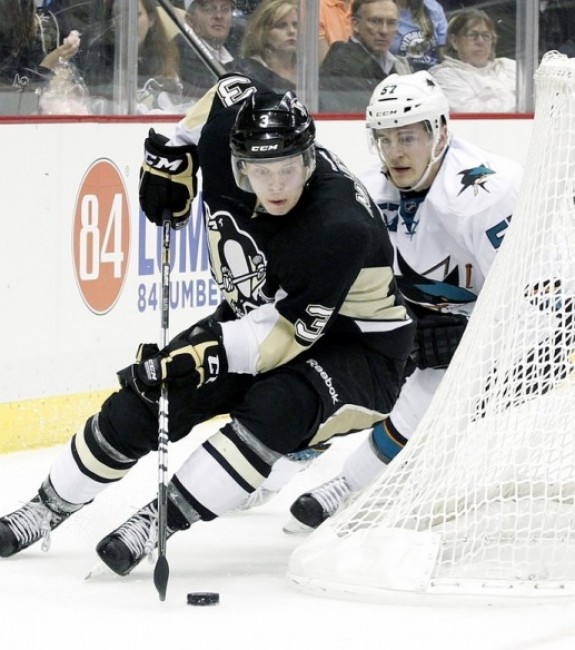 What Is Maatta's Current Status?
It was announced just a few days ago that Maatta's recovery was on schedule and he looks to be ready to go when training camp starts in just a few months. Here's what Maatta had to say about his recovery and staying healthy.
We're on schedule. Obviously the goal is to be ready for training camp. Everything is going as we planned, so that's the goal. I just want to leave last season all behind me. I don't even think of it. That's not on my mind. I'm getting healthy and better every day and every week. I want to be a big part of this team and produce. That's what I'm driving towards, just helping my team all I can to win the Stanley Cup.
While it's a noble goal to be thinking about the team and immediate success, the Penguins' doctors need to monitor him closely during the season. Maatta probably won't like being watched like a hawk, but I believe that's what needs to happen. The Penguins top four defenders for next season look to be Maatta and Letang on the top pair with Ian Cole and Derrick Pouliot on the second. Now just consider each player, Letang has had more injuries than we can count, Maatta has had a rough start to his career and Pouliot also had shoulder surgery last offseason.
In the short-term a healthy Maatta will help the Penguins, but they need him for the long haul as well. He is going to be what they build their defense around for as long as he wants to play hockey. It's highly unlikely that Maatta will ever play in a different uniform because he's a very special player. At only 20 years old, he's already endured so much and the Penguins, especially this season, can't afford to lose him to injuries.