The Washington Capitals' Nicklas Backstrom is one of the best centers in the NHL. Once he recovers from offseason hip surgery, he'll almost certainly line up between superstar Alex Ovechkin and the newly acquired T.J. Oshie.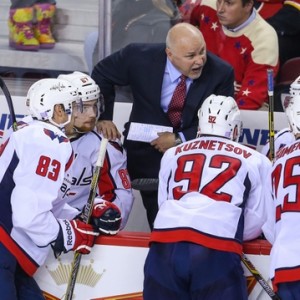 That top line is shaping up to produce the goods next season thanks to its perennial assist king Backstrom. However, the second-line center position was a revolving door in recent seasons. And the third line center is no different. Who will fill the roles next term, and is a trade deal an option?
Evgeny Kuznetsov has certainly earned the right to the second-line center spot; he had a stellar season in 2014-15, with 11 goals, 26 assists for 37 points. Andre Burakovsky is another young player looking to break his way into the top two lines and impressed fans and coaching staff alike of late – especially during the playoffs.
Jay Beagle, as good as he is in face-off situations, is not a top-six player, and other possibility Brooks Laich hasn't shown enough to step up; both Beagle and Laich will be peripheral next year.
Capitals' Usual Second Liner
Of course, there is restricted free agent Marcus Johansson – the usual suspect at second-line center. But, without a new contract inked yet heading into late July, it's clear that the possibility of not bringing him back is looming. That prospect would not only open up a second-line center spot, it would open up a third-line center spot – a spot vacated by departing UFA Eric Fehr.
"I think we're going to let it play out," stated the Capitals' general manager Brian MacLellan to reporters recently. "We could address it internally, the third-line center spot, and also depending on how the contract situation plays itself out, there's a couple options in the free agency market that we see, and we'll explore the trade market up until training camp. There might be something in that venue."
Capitals head coach Barry Trotz echoed his GM's sentiment:
"We have some options, but at the same time I know we're not done looking and we don't have a lot of room," Trotz said. "We'll look internally within our own group first, and if something is the right fit, I know Mac will go out and do an excellent job like he has and fill a hole if we feel we have one."
Which free agents are still available who are as good as Johansson, or even Fehr, Laich or Beagle? It's slim pickings at best. And, after the recent trade acquisition of forwards Oshie (from the St. Louis Blues) and free agency pickup of Justin Williams (from the LA Kings), there is no reason to trade for a third-line center when the team already has one in Burakovsky and Beagle. Therefore, the GM and head coach's commentary is likely empty talk. I don't see a trade upcoming.
The Capitals have approximately $10.9 million in cap space with Johansson and other RFA Braden Holtby not inked. Of Johansson and Holtby, there is no way the latter is allowed to move on – not after the incredible season the Caps' number one goalie just completed.
We likely won't know who will suit up as a second-line center or third-line center for the Capitals until near the end of training camp. And even at that time, if Johansson moves on, the second-line spot (filled by numerous players over the last five or six seasons) may maintain its revolving-door status.