There's definitely something more to this Ray Emery fellow than people are seeing. Those that were looking for any reason to wash away the Flyers from Stanley Cup contention this summer need to now re-assess their views after two spectacular regular season games from the new netminder in Philadelphia.
That's not to say though that two back-to-back road wins against playoff contenders is enough to get a real feel on the Philadelphia Flyers' goaltending situation. In Carolina on Friday night Emery stopped all 28 shots that the Hurricanes threw at him. His orange and black career opened with a shutout, but he didn't have to be spectacular. Since he is playing behind arguably the best defense in the NHL he will not have to be incredible every night, but all anyone asks of the new goalie is that he remains consistent.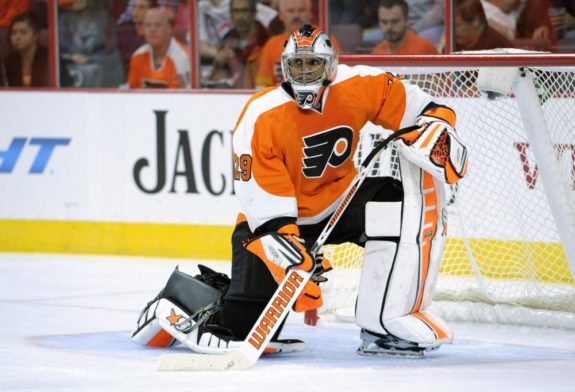 In game two the very next day the entire theory changed.
The New Jersey Devils fought hard against a relentless Flyers' offensive attack and managed to get some very good scoring chances. Emery stepped up when he had to and made spectacular save after spectacular save on his way to a 5-2 victory off of 26 shots against. There weren't many chances for the Devils with the Flyers' defense as suffocating as ever, but when New Jersey gets into the slot they are among the scariest finishing teams in the NHL. The Devils first tally, a power-play goal, didn't come until nearly 10 minutes left in the final period when the Flyers were already up 4-0 and were giving many of their stars a little extra rest. Emery was 16 seconds away from starting the season perfect for 110 minutes of play between the pipes.
Consistent, for Emery, means doing whatever it takes to win. While he realizes winning 82-0 games a year is impossible, he'd certainly like to. Like Chris Pronger, the biggest offseason acquisition for Philadelphia, the new goalie in town is a fierce competitor who wants to win no matter what it takes.
One of the Flyers' top defenders, Braydon Coburn, knows well what Emery is like. He and Jeff Carter knew him from before Philadelphia, and while the rest of the locker room was unsure of how to react toward the Emery signing this offseason, they knew what to expect.
"I can't speak for anyone else, but I knew what kind of guy he was," Coburn said. "I knew what kind of goalie he was. I'm sure he wishes things went a different way. But for him to come here and get a second chance and a new start, it's like a lot of guys in this locker room. Not everyone has been perfect since the start of their career."
So far "Razor" has made all the right moves. He has said all of the right things. He has given his stick away to kids after every game and tried to stay out of the spotlight this offseason. He has worked well with his teammates and the coaching staff.
"We spent quite a bit of time together," Stevens said. "We wanted to try to get to know each other and I wanted to learn to trust him. I wanted to know when to push him and when to leave him alone. I have been absolutely thrilled with everything so far. He does everything we ask him."
THN recently ranked Emery as the top preseason performer in the NHL of 2009-10. Even though the Flyers finished preseason play with a 2-3-3 record, Emery posted a 1.78 goals-against-average and a 0.944 save percentage. So far in the regular season he has only been better with a 1.00 GAA and 0.963 save percentage with his full all-star cast of defenders and forwards in front of him.
Things will not always go so well for Emery this season. There's going to be bumps in the road even with names like Chris Pronger, Kimmo Timonen, and Braydon Coburn on the blue line in front of him. The Flyers have Washington, Pittsburgh, and Anaheim at home this upcoming week, and it is important for Emery to have a good showing against some of the best offensive weapons in the NHL. He has been dominant against two playoff teams, but he has three Stanley Cup contenders staring him down. He will get tested, but it comes back to consistency. He doesn't need to be perfect, but he needs to give the rest of the Flyers' all-star lineup a chance to win every night. If he can stay consistent, it's safe to bet that players like Mike Richards, Jeff Carter, Simon Gagne, Danny Briere, Chris Pronger, and Kimmo Timonen will give everything to get the Flyers those ever-important two points.