The start of the 2016-17 NHL season sits just under two months away, and the Philadelphia Flyers have a lot of unknown's heading into the season. If last season was any indication of how unpredictable this team really is, then this season could bring even more questions than answers.
However, there are three things that every fan should keep their eye on going into the new season.
Will Steve Mason Recover?
Steve Mason sits at a very interesting spot in his tenure as a Philadelphia Flyer, and this season could very well be a defining point in his career.
No Flyer fan wants to be reminded of the disastrous series against the Washington Capitals this past spring, but that's where one has to look when talking about the where Mason left off.
This goal from last season very well may have been a turning point in the series. At the time, the Flyers were down a goal in game two, and they were drastically outplaying the Caps. That goal was a deflating, to say the least, and despite outshooting the Capitals 42-23, the Flyers ultimately lost the game 4-1.
Mason followed his game two performance with another sub-par outing in game three, and that would be the last action he would see for the season. He left game three a playoff stat line of 12 goals allowed on 81 shots, a 4.09 goals-against-average, and a .852 save percentage. Michal Neuvirth followed up Mason's performance by playing the next three games, and allowing just two goals on 105 shots. That's something that in no way can be ignored.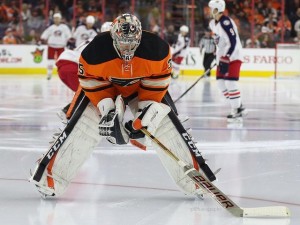 Now, the Flyers are left to pick up the pieces. Neuvirth finished the regular season very strong and had a .924 save-percentage and a 2.27 goals-against average. That was a far cry better than Mason's .918 save percentage and 2.51 goals-against average.
This whole situation is made more intriguing by the fact that both goalies sit in a contract year. Neuvirth has a significantly lower cap hit that Mason does, and in his only season here, he outperformed Mason. That doesn't bode well for the three-year Flyer veteran.
Aside from Neuvirth, that Flyers have also been bolstering their prospect pool in terms of goaltenders.  Anthony Stolarz is fresh off an all-star season with the Lehigh Valley Phantoms. To top that off, the team recently signed Alex Lyon out of Yale University. Lyon led the NCAA in goals-against (1.64) and was second in save percentage last season (.936). His career 1.88 goals-against was 9th best in NCAA history.
Put all of these puzzle pieces together, and Steve Mason suddenly has an abundance of weight on his shoulders. If he struggles out of the gate this season, which has historically happened, he could find himself backing up Michal Neuvirth. Even more, he may not sport the Orange and Black come 2017-18.
Will Jake Voracek Find His Groove Again?
Claude Giroux and Jakub Voracek proved to be one of the most deadly, and dynamic duo's in the NHL just two season's ago. In fact, Voracek was right up there among the league leaders in points that season with 81.
Things were looking up for the rising young star, his point totals had risen every season since joining the Flyers. Oh, and he signed a huge eight-year contract with the team during that off-season.
That fun would be short-lived.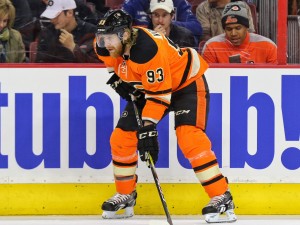 It took Voracek 17 games to find the back of the net, and he managed just nine points through the first quarter of the season. To put things into perspective, Voracek hit nine points just seven games into the 2014-15 season, and at the quarter point of the season, he had already accumulated a league-leading 29 points.
The struggles began at the tail end of that season and followed him all the way through this past season. Even through 6 playoff games, he managed just one point. He even admitted to lacking confidence at points during last season. That's a major cause for concern, considering that huge deal kicks into effect this season.
Voracek finding success again isn't just about personal gain, Voracek and Giroux are crucial to the Flyers success. When one of them is doing well, the other is almost certainly doing well. Giroux still managed 67 points last season despite not playing with Voracek and not having a real scoring winger through stretches of the season. If Giroux and Voracek find chemistry again and start scoring, the Flyers will be tough to match upfront.
But that's all wishful thinking until Voracek can get back in his groove again.
Which Prospects Will Arrive?
What would a Flyers discussion be without talking about the prospect pool?
Last year gave Flyer fans a glimpse of just how important these younger guys can be. Shayne Gostisbehere was called up and drastically altered the entire Flyer game plan. Flyers hockey went from being boring to fun and dynamic again. It was a welcome change.
The Flyers now sit with two prospects that could possibly crack the NHL roster on opening night.
One of them is Travis Konecny.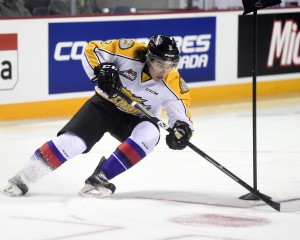 There's a ton of speculation about whether the 19-year old is NHL ready, but one thing is for sure, he has been a force to be reckoned with in the OHL. Konecny put up a whopping 101 points in just 60 games this past season. The season before that he had 68 in 60 games, so it's easy to see just how quick he is progressing.
With the Flyers sending players to the World Cup of Hockey in September, Konecny will definitely draw eyes in training camp. That could bode very well for his chances to crack the opening night roster, especially if the Flyers just want to get a look and then send him back down to juniors.
They could certainly use the offense help, and there is room for Konecny.
The other prospect waiting in the wings is Ivan Provorov. Also sitting at 19-years old, Provorov is probably the Flyers top defensive prospect at the moment.
He already has his eyes set on making the big club. 
That may be a tough proposition for the youngster, as Ron Hextall has consistently stuck to his philosophy of taking it slow with the young guys. Remember, Shayne Gostisbehere just cracked the roster at 22-years old.
Also standing in Provorov's way are the eight other defenseman  listed on the NHL roster. Mark Streit, Andrew MacDonald, Michael Del Zotto, Nick Schultz, Shayne Gostisbehere, Brandon Manning, Radko Gudas, and TJ Brennan are all standing in front of Provorov. Under Hextall's plan, he would have to be 'better' than at least three of them to crack the NHL roster.
Barring a near perfect training camp, it's hard to imagine Provorov making the cut this season. Travis Konecny probably has the better shot, especially given the Flyers current needs.
Matt is a contributor for the Philadelphia Flyers at The Hockey Writers. He has previously covered the Flyers for GrandstandU. He enjoys playing hockey and making music in his spare time.