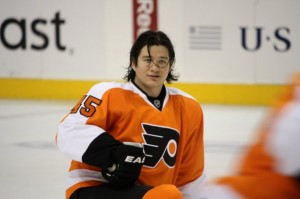 Of the 18 skaters that played for the Philadelphia Flyers in Game 6 of the Stanley Cup final last season, 13 are still with the team. And yet they are facing another big hole against the Boston Bruins. True, they rallied from a 3-0 deficit last year and they are only down 2-0 now, but the Bruins are a much improved team and using the same grind-it-out strategy the Flyers did last year to bring themselves back from the brink.
It all comes down to the forwards. The changes weren't many, but they made a big impact in how they play the game. The goaltending situation is the same and the defense have been improved, but the loss of veteran leadership and sandpaper on the front lines has allowed other teams to out-grind the Flyers.
The defense is not the problem. The Hockey News ranked the orange and black's defensive unit as the best in the league earlier this season and that is all due to an improved last pairing. Despite a top four that mixes veterans Chris Pronger and Kimmo Timonen with young studs Matt Carle and Braydon Coburn, the Flyers got burned as Lukas Krajicek, Ryan Parent and Oskars Bartulis were used in rotation to form the third pairing.
Krajicek is now playing in Europe and Parent spent the majority of the season with the Vancouver Canucks' farm team, the Manitoba Moose, in the AHL. They were replaced by Andrej Meszaros and Sean O'Donnell, leaving Bartulis as a spare. Although Meszaros had a few bad years toiling in Tampa Bay, he was named to the All-Rookie team in 2005-06 and rebounded this year to win the Barry Ashbee Trophy for the Flyers' most outstanding defenseman. O'Donnell is a veteran of over 1,100 NHL games, won the Stanley Cup in 2007 and provided a stable presence on the back end all season.
The goaltending situation is largely the same. The duo of Brian Boucher and Michael Leighton proved last year a team doesn't need a superstar goalies to reach the Cup final. They added Sergei Bobrovski from Russia who became fatigued over the long season after such a promising start. While they have been inconsistent, they made it work last season and they weren't any better then. That brings us to the forwards.
Simon Gagne, Arron Asham and Ian Laperriere are gone for a variety of reasons and have been replaced by Nikolay Zherdev, Kris Versteeg and Jody Shelley. Let's compare the losses and gains.
Until Gagne was traded to Tampa Bay, he was the longest tenured player on the Flyers and the only one who was in the City of Brotherly Love before the lockout. He had the ability to score clutch goals in the playoffs and even if he wasn't scoring, was able to provide leadership and was a smart, dedicated players in his own zone. Unfortunately, his $5.25 million cap hit was too big to handle and he had to be shipped out. Zherdev was supposed to replace the scoring lost in that trade, but he had a disappointing year even by his standards. His 16 goals represented his second lowest total since the lockout and he set career lows with six assists and 22 points. He looks disinterested and lost in the defensive zone and want nothing to do with the front of the opposing net.
Arron Asham is an underrated player, one of the best third-liners in the NHL. He can dominate games with his forechecking, creating plenty of room for more skilled linemates like he did last season for Claude Giroux and James van Riemsdyk. He also has a decent offensive touch of his own as he showed when he led Pittsburgh in scoring during their first round loss to Tampa Bay. Versteeg certainly has a much greater offensive upside than Asham, but on a team that boasts Giroux, van Riemsdyk, Danny Briere, Jeff Carter, Mike Richards and Ville Leino, they really don't need more players that can score. He is a gritty player, but at 5-foot-10, 182 pounds has trouble handling the corners and creating room out there.
In one season, Laperriere became one of the most popular Flyers in recent memory. No one works harder or understands the team concept more than he does. When his season was lost due to an injury from blocking a shot with his face during the playoffs, the Flyers lost a top penalty-killer and one of the league's best hitters and grinders. While Shelley can hit and fight like Laperriere, he can't do much else. He is not a strong defensive player, his skating ability is almost non-existent and he often takes dumb, selfish penalties. Regardless of how popular he may be in the locker room, he does nothing to help his team on the ice.
Flyers GM Paul Holmgren spent $3.1 million this season paying Zherdev and Shelley. He could have easily kept Asham, who made $700K with Pittsburgh this season, and had they not re-signed Leighton ($1.55 million cap hit) there would have been nearly $4 million saved to spend on a better goalie. Instead, they replaced three complete players with two one-dimensional, ineffective  players and another who plays a role they already have filled.
They lost leadership and the rest of the team looks lost in their own zone and they are taking bad penalties. The ability to grind out a win and hit opposing defenses into submission has been greatly diminished and the Bruins are taking full advantage right now. While their high-end players may not be as good, Boston has a much more complete forward unit and that has them in prime position to reach the conference final for the first time since 1992.