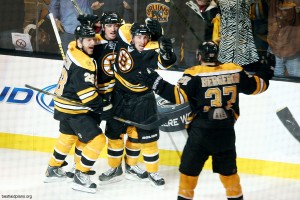 By Mike Miccoli, Boston Bruins correspondent
As I type this, the Boston Bruins are about to take a 3-0 series lead against the Philadelphia Flyers.
Again.
For the next two days leading up to game 4 in Boston, I'll ignore pretty much all sports radio, television programs and fair-weathered friends who'll no doubt text me something that includes the words "just like last season" based on the reasoning that really, this is not last season.
The Bruins have now officially beaten the Flyers 5-1 in game 3, displaying what could almost be determined as a damn near-perfect game, all topped off with a power-play goal, their first in 30 attempts this postseason. Tim Thomas was brilliant, yet again, as all four lines played effectively, developing chances in the offensive zone and dominating the puck through center ice. Boston was remarkable on the face-off dot winning 43 of 55 draws and landing 24 hits in what seemed like one of their most physical games of the postseason.
This is not last season.
Let me put it this way: I don't think the Bruins will sweep the Flyers. In fact, I originally predicted the B's to win the series in seven games but could see it wrapping up in five or six now. Though they lost four straight games last season, it's hard to fathom that this Bruins team, a team of a higher caliber offensively, defensively and in net, could nose-dive.
The 2009-10 Boston Bruins went into their series with the 2009-10 Philadelphia Flyers with Miroslav Satan as their most-clutch player. The B's were hurting. Dennis Seidenberg was out, while David Krejci, Marco Sturm and Mark Stuart all spent some time off the ice. Marc Savard and Milan Lucic were playing hurt, Tuukka Rask was an inexperienced rookie playing good hockey against a far better Philly offense and most importantly, offensive depth, therefore scoring, was a major concern. Guys like Vladmir Sobotka, Matt Hunwick and Steve Begin were logging major minutes while Trent Whitfield actually played in four games. It wasn't pretty and really, shouldn't have been too much of a shock when the B's flat-out collapsed.
The 2009-10 Flyers had goaltending. Brian Boucher, though dropping the first three games, played well–nowhere near his brutal performances this series. Once he went down, Michael Leighton saved the day and carried the Flyers all the way into the Stanley Cup Finals going six games against a very good Chicago Blackhawks team.
This is not last season.
The Bruins are a better team in the 2011 NHL playoffs than they were in the 2010 postseason. The Flyers, though ranked a seed higher with only one more regulation win in the regular season than Boston, are not.
Some of the biggest names making a difference for Boston weren't with the team last season. Take away major contributors such as Thomas, Nathan Horton, Brad Marchand, Dennis Seidenberg, Chris Kelly, Rich Peverley and Gregory Campbell to name a few (keyword is few; we won't count Tomas Kaberle or Shane Hnidy just yet) and you have something that looks a lot like the 2010 postseason Bruins. Notice how a more productive Krejci, Patrice Bergeron, Zdeno Chara and Andrew Ference weren't even mentioned.
Flyers coach Peter Laviolette said that the pressure was on the Bruins going into game 3. This is not true. While most of Philadelphia will automatically reference last season, it's the Bruins who are in the Flyers' heads, not the other way around. The goaltender position, one of the most important roles in the game of hockey, has turned into a merry-go-round for Philadelphia, switching goalies mid-game on six different occasions, even though they've only played 10 games. The Flyers have had three different starters: an aged Boucher, a weaker, down-and-out Leighton and their best shot at winning, a rookie named Sergei Bobrovski who was originally given the starter's job but pulled in the first series against Buffalo.
Bobrovski has only allowed three goals in a little under 60 minutes played in three games. Not stellar, but not Boucher numbers either. He's looked sharp at times even making some key saves in game 3 with a glover on Lucic's rocket and a pad save on what would have been a Peverley power-play goal. Still, he's not the solution but is the best bet.
Outshooting the Bruins by a wide margin, the Flyers have fired 126 shots on net, with only six slipping by Thomas. The Flyers have an extremely talented group of forwards but when playing against one of the top goalies in the NHL, goals do not seem to come as easily as they did otherwise. For the Flyers to even get back into this series, solving Thomas is a must, though without Chris Pronger on their blue line and a carousel goaltending situation, that might be tough.
The Bruins are outplaying the Flyers in almost every facet of the game. The closest that Philadelphia has gotten to matching Boston came in the last period of game 2. Aside from that, it's been all black and gold. One couldn't say that last season.
It's one thing to be cocky, it's another to be confident. I don't think the Bruins are going into game 4 cocky. Confident? Maybe. There's reason to believe that this could really be Boston's year to break out. With the momentum swinging in their favor, anything is possible.
But losing four straight games to drop the series after being ahead three games to zilch for the second straight year? Unlikely.
This is not last season.
Tampa Bay awaits. For one team or the other.
Follow Mike on Twitter for more Bruins updates and commentary