Colin Greening has most certainly played his final game for the Ottawa Senators.
Sens have put Greening on waivers and will send him to Bingo. Hammond is out for 2weeks with a groin. Matt o'Connor will replace Hammond

— Dean Bröwn (@PxPOttawa) October 2, 2015
With Greening being sent to Binghamton, only $1.7 million of his $2.65 million contract will count against the cap. While cap space is not a problem for this year, paying a player $2.76 million in actual money to play in the AHL is not how Ottawa, or any other team, wants to spend their money. One has to imagine that Bryan Murray will be desperately working the phones trying to trade Greening this season and barring an unlikely deal, will buy Greening out at the end of the year.
But Greening will not be the only Senator to leave during the course of the 2015-16 season. While Ottawa's roster had very little turn over this year, with only Erik Condra and Eric Gryba departing in the off-season, this coming year, a number of Ottawa players are likely to leave town, resulting in a much changed roster for opening night 2016. So, which present-day Senators should pack their bags and prepare for a future outside of the nation's capital?
Chris Neil
Chris Neil is a fan favourite in Ottawa without a doubt. He is one of two remaining members from Ottawa's run to the Stanley Cup finals in 2007 and consistently manages to pump up the crowd with big hits or a fight. However, over the past couple of years, Neil's play between the whistles has declined substantially. His possession numbers were by far the worst on the Senators (45% SAT) while he consistently costs the team with his poor discipline, leading the league in negative penalty differentials (penalties drawn minus penalties taken) since 2011. All that aside, previous Ottawa coaches have been willing to overlook these faults and point instead to Neil's "character and leadership abilities." However, with Dave Cameron's appointment as head coach, Neil's average ice time fell to a little over 9 minutes a game, his lowest since the 2003-2004 season. Additionally, Neil missed half the season with a broken hand and did not play for most of Ottawa's miraculous late season run.
With young prospects Shane Prince and Matt Puempel ready to play in the NHL and Nick Paul and Tobias Lindberg looking a season away at most, Neil's spot on the team certainly looks in jeopardy. Combined with the fact that he is an unrestricted free agent come July 1st, its unlikely Ottawa brings Neil back. That is, if Neil even lasts that long in a Senators' jersey. If Ottawa is out of contention come the trade deadline, expect Bryan Murray to deal Neil for a late round pick as, despite his poor play over the past few seasons, teams seem willing to pay a small price for depth and toughness. Regardless of when he leaves, Chris Neil's time playing for the Senators is most certainly done. Whether that means he signs somewhere else on July 1st or retires and stays on in Ottawa, isn't clear right now. Either way, it is the end of an era.
Jared Cowen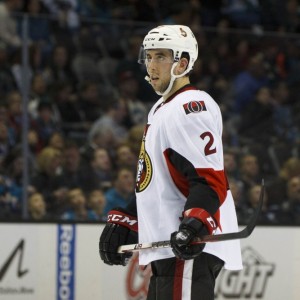 There was a time, not that long ago, when Senators' fans spoke of Jared Cowen in the same breath as Erik Karlsson. While Karlsson was the flashy offensive defenseman, Cowen, taken 9th overall in the 2009 draft, was the reliable stay-at-home defenseman to compliment Karlsson's supposedly defensive lapses. In his rookie season of 2011-2012 Cowen, paired almost exclusively with Sergei Gonchar showed glimpses of this promise. However, a nasty hip injury during the lockout resulted in him missing almost 6 months and since signing a $12.4 million at the start of the 2013-2014 season, Cowen has failed to live up to the high expectations management and fans placed upon him.
As Cowen's HERO Chart demonstrates, his poor performance is not due to a lack of ice-time. Over the past three years Cowen has played top six minutes and thanks to a big shot, has scored goals at a decent rate. However, his possession numbers tell a different story. Cowen is clearly a third pairing guy who has never been a positive possession player during his entire time in the league. While his possession stats last year mark him out as Ottawa's 5th or 6th defenseman, and as a better option than Mark Borowiecki, he is also paid three times as much as Borowiecki and five times as much as promising prospect Chris Wideman. The problem is not that Jared Cowen isn't an NHL defenseman, it is that he is paid far too much money for what he brings to the team.
With prospects Mikael Wikstrand and Fredrik Claesson increasingly looking like at least third-pairing defensemen, and 2015 first round pick Thomas Chabot impressing during training camp, it's clear Ottawa has affordable depth on the blue line. Thus, this year is Cowen's make or break season and while he may well perform well, he is unlikely to outplay anyone in Ottawa's top four (Erik Karlsson, Marc Methot, Cody Ceci and Patrick Wiercioch) and justify being the third highest paid defenseman on the team. Thus, expect management to try to deal Cowen at next year's draft, and if they can't find any takers, they will buy him out with a reasonable cap hit of $750 000 for two years. Certainly, such a result will be disappointing for fans, given that Cowen was a first-round pick, but with Mike Hoffman and Chris Wideman maturing into NHL players, the 2009 draft class for Ottawa may well still turn out two excellent players for the Senators.
Milan Michalek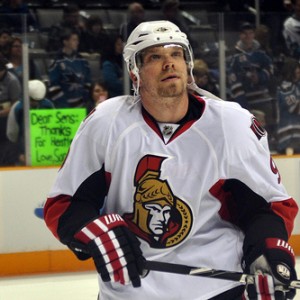 Milan Michalek's days of scoring 30 goals a season are over. As I previously argued, the likelihood of him scoring 20 goals in a season is very low. However, despite being paid like a top six winger ($4 million a year for the next two season), Michalek has consistently produced at the rate of a third-line winger, but unlike last year's third-line regulars (Erik Condra, J.G. Pageau and Curtis Lazar), has failed to put up positive possession stats. Thus, Michalek exists in a strange no-mans land; he isn't productive enough to play top six minutes but also isn't able to drive possession and play effectively on a defensively-oriented third line.
With a number of wing prospects coming up through their system, Ottawa's need for Michalek is rapidly decreasing. In his 13 game tryout last season, Matt Puempel managed to produce at an equivalent rate as Michalek (measured using Points per 60 Minutes). Additionally, with Shane Prince all but assured of a spot on the team this season, two possible replacements for Michalek will receive long looks from the Senators. Finally, if one of Tobias Lindberg, Nick Paul or Max McCormick demonstrate third-line potential at minimum, the case for trading Michalek and his $4 million dollar cap hit becomes that much stronger. Ottawa will probably asses their roster this entire year and not make any moves until the draft, but expect a deal involving Michalek at the 2016 draft.
Who Else?
Chris Neil, Jared Cowen and Milan Michalek are most likely gone before next season's training camp. Combined with a likely Colin Greening buy-out and Chris Phillips retirement, that represents significant roster turn-over for the Senators. Some of these openings will be filled by prospects already in the Ottawa system. However, while roster change creates opportunities for other players in the Senators' system, it also tests the club's depth and prospect development. Ottawa has done exceptionally well in that regard over the past few years, able compensate for Jason Spezza's departure and Daniel Alfredsson's retirement. Now, as the last of Ottawa's "Golden Generation" retires or moves on, its time for the kids to make their own marks on the team. I have faith that they can.