The Calgary Flames are in a bit of a pickle with their goaltending situation. They currently have three keepers all on one-way contracts. The season is approaching, and carrying three goalies isn't ideal for a team with a max roster size of 23 bodies.
Jonas Hiller has a year left on his two-year contract with a $4.5 million salary hit. He's 33, and has been, as Patrick Allen pointed out while laying out the goaltending situation, streaky.
Karri Ramo took over the starting job in the playoffs last season. But the 29 year old has yet to prove he can handle the workload of an NHL starter. Ramo is set to make $3.8 million this season.
Joni Ortio is 24 and his two-year deal turns into a one-way contract this season (he's also under control as an RFA next season). Ortio requires waivers for Calgary to send him down to the minors, and it's tough to imagine another team not claiming the Finn. Ortio's a solid goaltending prospect, and certainly not one Calgary would let slip away. Ortio will make $600,000 in 2015-16.
None of Calgary's goalies have no-movement or no-trade clauses in their contracts. It's possible any of them are traded, even after the season starts. Carrying three goalies on a roster makes it a little harder to deal with injury or illness, especially if the Stockton Heat, Calgary's AHL affiliate, has a game far from where the Flames are in action. Looking at the options, any two of the three netminders seem capable of turning in a solid season for Calgary.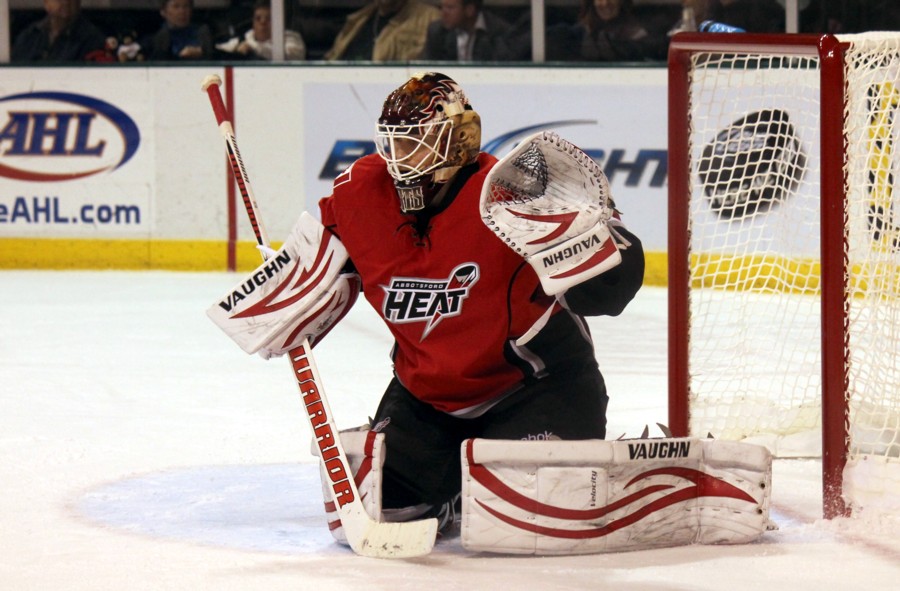 If Calgary could trade Hiller without eating any cap, it would free up a roster space and a ton of cap room, but it is also very unrealistic. They would have to either eat some salary or take a player back that carries a significant cap hit. Ramo could also be dealt, and may be more appealing to trade suitors given his age, slightly lower cap hit, and the fact that he took over the starting job in last season's playoffs.
But if there isn't much interest in either Hiller or Ramo, and Calgary isn't willing to keep three goaltenders on its roster for the season, it might be time to shop Ortio. It would be tough to give up a talented goalie that seems close to taking the NHL reigns, but if they could lock up Ramo for a few years and receive a good goaltending prospect from another team, it could wind up being the only way, short of sending Ramo or Hiller to the minors (which wouldn't do many favours for the cap situation), for the Flames to not have to deal with the issues that comes with carrying three goalies on the NHL roster.
It wouldn't be a watershed moment to see Ortio traded. Some top goalies have been bandied about over the recent years. In April, 2013, Ben Bishop (26 at the time) went from Ottawa to Tampa Bay for centre Cory Conacher. Bishop's now a top goalie in the league. As a 25 year old, Brian Elliot was shipped from Ottawa to Colorado for Craig Anderson. Both Elliot (later with a defensively-sound Blues squad) and Anderson had great seasons shortly after. We don't even need to get into the goaltending spectacles that have taken place in Vancouver to know it's not unheard of for talented goalies entering their prime to be shipped around as teams try to find their identity in net.
This isn't to say Calgary should trade Ortio, but just a look at some of the options that management will face while trying to figure out how to manage the crease for an exciting 2015-16 and beyond.