Chad Johnson spoiled the Bruins by posting otherworldly numbers when relieving Tuukka Rask of his duties between the pipes. After cashing in on a nice payday with the New York Islanders, the Bruins turned to Niklas Svedberg to attempt to replicate those numbers. While Svedberg has played rather decently this season, he will need to raise his game in order to fend off Malcolm Subban.
With a 3-4-0 record to go along with a .922 save percentage and 2.28 goals against average, Svedberg has played well. Granted, he isn't turning heads around the league, but he has done enough to give Rask a night off every once and awhile. However, he won't have an extended stay in Boston.
Malcolm Subban Is Knocking On The Door
It's nearly impossible to compete with an organization's top prospect. It really is. Nine out of ten times, you'll lose the battle because the organization values that particular player more than you. Although Svedberg and Subban have posted relatively similar numbers while in Providence, Svedberg will get the boot in the future.
Touted as Tuukka Rask's eventual replacement, Subban flashes potential that gives Bruins' fan hope for life after the Finnish goaltender. The brother of P.K. of the hated Montreal Canadiens and Vancouver Canucks prospect Jordan, Malcolm Subban was Boston's first round pick in 2013. Last season, when both played for the Providence Bruins (AHL), Subban actually outplayed Svedberg. Below are the respective stats from both goaltenders.
Svedberg: 25-15-4, .910 SV %, 2.63 GAA
Subban: 15-10-5, .920 SV %, 2.31 GAA
While Subban's goals against average has jumped this season due to more shots on net, he is still on track to be in Boston next season. If he keeps his current production on par or improves upon his numbers from last season, he's a lock to be backing up Tuukka Rask.
His Play Doesn't Warrant a New Contract
According to CapGeek, the 25 year old's contract expires after the season. With Subban knocking on the door, Svedberg will need to elevate his level of play to indicate to Peter Chiarelli that he deserves to be awarded an extension. In the graph below, created on War-on-ice.com, we compare Svedberg, Rask, and Johnson the past two years.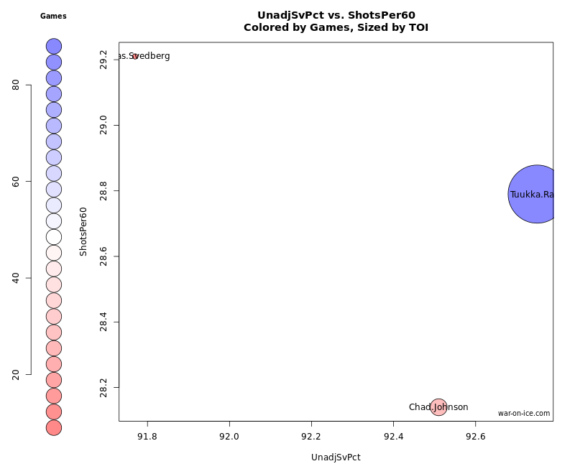 The X-axis variable is the unadjusted save percentage, and the variable on the Y-axis is shots faced per 60 minutes. The size is based on time on ice, and the color variable is total games.
While Rask has clearly outplayed his counterparts, Johnson's numbers, with an admittedly small sample size, are quite solid. While facing the least average amount of shots of the three, Johnson stands out because of his surprisingly strong save percentage. Svedberg is clearly not comparable to Johnson, and his stats don't compete with Rask either. In order for a 25 year old with no experience as a number one goaltender to get rewarded with a new deal, Svedberg would have to be playing out of his mind. At this rate, Svedberg is not.
And that's why he won't be playing in Boston next season.
Don't agree? Think he deserves an extension? Comment your opinion below!
Cam joined The Hockey Writers in July of 2014 as a Los Angeles Kings writer. He has since transitioned to writing about the Boston Bruins. Growing up in Titletown, Cam bleeds the color of Boston sports teams. In addition to writing about his passion, the fastest game on earth, he is the co-founder of Press Room Sports. Cam is a junior at Phillips Academy, where he plays soccer, hockey, and golf.