While the NHL nears its All-Star break, competitive wars are heating. Teams hope to create separation from conference rivals and add players for a playoff run.
For the Arizona Coyotes, this is all a moot conversation. Only the Colorado Avalanche have performed as poor, and numbers are not in in the Coyotes' favor.
Beginning with Wednesday night's game in Winnipeg, the Coyotes have 38 games remaining on their schedule. With 32 points in the Pacific Division, they are 16 points behind the Los Angeles Kings, who hold the remaining Wild Card playoff spot in the Western Conference. For the Coyotes to jump into the playoff race, they will have to leap over four teams. That includes two with winning records, and Dallas, a .500 club prior to games Wednesday.
That's clearly a challenge for a team which, coming into their game with Winnipeg, has a minus-46 goal differentiation, and a season record of 13-24-6. Only the Avs, at a minus-57, have a greater disparity.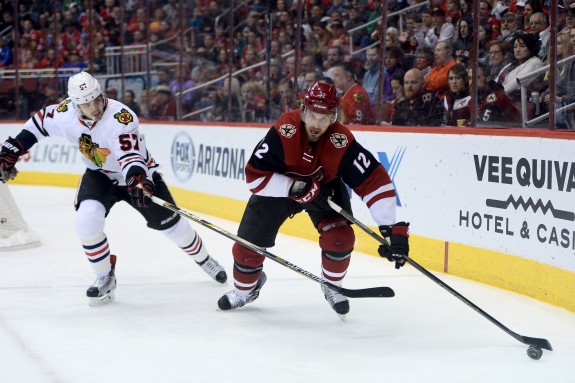 While coach Dave Tippett remans patient and resolute, there are several factors which have compromised the Coyotes' season. The biggest issue is puck management. Even with a winning effort, the Coyotes have not been diligent for a full 60 minutes concerning giveaways.
After they defeated the Jets 4-3 at home last Friday night, there was a concern about the Coyotes' ability to properly control the puck. Jumping out to a 4-1 lead in this one, the Jets scored with two third-period goals and threaten to send the game into overtime with a late flurry.
"Our execution has to be better," defenseman Oliver Ekman-Larsson told The Hockey Writers after that game. "We need to be more secure with the puck and can't turn it over. We must be smarter with the puck."
For Tippett, the veteran coach does not fault the effort. On several occasions, he said, "we have lots of try," but minimal results.
Lacking Production
Still, the factors of underachieving and injuries have comprised this team.
Center Brad Richardson, off to the best start of his NHL career, went down with a broken leg in a game at Vancouver Nov 17. Max Domi, who energized the Coyotes last season with speed, daring and production, has been out of the line-up since Dec. 8. That's when he broke his left hand in a fight during a game against Calgary.
Others have been disappointing.
Anthony Duclair, who was a 20-goal scorer a season ago, has three goals in his first 40 games. Defenseman Alex Goligoski, a high-profile offseason signing, has 13 points (one goal) in his first 42 games and minus in double-digits.
When Radim Vrbata scored the Coyotes' only goal in a 3-1 loss at Edmonton this past Monday night, he was the last player on a team to reach double-figures in goals. His 10 for the season is the lowest of goal-scorers leading his hockey club.
Coming into the Jets' game Wednesday, the Coyotes scored 91 goals, and that's an average of 2.06 goals per game. The most they scored in any game was five in a 5-4 win over the Flyers in Philadelphia on Oct. 27. For the season, they scored four goals in a game six times, and shut out four times. As well, they scored two goals or less in 26 games of their first 44 contests.
All of which presents a severe challenge. For a team brimming with optimism at the start of the season, that enthusiasm has waned. The Coyotes continue to hurt themselves with undisciplined play, and that consequence will likely keep this team from qualifying for the Stanley Cup playoffs.