After getting pulled in back-to-back games, Connor Hellebuyck has found himself on the bench the past two games. Instead, the Winnipeg Jets turned to Michael Hutchinson and his .894 save percentage against Los Angeles and San José. Clearly, the Jets have a goaltending problem.
General manager Kevin Cheveldayoff has known about this problem for years already. Since the team's move to Winnipeg, Cheveldayoff has selected five goaltenders in the entry draft (four in his first three drafts). He signed Hutchinson. In a day and age where star goaltenders are hard to find, Cheveldayoff has done his best to dig one up.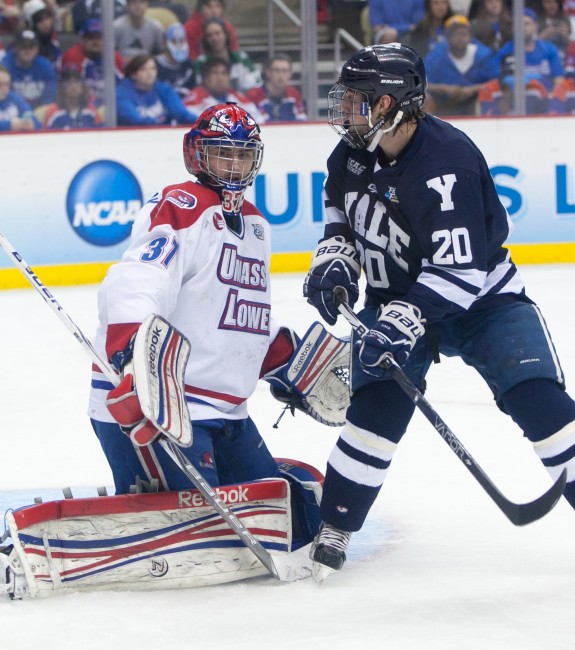 Enter Hellebuyck. Drafted in 2012, the 6-foot-4 netminder had just put up a .930 save percentage in the North American Hockey League. He only got better from there. Hellebuyck went 20-3-0 in his freshman year of college, bringing his team to the Frozen Four. He wasn't done there. In his second year, Hellebuyck went 18-9-2 with a .941 save percentage, good enough to become the inaugural winner of the Mike Richter Award as the top goaltender in college hockey.
He was signed by the Jets in spring of 2014. In the 2015-16 season, after a year in the AHL, Hellebuyck took the chance he was given, going 13-11-1 with a .918 save percentage and a 2.34 goals-against average. That was enough for Jets management to turn the reins over to the young prodigy.
Forty-seven games in, Hellebuyck looks like a bust. He has a .907 save percentage, good for 32nd in the league. Fans are demanding a trade for a better goaltender, or for management to call up Ondrej Pavelec (which they did). The Jets are last in goals allowed, despite having a solid blue line.
But can we decide a goaltender's career based on 60 games? Hellebuyck has been an NHL goaltender for less than two years. The best way to see how a goalie will turn out is time. In the effort of speeding things along, let's take a look at some other goalies after two seasons of work (keeping in mind that Hellebuyck hasn't finished his second season yet).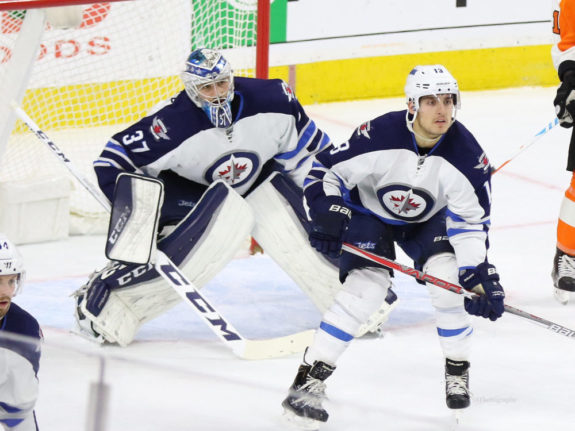 To narrow the field, we are only looking at goalies who are playing in the NHL and are considered starting goaltenders. We are going to use the first two seasons (where they started more than 20 games).
Jonathan Quick
standard NHL career statistics
Goalie Stats
Season
Age
GP
W
L
T/O
SA
SV
SV%
GAA
SO
2007-08
22
3
1
2
0
62
53
.855
3.83
0
2008-09
23
44
21
18
2
1200
1097
.914
2.48
4
2009-10
24
72
39
24
7
1927
1747
.907
2.54
4
Career
476
252
162
51
12486
11434
.916
2.27
42
Jonathan Quick was a third-round draft pick of the Los Angeles Kings during the 2005 draft. Just like Hellebuyck, he played the first couple seasons in Hockey East. He put up some decent numbers before making the shift to the ECHL. In his first (and only) season with the Reading Royals, he played 38 games, posting a .905 save percentage.
From there he moved to the AHL, then finally had his chance. As a 22-year-old, Quick got to play three NHL games, and he blew it. He allowed nine goals on just 62 shots. In his first full season, Quick posted a .914 save percentage in 44 games. He secured the starting role, going 72 games the next season, ending it with a more mediocre .907 save percentage.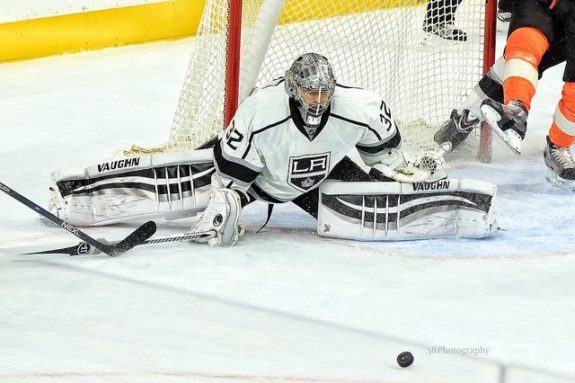 A couple of years later, Quick and the underdog Kings made a Cinderella-esque run through the playoffs, winning their first Stanley Cup in franchise history. Quick was the story, posting an inhuman .946 save percentage. He was 26 years old, just entering his prime.
Since then, Quick has been widely regarded as one of the best goaltenders in the league. Just like Hellebuyck, Quick needed some time to mature and adjust his game before he became the human highlight reel he is today.
Carey Price
standard NHL career statistics
Goalie Stats
Season
Age
GP
W
L
T/O
SA
SV
SV%
GAA
SO
2007-08
20
41
24
12
3
1282
1179
.920
2.56
3
2008-09
21
52
23
16
10
1513
1370
.905
2.83
1
2009-10
22
41
13
20
5
1244
1135
.912
2.77
0
Career
480
254
163
54
14220
13080
.920
2.42
38
Is he one of the best goaltenders of all time? We're not quite sure if he's even the best goalie in the NHL right now. But there is no denying that he is an amazing player and the Montreal Canadiens' most valuable player every year. But was that always the case?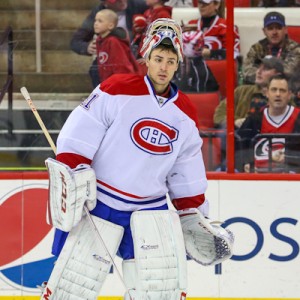 Price had a young start, as he was only 20 years old in his first season. He posted good numbers, even getting some Calder and Vezina trophy love. But in his next season, he finished with a .905 save percentage in 52 games, including just one shutout. For goalies with over 14 games played that season, Price finished 38th. The Canadiens' backup goaltender performed well enough to get the majority of the starts the next season, where Price didn't fare better, posting a .912 save percentage.
Here's where it gets interesting. That backup goaltender was Jaroslav Halak, and despite having the better numbers, Halak was traded after that season. Management stuck with the goaltender that they wanted for the future.
Price went on to post a .923 save percentage the next season and is now in the discussion as one of the greatest goaltenders to ever play. This isn't to say Hellebuyck will be the next Carey Price…but it would certainly be nice for the Jets.
Corey Crawford
standard NHL career statistics
Goalie Stats
Season
Age
GP
W
L
T/O
SA
SV
SV%
GAA
SO
2005-06
21
2
0
0
1
41
36
.878
3.49
0
2007-08
23
5
1
2
0
112
104
.929
2.14
1
2009-10
25
1
0
1
0
35
32
.914
3.05
0
2010-11
26
57
33
18
6
1545
1417
.917
2.30
4
2011-12
27
57
30
17
7
1507
1361
.903
2.72
0
Career
355
198
107
42
9820
9017
.918
2.36
21
Corey Crawford is regarded as one of the most underrated goaltenders in the league. That makes sense when the team in front of you consists of Jonathan Toews, Patrick Kane, Duncan Keith and coach Joel Quenneville.
Crawford got his start the year after the Chicago Blackhawks won the 2010 Stanley Cup. Their number one goalie had been traded and there was a lot of pressure on Crawford to deliver. And he did. As a 26-year-old rookie, Crawford posted a .917 save percentage as the Blackhawks went for two Cups in two years. They weren't able to win that second Cup, but hopes were high.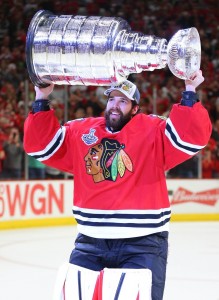 Crawford dropped heavily during his second season as a starter, finishing with a .903 save percentage. The Blackhawks lost in the quarterfinals, with Crawford's struggles carrying through to the playoffs. In six games, he finished with a .893 save percentage. It was a rough year for Crawford, very similar to the one Hellebuyck is currently having.
Management decided not to make a change, giving Crawford the chance to prove himself. Crawford has never finished with a save percentage lower than .917 since that year. The Blackhawks have now won two more Stanley Cups and are pressing for a fourth this year. They have the skill up front and the goaltending behind them, all because Crawford was given the chance to fail and try again.
What Does This Mean for Hellebuyck?
It's possible that Hellebuyck is a bust and will never improve beyond being a backup goaltender. But he is only 23 years old, a good five to seven years away from being in his prime. If some of the current goaltenders in the NHL are any indication, Hellebuyck is likely to get better as time goes on.
The big news for Hellebuyck is the call-up of former starting goaltender Pavelec. Many are wondering if the Jets are about to get rid of Hellebuyck. Remember the other goaltenders? Price was taken over by Halak for a season and Crawford had 35-year-old Marty Turco as a mentor.
https://twitter.com/arby_18/status/820378960596963329
Is Hellebuyck the Jets' goaltender of the future? There is no way to tell. But he's the goaltender of the present. The Jets have embraced the youth movement this year.
You have to allow your goaltender to make the same mistakes your young guys out front are. They aren't a playoff team this year, but the future is bright. Let's stop fixating on the goaltending when the problem isn't necessarily skill, but inexperience. That applies to everyone from the forwards and back.
Should the Jets give Hellebuyck more time to grow? Or is it time for the Jets to move on and find a more established goalie? Let us know in the comments below.
Judson Rempel was born and raised in the Great White North, skating on ponds and watching hockey every Saturday night in small town Manitoba. When he's not watching hockey, he's playing hockey with his son and daughter, and trying to convince his wife to let him watch more hockey.