When Arizona Coyotes' head coach Dave Tippett takes to the ice and opens training camp in September, he will likely be a changed man.
Last season, Tippett experienced the nadir of his coaching career, and the experience, he recently told fans at a Coyotes' town meeting, is that "losing sucks."
The Coyotes finished second to last in total standing points last season, was second-to-last in goals scored, third-to-last in goals allowed and second-to-last in killing penalties. Their 56 points was the lowest achieved for any Tippett-coached team.
The desolation and agony created a misery which Tippett never experienced.
In his previous 11 NHL seasons with Dallas and Phoenix/Arizona, Tippett never suffered a losing season. The closest he came was 2008-09 with Dallas (36-35-11) and (21-18-8) in the lockout-shortened season of 2012-13 with the Coyotes.
From the bitter disappointment of last season, a general feeling of despair and lack of optimism, Tippett has since reached up from the depths of desolation with a different outlook and changed disposition.
Here's a coach closing in on 500 career wins (488 coming into the 2015-16 season), holds the Winnipeg/Phoenix franchise record for most career wins by a coach, and guided the Coyotes to their highest playoff achievement in franchise history during the spring of 2012, a Conference Final loss to the L.A. Kings.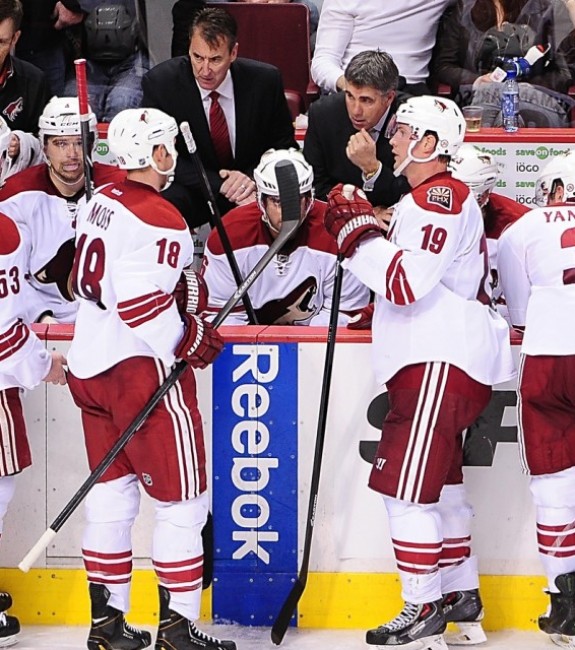 Yet, the agony and despair of last season hangs around this proud coach like a mushroom cloud from an atomic detonation.
Telling reporters last week at the Coyotes prospects camp at the Ice Den in suburban Phoenix, Tippett said the task ahead is immediate and urgent.
"Going forward, this is about how we grow as a team," he said. "We need to put a sense of focus on how to improve."
By the end of last season, Tippett was despondent.
Losing can be difficult and challenging for some coaches to overcome.
Phillies' Ryne Sandberg, who resigned from the Philadelphia manager's position because he could not tolerate losing.
Tippett seems beyond that psychological barrier.
"I have been around (Tippett) for only three, short periods," said prospect Max Domi during the recent camp. "Here's he's a guy who wants to win, period. As players, we can take strength from that, and his desire to win certainly translates down to the players."
Ready to quit in disgust and anguish, Tippett took some time off, went to the World Championships this past spring and witnessed a rebirth from his goalie Mike Smith. Here, Tippett observed Smith's charge to help Canada capture the world title and his own spirits renewed.
With a sense of relief and a rejuvenated nature for coaching, Tippett has returned to the NHL with a changed disposition. No longer is he an angry and infuriated man, but resolved and measured.
In the quest for improvement over last season's 24-50-8 mark and those 56 standing points, Tippett began to recognize the Coyotes had to change with a youth movement.
A Changed Outlook
Surrounding himself around with younger, high-powered talent that have speed and skill, Tippett has regained a slight smile and lighter step.
When he speaks of coaching skilled players like Anthony Duclair, Christian Dvorak, Henrik Samuelsson, Dylan Strome and Domi, there's a certain excitement that went missing during last season.
With the core of the franchise about to change, Tippett says he is more in the position of an educator than a coach.
"A coach is always an educator," he said. "With the group we have here, you see the bright side. Look, last season was not a good season, and we're moving forward."
Overall, Tippett said he was pleased with the prospects in camp, and their collective skill level. By conclusion of the three-day event, Tippett observed this was just an informal gathering of young hockey players, and nothing more.
"This was an orientation camp," Tippett pointed out. "When they come back here in the fall, they're be playing for keeps."
Follow Mark Brown on twitter, @journalist193