Whether it's young players developing, key guys returning from injury, new players signed or traded for, each NHL team has a few players to keep any eye out for next season. We all know the Jonathan Toews' and the Joe Pavelski's of the world are going to remain awesome. However, what about the T.J. Oshie's, Connor McDavid's, and Jack Eichel's of the league?
There are a handful of players around the league that everyone is super excited to watch this year. These are players with high expectations but either lack of track records or new environments make for a bit of a sink or swim scenario. Without further ado, here is each NHL team's most highly anticipated player to watch.
Anaheim Ducks – Carl Hagelin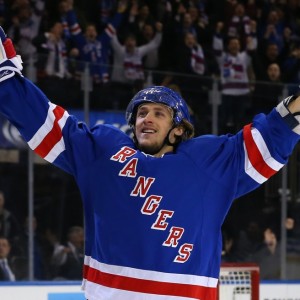 Acquired from the New York Rangers in a deal for Emerson Etem this offseason, Carl Hagelin is an extremely quick, tenacious winger. Basically the established version of the guy he was traded for, the 26-year old is a consistent 15-20 goal scorer with 33-40 points. He instantly upgrades the Ducks' forward group giving them more depth whether he plays with Ryan Kesler on the second line or on the third line. My long-time Ducks colleague Felix Sicard is high on youngster analytics darling Jiri Sekac and there is always highly touted goaltender John Gibson. However, since Hagelin is the new guy in town this offseason, I definitely get the sense league wide, he is the most anticipated Ducks player to watch next season on a new team and new coast.
Arizona Coyotes – Mikkel Boedker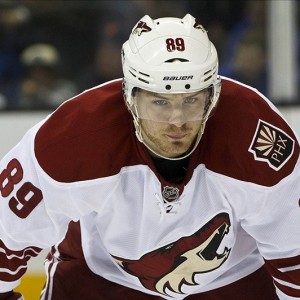 During the first half of last season, Coyotes' 25-year-old forward Mikkel Boedker was the best thing Arizona had going at the forward position. Unfortunately, injuries have been a common occurrence for the eighth overall pick from 2008. Last season Boedker was working on a terrific follow up to his break-out 2013-14 season. The native of Denmark scored 19 goals and finished with 51 points two years ago, eclipsing his previous career highs of 11 goals and 28 points. Boedker only managed 45 games last year though. It was a disappointing finish for him considering he was on pace for a near 30 goal season with 14 goals. On a young team, Boedker will need to be the engine that drives the Arizona ship. If he can't remain healthy and continue his recent production, it will be another long season in the desert.
Boston Bruins – David Pastrnak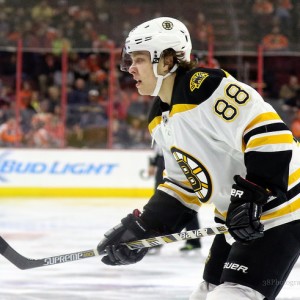 With no NHL team making a huge over-pay in free-agency this summer, that leaves the Boston Bruins as the butt of the jokes. Nobody in their right minds expects the Bruins to compete for a Stanley Cup this season. They are clearly a team in need of rebuilding and yet they traded away a top flight 22-year-old defenseman in Dougie Hamilton? Yours truly had Hamilton as the Bruins most untouchable player going into the offseason. Trading him made little sense, but now that he has been moved, the Bruins' most untouchable player should be last year's rookie winger David Pastrnak. He may be of slight build being listed at 6-foot, 167 pounds, but the late 2014 first-round pick made an immediate NHL impact out of his draft year. In 46 games for the Bruins, the now 19-year-old Pastrnak notched 10 goals and added 17 assists for 27 points and a plus-12 rating. If Boston wants to return to the postseason next year, they need Pastrnak to avoid the sophomore slump and put up 50 points.
Buffalo Sabres – Evander (Just Kidding) Jack Eichel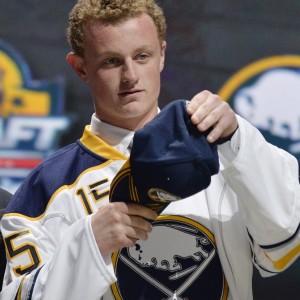 More often than not, trading for a young, high-profile center forward at the trade deadline would be the big acquisition moving forward into the next season. However, Evander Kane will be taking a back seat to No. 2 overall draft choice Jack Eichel who is projected to be a savior for the Buffalo Sabres franchise. With most experts comparing No. 1 overall pick Connor McDavid to Sidney Crosby and others comparing Eichel to McDavid, well you get the gist. Some who closely followed Eichel at Boston University, will argue he is right on par with McDavid. In other words the Sabres are also expected to be getting a Sidney Crosby type super-star. The entire NHL is eager to see Eichel take the ice for the Sabres. Many believe Buffalo can bounce back in a hurry.
Calgary Flames – Dougie Hamilton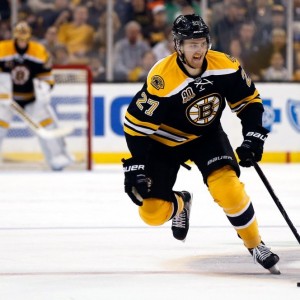 Speaking of Hamilton, the stud defenseman will now be roaming the blue line for the Calgary Flames. Just two years ago the Bruins were known as a playoff juggernaut and the Flames were one of the league's bottom feeders. This year however, the Flames are much more likely to challenge for the Cup than the Bruins. While I was highly critical of the Flames last year for being a poor possession team, they managed to make the playoffs nonetheless. They already had a solid defense led by Mark Giordano and T.J. Brodie but now they add Hamilton to the mix giving them one of the scariest blue lines in the league. Since nobody can understand why Boston would give up on Hamilton, watching him flourish with Calgary is something every hockey fan (who doesn't root for the Bruins) is excited to see. Up and coming young center Sam Bennett was a close second in this determination, but Hamilton is the bigger name at this point.
Carolina Hurricanes – Noah Hanifin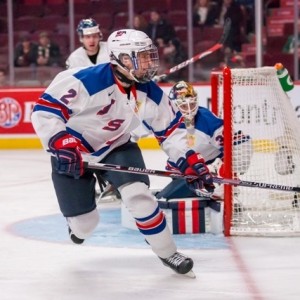 While some may argue for sure-fire NHL players like Elias Lindholm or Justin Faulk in this spot, well, I disagree. The Carolina Hurricanes are one of the few teams that are a sure bet to stink once again this season. Nobody on the projected NHL roster brings as much excitement to the organization as this past June's first-round pick Noah Hanifin. The first defenseman taken in this year's draft (fifth overall), has drawn numerous comparisons to Chicago's Conn Smythe winner Duncan Keith. That right there is all one needs to know about what the scouts think of this young kid. While he likely doesn't play in the NHL this season, he is the most anticipated player to see perform within the Carolina organization.
Chicago Blackhawks – Teuvo Teravainen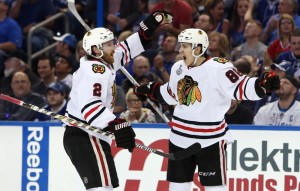 While Blackhawks fans may be more curious about some of their other prospects, most of the rest of us are fascinated with 20-year-old forward Teuvo Teravainen. The native of Finland only played in 34 regular season games scoring nine points. In the postseason however, the Blackhawks yet again got big performances from almost all of their depth forwards, including Teravainen. In 18 playoff games, Teravainen tallied four goals and six assists for more points (10) than he managed in the regular season over nearly twice as many games. A shorter and slim guy at 5-foot-eleven and 178 pounds, Teravainen is an extremely perplexing player. Rare to see a young player at that size struggle in the regular season and then turn it up in the postseason. It will be interesting to see if he can build off that strong playoff showing.
Colorado Avalanche – Nathan MacKinnon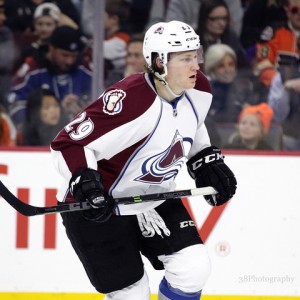 The time is now for young Avalanche star Nathan MacKinnon to settle into an NHL groove. The first overall pick from the 2013 NHL Entry Draft jumped onto the scene as a rookie with 24 goals and 63 points in 82 games for Colorado. Unfortunately, MacKinnon and the Avalanche suffered a major setback. The Avalanche went from division winners to division bottom feeders and MacKinnon suffered the popular sophomore slump. In 64 games, he managed just 14 goals and 38 points. Year 3 should be a big year for MacKinnon to bounce back and he needs to if the Avalanche are going to have any hopes in the brutal Central division. In order to not languish at the bottom for the second straight year, they will need MacKinnon to flourish.
Columbus Blue Jackets – Brandon Saad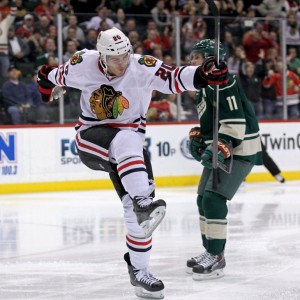 Almost everyone thought that Brandon Saad was going to stay in Chicago but a surprise trade to the Blue Jackets landed the up-and-coming winger in Columbus Ohio. Saad has improved each and every year with Chicago, developing himself a fan base not just in Chicago but around the league. With the Blackhawks always deep in the playoffs, fans of many teams fell in love with Saad's hard-nosed style on the forecheck combined with elite puck skills. The Blue Jackets already have some big time forwards in Ryan Johansen and Nick Foligno, but Saad makes this team much more interesting to watch come next season. If Johansen and Saad play together on a line, look out. That should be a treat-and-a-half to watch.
Dallas Stars – Valeri Nichushkin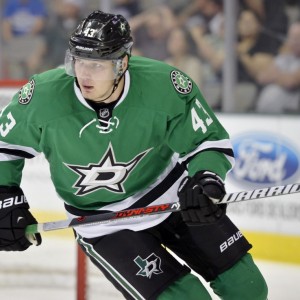 Another budding young star who had his 2014-15 season cut short by injury is Dallas Stars' winger Valeri Nichushkin. An extremely popular prospect going into his 2013 draft year, Nichushkin ended up being taken 10th overall by the Stars. As a true rookie, Nichushkin had a solid debut with 14 goals and 34 points in 79 games but played in just eight games last season due to injury. The 6-foot-four inch, 210 pound Russian is still filling into his big frame and has the potential to be a dominant force in the years to come. At that size, with that offensive ability, there is no telling just how good Nichushkin could end up being. Dallas fans, and fans around the league are eagerly anticipating seeing him back healthy. Nichushkin and Patrick Sharp in the fold, Dallas should be fun to watch.
Detroit Red Wings – Mike Green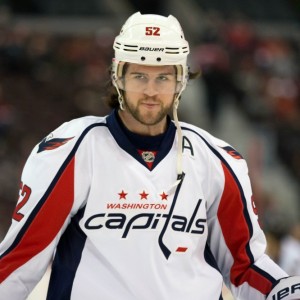 In the years since Nicklas Lidstrom and Brian Rafalski retired, the Detroit Red Wings haven't really been able to find that top defenseman to lead the back end. While their power play has remained potent with Pavel Datsyuk and Henrik Zetterberg still around, Mike Green on the back-end will help tremendously moving forward. He may not be the 70-point guy he once was from the blue line but he still managed 45 points last season in a reduced role with Washington. If he can avoid concussions, something he has a history with, Green can easily reach 50 points again from his spot on defense. This type of top pair puck mover will certainly help Detroit's defense. Red Wings fans and many of us around the league are excited to see Green in a new destination with a primary role once again. He is one of the most exciting offensive defensemen in the league.
Edmonton Oilers – Connor McDavid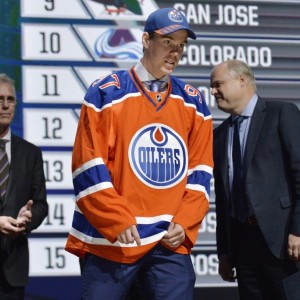 There really isn't anything left to say about Connor McDavid. He is the first draft selection since Sidney Crosby was taken in 2005 to be put on the same kind of pedestal. Steven Stamkos and other first round picks have been considered locks to be stars but not like this kid. McDavid has lit the world on fire with what most scouts refer to as unheard of acceleration and speed combined with Joe Thornton-like vision and solid finishing ability to boot. All I have left to say is that you must watch some of his Oilers development camp highlights. Simply unreal.
Florida Panthers – Aaron Ekblad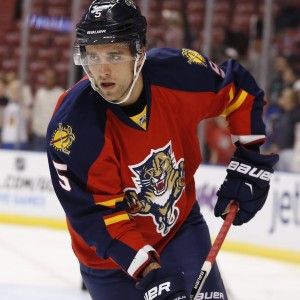 The third No. 1 overall selection on this list, Florida defenseman Aaron Ekblad was the top dog in 2014. Ekblad played such a strong two-way game from his defense spot that he was able to beat out a number of talented rookie forwards to win the Calder Trophy as rookie of the year. The 19-year old played 81 games last season notching 12 goals and 39 points with a plus-12 rating on a mediocre Panthers team. A beast of a young man, the 6-foot-four inch, 216 pound Ekblad is a dominant defenseman at both ends. He will only continue to grow stronger as he doesn't even turn 20-years old until February. He has a long career ahead of him, with numerous appearances for Team Canada in his future.
Los Angeles Kings – Tanner Pearson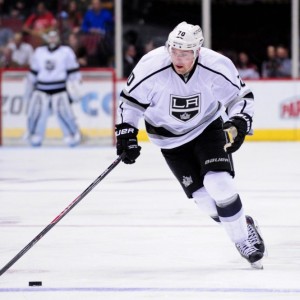 Unlike their rivals and Southern California neighbors above, the new guy in town doesn't get the nod for the Kings. Milan Lucic is trending down and doesn't have the same intrigue as Tanner Pearson. After being a key part of Los Angeles Stanley Cup playoff run in 2014 with 12 points in 24 games, the 22-year-old Pearson was backing it up with a strong regular season before breaking his leg. Pearson missed the entire second half of the season but in 42 games he scored 12 goals. While he only had four helpers, he was nonetheless on pace for a 24-25 goal season. A member of the famed "That 70s Line" with Jeff Carter and Tyler Toffoli, the Kings are going to need a healthy season out of Pearson to bounce back. Given they didn't make the playoffs last year and their roster hasn't improved much this offseason, they will need to get big improvements internally. Pearson is one of those guys capable of doing just that.
Minnesota Wild – Devan Dubnyk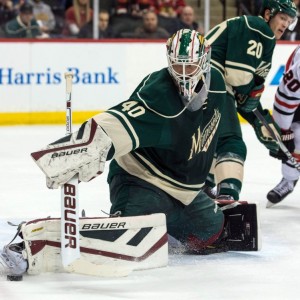 While some Wild followers will argue they are most eager to see continued development from forward Jason Zucker, the rest of us are eager to see goaltender Devan Dubnyk back up his amazing year. Taken in the first round back in 2004, Dubnyk clearly showed the scouts he had tremendous talent. And at the NHL level he did have to suffer behind some porous Edmonton defense for many years. However, giving Dubnyk a long term contract based on one good year after otherwise being a ho-hum goaltender is risky. The Oilers were a bad team, and Dubnyk didn't always post bad save percentages but he also never seemed to be especially dominant either. Time will tell just how much return the Wild will get on this deal but for now, we are all waiting to see if Dubnyk can back it up.
Montreal Canadiens – Alex Galchenyuk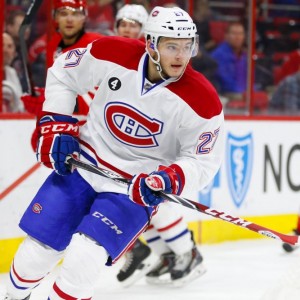 Both THW founder Bruce Hollingdrake and my aforementioned colleague Felix Sicard believe that fourth year forward Alex Galenchyuk needs to finally break out. Galchenyuk has improved his point total each of his first three seasons since coming into the league. However, a 46 point season for the third overall pick from the 2012 draft is not a career high that the Canadiens were hoping for when they selected him. They need Galchenyuk to be a first line quality star and 46 points is at best 15 points short of that type of production. While still incredibly young in age at just 21 going on 22 this upcoming season, he has had enough experience in the league to start raising his game to that top level.
Nashville Predators – Filip Forsberg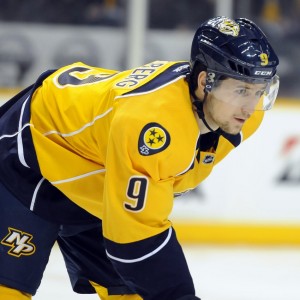 As a rookie last year, Predators forward Filip Forsberg sparkled to the tune of 26 goals and 63 points in his first full season. On a team that has typically been starved for offense, Forsberg proved to be a dynamic force up front. He had some help for sure from guys like James Neal and Mike Ribiero, but Forsberg's performance as a young player is what caught the attention of fans around the league. Forsberg will turn just 21-years old next month and it will be interesting to see if he suffers that ever popular sophomore slump that a number of star rookies go through. If the Predators want to continue to build towards being a Stanley Cup contending team, they are going to need another strong year out of their young star center. If that dreaded sophomore slump comes around, it will be easy for Nashville to take a step back.
New Jersey Devils – Pavel Zacha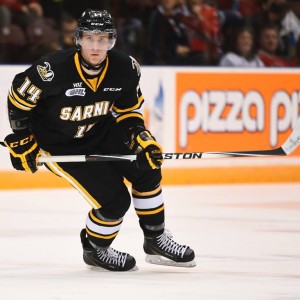 The fourth player on this list taken in the top-10 of the 2015 draft is New Jersey Devils center Pavel Zacha. With the Devils finishing last season without a single player eclipsing 50 points, it is no surprise they went after a big bodied elite center prospect. At six-foot-three, 212 pounds, Zacha could develop into a No. 1 center type in the mold of a Ryan Getzlaf or Anze Kopitar. Considering the Devils have little else to be excited about in terms of the current NHL roster, the sixth overall pick is certainly the most anticipated player in the organization.
New York Islanders – Ryan Strome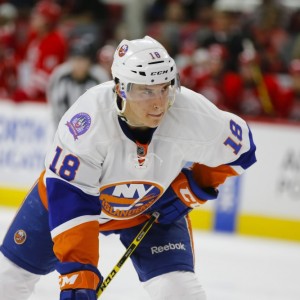 Twenty-two-year old center Ryane Strome will be entering his third season in the league and second full season. The Ontario native finished with 18 points in 37 games in 2013-14 and built upon that with 50 in 82 this past season. A continued progression into the 60 point range would be big for an Islanders team that is still looking to develop the offensive firepower that can hang with the Eastern Conference's top squads. Year 3 is always a big year for young players. Strome's season will likely mirror the success of his Islanders. New York is still a team on the rise and with continued growth of their younger players, they could pass up some older teams in the Eastern conference's pecking order.
New York Rangers – Kevin Hayes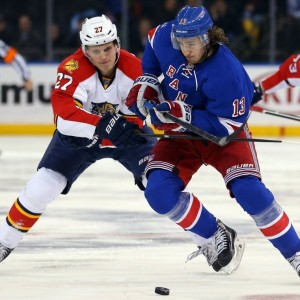 Kevin Hayes is the player that elected not to sign with Chicago because he wanted more guarantees of playing time. While the Blackhawks won the Stanley Cup, Hayes did get his ice time. The Boston native, and 6-foot-five, 225 pound winger impressed as a rookie with 17 goals and 45 points in 79 games. He added two goals and seven assists for nine points in another 19 playoff games. Few wingers in the game today have the size and high-level skill that Hayes brings to the ice. With Martin St. Louis retiring, Hayes will need to avoid that dreaded sophomore slump for the Rangers to have another deep playoff run.
Ottawa Senators – Mark Stone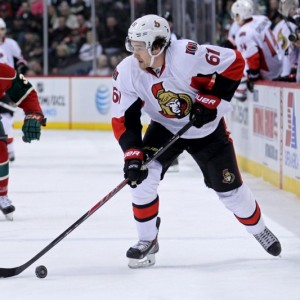 If you're still learning the name Mark Stone you are not alone. Unless you followed the Eastern Conference closely last season, you still might not know the name. However, the 2010 sixth-round pick broke out in a huge way last year for the Senators. The six-foot-two inch, 205 pound winger deposited 26 goals with 38 assists for 64 points last season in 80 games. Previously he had only played a combined 22 NHL games with just eight points. Moving forward time will tell if this was a flash in the pan or if Stone can be a regular 50-plus point producer. Another year of sixty points and Stone will certainly start becoming a household name. Again, watch out for you know what, that sophomore slump.
Philadelphia Flyers – Ivan Provorov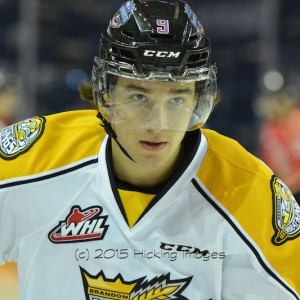 The Philadelphia Flyers have had issues between the pipes for years. While Steve Mason has somewhat solidified that position recently, the defense without Chris Pronger the last few years is now the major problem. Claude Giroux and Jacob Voracek were great scorers up front last year but on defense the Flyers were extremely thin. They even needed to take a flier on Michael Del-Zotto in order to get some offense from the blue line. With the seventh overall selection in the 2015 draft, the Flyers smartly took a defenseman, nabbing Ivan Provorov of the Brandon Wheat Kings. Provorov projects to be an extremely talented two-way defender who may not be NHL ready just yet but should be very, very soon. The Flyers now have a good group of defense prospects coming up through the system.
Pittsburgh Penguins – Phil Kessel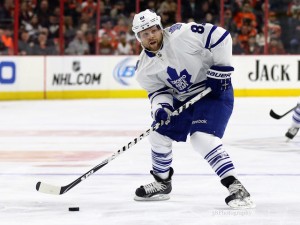 One of the easier choices on this list. The Pittsburgh Penguins traded for super-star winger Phil Kessel this offseason. It will give either Evgeni Malkin or Sidney Crosby an elite winger to play with. However, as colleague Mike Colligan noted recently, the Penguins had an elite goal scorer recently in James Neal and traded him away. Will Kessel be able to push the Penguins over the top? Pittsburgh has always been able to score, and yes they needed help on the wings, but one more star isn't going to cut it. Plus with Paul Martin now gone to the Sharks, who is supposed to play defense? There are a lot of question marks regarding the Penguins but at least Crosby, Malkin and Kessel will be fun to watch together on the power play.
San Jose Sharks – Martin Jones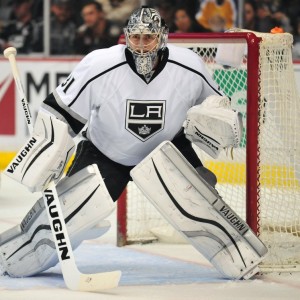 Speaking of the Sharks, Team Teal made three big time acquisitions this offseason. While they added Martin to the defense and Joel Ward the forward group, their first move was to find a goaltender. Just days after Los Angeles traded Martin Jones out of the conference to the Boston Bruins, (a team that didn't need goaltending), the Sharks acquired him for a first-round pick. While Paul Martin is more critical to the Sharks success, he is a known commodity. Jones is the wild card of all these acquisitions and fits in more with the sink or swim scenario. He has a strong AHL track record but extremely limited NHL experience backing up Jonathan Quick the past two seasons. Jones could end up being a big time stud but we don't know just yet. The Sharks have failed to get quality goaltending from an old Evgeni Nabokov and average Antti Niemi in recent years. A highly-touted young goaltender is definitely a wise change of pace.
St. Louis Blues – Vladimir Tarasenko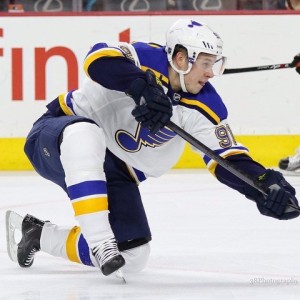 Encore! Encore! Encore! Blues forward Vladimir Tarasenko turned into an absolute star last season, wowing crowds with some unbelievable moves. The 23-year-old Russian winger obliterated his previous career highs of 21 goals and 43 points by tallying 37 goals and 73 points this past season. With the Blues once again suffering an early playoff exit, fans will be looking to their new found super-star scorer to lead them over the first round hump and deep into the playoffs. It would be hard to call a decline in points next year a true sophomore slump after Tarasenko's 43 points in 64 games in 2013-14. However, we don't know yet where Tarasenko will find himself consistently year in year out in terms of production. Many are interested to see if he can maintain that level of scoring.
Tampa Bay Lightning – Jonathan Drouin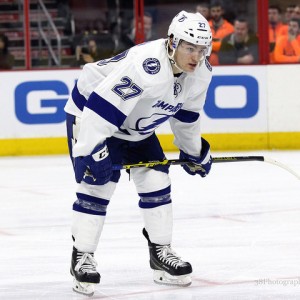 Is this the year that Jonathan Drouin breaks out? The third overall pick from the 2013 draft didn't play in the NHL right out of his draft year but had a decent rookie showing in 2014-15 with 32 points in 70 games. He was a non-factor in the playoffs though with just six games played and no offense to speak of. In the coming seasons the Lightning will be hopeful that Drouin can establish himself as a top-six play maker to go alongside Steven Stamkos. Slotting him on the top two lines would be ideal to drop other guys like Alex Killorn further down the depth chart where they are probably better fits and make the club even deeper. Drouin still needs to find his NHL scoring touch but all the tools are there. With a year under his belt now, perhaps next season is where he puts it all together.
Toronto Maple Leafs – Morgan Rielly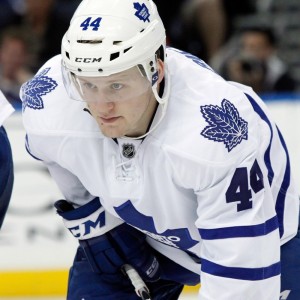 This was a toss-up. Yours truly very much debated going with 2015 fourth overall pick Mitch Marner in this spot but defenseman Morgan Rielly is going into that all important year 3. Like Marner, Rielly was taken in the top 5 overall, three seasons earlier. The 21-year-old defenseman has opened his career with back-to-back solid seasons of 27 and 29 points on an otherwise dreadful Maple Leafs squad. Moving forward, Rielly has the makings of an elite two-way defenseman. While Marner may end up a top line center down the line, Rielly is the more immediate treat to watch develop for Leafs fans as it would be wise to let Marner develop for another year in junior. No need to rush a player like that with the Leafs likely not qualifying for the postseason in 2016. Rielly advancing his game to an elite level will be the most intriguing part of the 2015-16 Leafs season.
Vancouver Canucks – Bo Horvat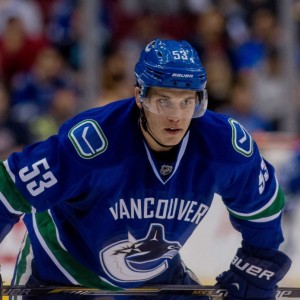 Twenty-year-old Bo Horvat had a nice rookie season last year with 25 points in 68 games. The ninth overall pick from the 2013 draft will need to have a breakout year though if the Canucks are going to have a chance at the playoffs again. Other teams in the division have made big improvements and of course the Central division is a juggernaut in the Western Conference. The Canucks made the dance last year, but they are a popular pick to fall back and miss them altogether in 2016. Horvat having a monster season will go along way to prove those people wrong. If Horvat stumbles in his second season, it might be a long year for Vancouver with the Sharks, Flames and Oilers all making major improvements and the Ducks and Kings still forces as well.
Washington Capitals – T.J. Oshie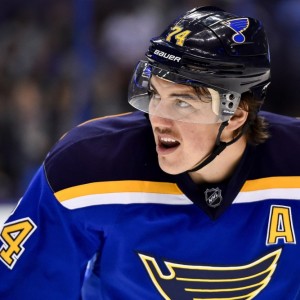 Alex Ovechkin's shiny new toy? All kidding aside, T.J Oshie should bring the capitals a bit more scoring depth than they had a year ago. Obviously the Capitals can light up the league with the best of them, but having other key guys to look to for goal scoring will be big. Both Oshie and Justin Williams should provide some of that depth scoring punch so that Ovechkin doesn't have to be relied on too heavily. Oshie is one of the most well-liked players in the game and the 28-year-old is good for about 20 goals and 55-60 points. Perhaps a change of scenery will see those numbers increase. There is less sink or swim questions with Oshie, but seeing him in a new uniform for the first time will be extremely interesting.
Winnipeg Jets – Jacob Trouba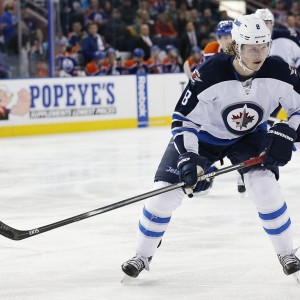 Yet another player entering that pivotal third year, Jets defenseman Jacob Trouba has big expectations as a future No. 1 caliber blueliner. In his first two seasons Trouba tallied 29 and 22 points in 65 games each. A healthy full third season of over 40 points certainly isn't out of the question. The Jets were a surprise team last year making the playoffs but just like with Vancouver, they will need big performances from their young stars to reach the playoffs again. The Western Conference is just so tough, and particularly that Central division where the Jets play. Trouba having a breakout year from the blue line will go along ways for the Jets landing in the postseason once again.
That's it, that's my list. Disagree with any of the choices? Feel free to leave a comment below!