The Edmonton Oilers have been one of the most surprising teams in the NHL this season, and are likely to end a record 11-year-long playoff drought. Connor McDavid, Leon Draisaitl, and Cam Talbot have been getting their fair share of fanfare for the turnaround, but one who deserves a hefty amount of praise is head coach Todd McLellan.
In his second year behind the bench, McLellan has improved the Oilers by 15 points since last season. By the end of the season that number could be even higher. Edmonton iss currently on pace for 99 points, which would be a 29-point improvement over last season's 70-point total. It would be the second-largest point increase this season behind the Columbus Blue Jackets, who are on pace for a 115-point season (a 39-point increase).
Under McLellan's guidance, the Oilers have the fourth-best power play and are in the top third of the league regarding fewest shots allowed per game. This year's 39 wins are also the most wins by an Oiler team since 2000-01. What's even more impressive is that McLellan's .604 winning percentage (W%) is the highest since Glen Sather's .619 W% in 1987-88. No other Oilers coach has hit the .600 mark in franchise history.
There have been other coaches that have guided their clubs to successful years, but McLellan's performance behind Edmonton's bench has been one of the best this season. McLellan truly deserves to be a part of the discussion for the Jack Adams award. His competition this year boils down to four other likely candidates; Mike Babcock (Toronto), Bruce Boudreau (Minnesota), John Tortorella (Columbus) and Barry Trotz (Washington).
So is McLellan more deserving of winning Coach of the Year honors over the rest of the field?
COMPARISON BETWEEN LIKELY JACK ADAMS AWARD FINALISTS

Coach
Team
GP
W
L
OT
PTS
W%
GF
GA
PP
PK
TOTAL

Trotz

WSH

72

47

17

8

102

.708

3.21

2.17

22.0

83.8

105.8

Tortorella

CBJ

71

47

18

6

100

.704

3.18

2.30

21.5

82.8

104.3

Boudreau

MIN

71

43

22

6

92

.648

3.23

2.48

21.1

83.8

104.9

McLellan

EDM

72

39

24

9

87

.604

2.85

2.51

22.5

79.6

102.1

Babcock

TOR

71

33

23

15

81

.570

3.03

2.85

23.7

83.3

107.0
---
Mike Babcock (Toronto)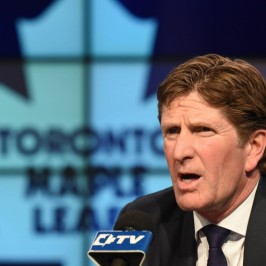 The Maple Leafs have gone from picking first overall last June to contending for a playoff spot. Babcock is getting his share of the love as he's coached a team full of youthful exuberance to a 32-23-15 record.
The Leafs are on pace for 92 points, a steep improvement on the 69 points they had last year. The Leafs also had a negative goal differential last year (minus-48) and are currently plus-11.
Their special teams aren't too shabby either, as they currently have the best power play and ninth-best penalty kill in the league. Despite only missing the playoffs twice in his coaching career, winning a Stanley Cup, appearing in three finals and winning two Presidents' Trophies, Babcock has never won a Jack Adams award.
He's arguably the best coach in hockey; in fact, he's the highest-paid coach in hockey right now. Now with his third team in 13 years, Babcock has another opportunity to win a Jack Adams.
---
Bruce Boudreau (Minnesota)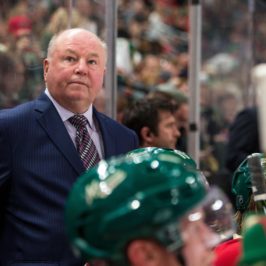 This time last year, the Wild were pulling into the final wild-card spot in the Western Conference after a coaching change. The Wild were once again bounced in the first round and hired Boudreau in the summer.
The hiring sparked Minnesota, who earlier this season won 12 straight games in December, the longest winning streak in franchise history. The Wild have already surpassed their point total from last year and sit second overall in the Central Division with 92 points.
Minnesota is on pace for 106 points, which would be a new franchise record. Their special teams are both top-10 in the league and come playoff time, the Wild might be ready for a deep playoff run. Unlike a few others on this list, Boudreau has already won a Jack Adams in 2008 with the Washington Capitals. However, as it's always been with Boudreau, he needs a Stanley Cup on his resume to silence his critics.
---
John Tortorella (Columbus)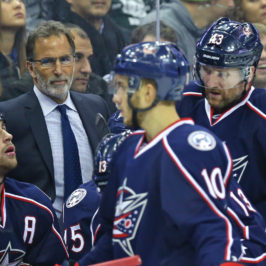 Through 71 games this season, the Blue Jackets had already made a 24-point improvement on their 76-point performance last season. The Jackets are on pace for a franchise-record 115 points, are a top-three team in the Eastern Conference and are a dark horse Stanley Cup contender. The season hasn't even finished, and Columbus' 100 points are already a franchise record.
One of the bigger knocks against Tortorella has been his inability to mentor young players. Considering the fact that two of their top three scorers are under 23 years old (Alexander Wennberg, Brandon Saad) and their top defenseman is a rookie 19-year-old (Zack Werenski), it's safe to say Tortorella has found a new gear as an NHL coach.
Columbus has also improved their goals differential from minus-33 to plus 63, and are second in the league for fewest goals allowed. Tortorella won the Jack Adams award once before in 2003-04, when he coached the Tampa Bay Lightning to a Stanley Cup. For a franchise that's only made the playoffs twice before, the Jackets are looking like a club that could do some serious damage this spring.
---
Barry Trotz (Washington)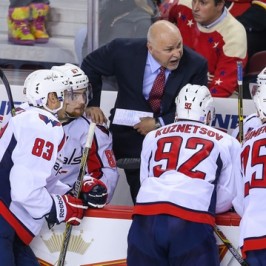 It's a hard task to win the Presidents' Trophy as the best team in the league; it's another to do it two years in a row. The Capitals currently lead the league with 98 points and are on pace for 114 points.
With Pittsburgh and Columbus both nipping at their heels, Washington has shown growth from their performance last season. They currently have a plus-73 goal differential and have allowed the fewest goals against in the league. The Capitals also have one of the best home records in the league at 29-8-4.
The Capitals are also the fourth-highest scoring team in the league and have the eighth-best power play and penalty kill. After being named Coach of the Year last season, Trotz could be just the second coach in NHL history to win back-to-back Jack Adams awards. Jacques Demers was the first to accomplish the feat in 1987 and 1988 as head coach of the Detroit Red Wings.
---
What Does It All Mean?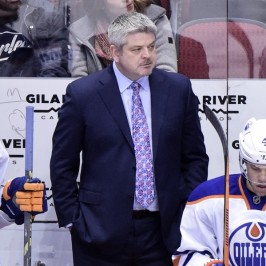 The Jack Adams race is going to be close, and McLellan should be a finalist at the very least.
Babcock's performance behind the Leafs' bench is being praised, but McLellan has him beat in several categories. McLellan has coached his team to a bigger point improvement, a better winning percentage, and fewer goals against per game.
Lined up against Boudreau, however, it's hard to make a case. Boudreau has seemingly turned Minnesota from a pretender to a contender, while the Oilers are still just a dark horse in the Western Conference. Boudreau's club has a better winning percentage, and the Wild are not only one of the highest-scoring teams in the league, but also one of the best at limiting goals. Boudreau's entire special teams score better than McLellan's thanks to the Oilers' dreadful penalty kill woes this season.
Then there's Tortorella and Trotz, coaching two of the best teams in the league, with stats that are nearly interchangeable. Columbus and Washington are two of the best offensive and defensive teams in the league. Their respective special teams are two of the better groups across the league as well.
At the end of the day, the best coaching performance in the league might go to Tortorella with the Blue Jackets. It's an eerily similar narrative to McLellan's taking a team from purgatory to the promised land, but with more substantial results. McLellan should be a finalist at the very least. He might not win Coach of the Year honors, but he's part of the reason the Oilers are on pace for their best season in almost 30 years.