The stage is set for the Western Hockey League playoffs, which promise to be entertaining from start to finish.
Despite all that talk about parity last week, there does appear to be some mismatches in the first round. At least a few, with the way things shook out.
Anything can happen in the postseason and there could certainly be upsets in a couple series, but it also wouldn't be shocking to see all of the favourites advance to the second round.
Here's how I see things playing out in each of the eight matchups:
Western Conference
B.C. Division
Prince George Cougars (BC1) vs. Portland Winterhawks (WC1)
SEASON SERIES: 2-1-0-1 for Portland
KEY PLAYERS: Prince George's regular-season MVP was trade acquisition Brendan Guhle, the Cougars' top defenceman who played a few games in the NHL with the Buffalo Sabres as an emergency call-up in December and would have been good enough to play for Canada at the world juniors too. Guhle's presence was sorely missed when he was sidelined by injury for the entire month of February, and the Cougars seemed to get their mojo back with his return in March.
Brendan Guhle, acquired in Nov. from PA, was named the Prince George Cougars MVP. Played 32 reg season games w/ PG, went 13-16-29, +17.

— Kris Baker (@SabresProspects) March 20, 2017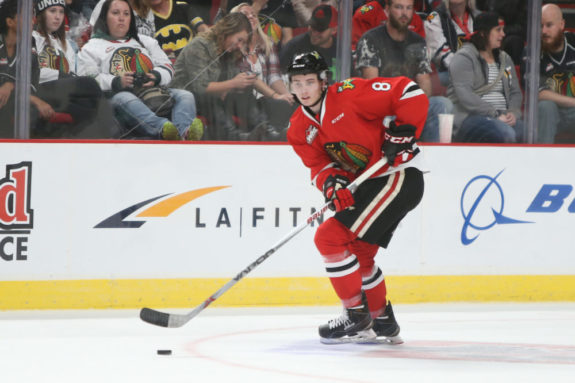 Portland was without Cody Glass for its regular-season finale due to an undisclosed injury, but the Winterhawks' leading scorer should be good to go for the playoffs. A potential top-10 pick in this year's NHL draft, Glass enjoyed a strong finishing kick in racking up 94 points — seventh-most in the league and second among first-time NHL draft-eligibles (behind Spokane's Kailer Yamamoto, 99).
ANALYSIS: I'm really intrigued by this matchup. Portland is sort of my sleeper in the West, but Prince George has been a powerhouse for most of the season. The Cougars are an older and bigger team, definitely deeper at forward too. I would even give P.G. a slight edge in goal, preferring Ty Edmonds over Portland's Cole Kehler. The Winterhawks boast a better defence corps and attack with more speed and a dangerous transition game. Portland had the fourth-best power play and Prince George the fourth-best penalty killing in the regular season, so special teams might be a wash. In saying that, the Cougars can be overaggressive in their intimidation tactics at times, so the Winterhawks will likely get their share of chances with the man advantage.
For the third time ever the Cats will battle the @pdxwinterhawks in a playoff series. Game 1 goes Friday at home. Game 2 Saturday.#PGvsPOR pic.twitter.com/yJOCWktYfg

— PG Cougars (@PGCougars) March 20, 2017
Home-ice advantage is huge here, especially with the travel factor — upwards of a 15-hour commute between the two cities that seem worlds apart. Prince George is going to be buzzing for the opening two games this weekend, with plenty of excitement surrounding the Cougars capturing their first B.C. banner in the franchise's 23-year history. But if Portland can get out of there with a split, the Winterhawks will be going home to a raucous atmosphere of their own — albeit at Veterans Memorial Coliseum and not the bigger, wilder Moda Center.
I feel this is the most underrated series of the first round. Part of me can see the Winterhawks winning — especially if they get that initial split in P.G. — but the more I think about it, the Cougars are just too strong.
PREDICTION: Prince George in 7
---
Kelowna Rockets (BC2) vs. Kamloops Blazers (BC3)
SEASON SERIES: 6-3-0-1 for Kamloops
KEY PLAYERS: Kelowna has a handful of key forwards — Dillon Dube, Calvin Thurkauf, Nick Merkley and Kole Lind all warrant mention — but I'll single out Reid Gardiner, the Rockets' trade-deadline ringer. Gardiner was only held off the scoresheet three times in 28 games since joining Kelowna from the pro ranks in January. He's been a consistent offensive force, producing a 15-game point streak while flanking Thurkauf and Merkley on Kelowna's top line. When the Rockets need a goal in the playoffs, against the Blazers, they may want the puck on Gardiner's stick above all others.
GOAL! Reid Gardiner taps home a Merkley Thurkauf set up. 1-0 #Rockets early! 🚀

— Kelowna Rockets (@Kelowna_Rockets) March 18, 2017
Kamloops is backstopped by arguably the league's best goaltender in Connor Ingram, who shared Canada's crease at the world juniors with Everett's Carter Hart. Ingram is capable of stealing games for the Blazers and his play could be the difference in this series. Ingram and Hart finished with identical .927 save percentages — tops in the WHL — and Ingram closed the campaign with three strong performances following a four-game funk that started with an 8-2 loss to Kelowna on Feb. 24 in Kamloops.
. @CBIngram1 broke his own franchise record with a .927 save percentage and @dferg_98 tied Ingram's record from last season at .922 pic.twitter.com/dHD7vzAnnF

— Kamloops Blazers (@blazerhockey) March 20, 2017
ANALYSIS: That was Kelowna's only win in Kamloops this season, so overtaking the Blazers down the stretch to secure home-ice advantage was crucial for the Rockets. This is a rematch of last year's first round, which saw the Rockets prevail in overtime of the seventh-and-deciding game thanks to Tomas Soustal's winner in Kelowna. Ingram was heroic in prolonging that series and the returning Blazers will benefit from those experiences. Kamloops is expected to put up a similar fight this time around, with a better roster on paper than a year ago — bolstered by rookie import Rudolfs Balcers, who netted 40 goals in the regular season, including eight in as many games against Kelowna.
http://gty.im/637974152
Both teams should be fully healthy for Game 1 on Friday, but the Rockets still possess more firepower up front, while the Blazers have the obvious edge between the pipes with Ingram. Kelowna's offence versus Kamloops' goaltending. That could be what it boils down to. The defences are almost a wash, though I prefer Kelowna's group based on the high-end talent of NHL first-round picks Lucas Johansen (2016) and Cal Foote (2017). The wild card here is going to be Kelowna netminder Michael Herringer. He's battled consistency issues ever since taking over as the Rockets' starter midway through last season, but Herringer took his game to another level down the stretch after getting torched 6-0 in Kamloops on Feb. 8.
This is going to be a great series again, another back-and-forth slobber-knocker, but I'm anticipating a case of déjà vu.
PREDICTION: Kelowna in 7
---
U.S. Division
Everett Silvertips (US1) vs. Victoria Royals (WC2)
SEASON SERIES: 4-0-0-0 for Everett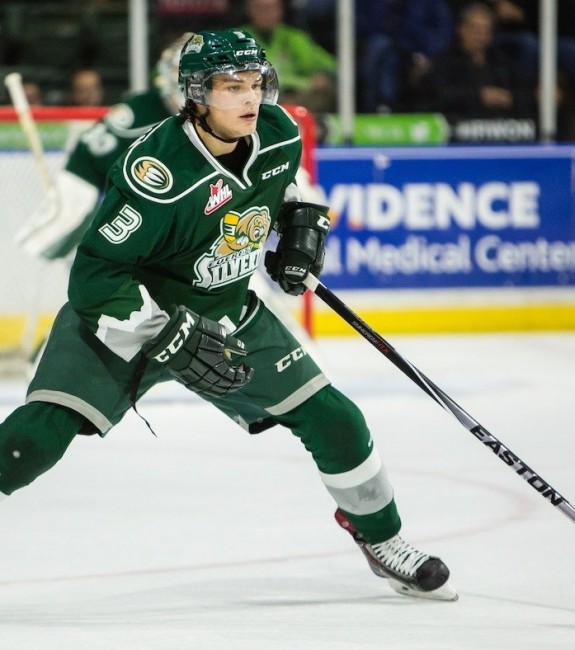 KEY PLAYERS: Hart is Everett's last line of defence and will be key to the Silvertips' success the further they go in the postseason, but I'd like to highlight a defence trio for the first round. Noah Juulsen, who also played for Canada at the world juniors, trade-deadline addition Aaron Irving and unsung Kevin Davis are the driving force behind this team. They get the job done at both ends of the ice — combining for 151 points, including 39 goals. Everett's forwards won't 'wow' you — the Silvertips were the lowest-scoring of the West playoff teams — but this club's commitment to defence, led by those three, was second to none in leading the league by a landslide in goals against, allowing 29 fewer than next-best Kamloops and just 2.35 per game.
After posting 90 points (50g-40a) this season, @mattphillips is the @MayfairOptometr Top Scorer! pic.twitter.com/BwBeiEdHWr

— Victoria Royals (@victoriaroyals) March 19, 2017
Victoria's offence will test Hart, led by the little guy with big game, Matthew Phillips — one of only five 50-goal scorers in the league this season and the only one from the Western Conference. Phillips is a threat every time he's on the ice, a dynamic and explosive speedster who doesn't let his lack of size deter him from driving the net or going into the dirty areas. Drafted by Calgary, in the sixth round last June, the Johnny Gaudreau comparisons are inevitable but also deserving. Phillips is that type of talent and I wouldn't bet against him making the big league or making a big impact in this series.
ANALYSIS: These teams will pick up where they left off in the regular season, with Everett sweeping a home-and-home in fairly convincing fashion on the final weekend, winning 4-2 and 5-2 to also sweep the season series. That doesn't bode well for Victoria, which has been banged up since the trade deadline in losing top-six forwards Tyler Soy and Ryan Peckford and top defenceman Chaz Reddekopp for 10-plus games. Soy missed more than a month before returning for those two games against Everett, but he was held pointless in both. The status of the other two, Peckford and Reddekopp, is unknown for this series.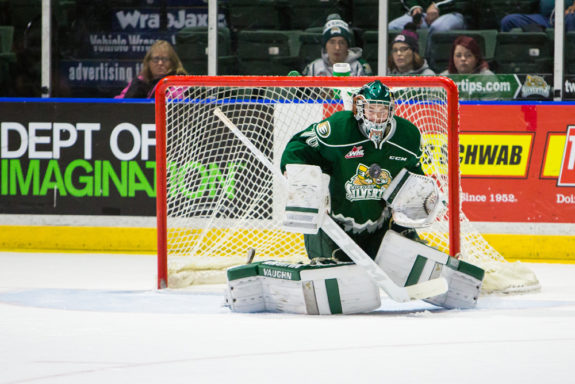 Victoria could be one of those teams capable of flipping the switch for the playoffs — especially if healthy — but the Royals backed into the postseason by losing six of their last seven games. The Royals have underachieved in general this season, but they could still be a dangerous opponent with a full lineup. If Dave Lowry can locate the reset button, Victoria might be able to make some noise. I can't see the Royals going quietly.
Problem is, Everett has had their number and has a clear advantage in goal and on defence. Kevin Constantine's suffocating system should be able to snuff out Victoria's vaunted offence as well.
PREDICTION: Everett in 5
---
Seattle Thunderbirds (US2) vs. Tri-City Americans (US3)
SEASON SERIES: 6-2-0-0 for Seattle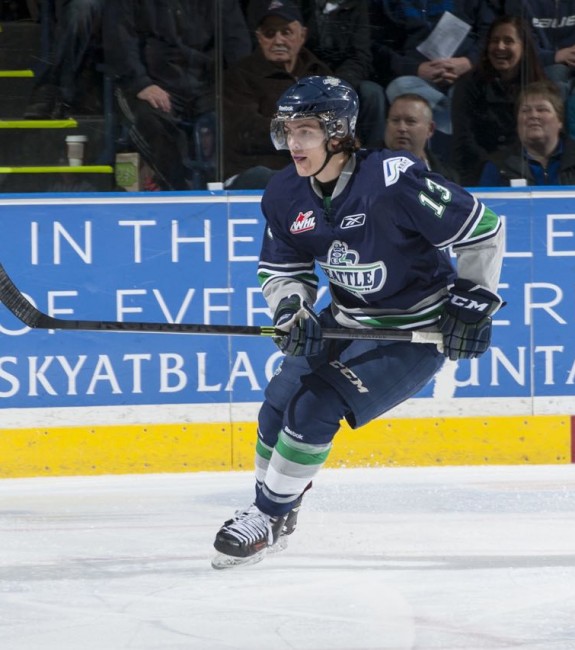 KEY PLAYERS: There could be some key players missing from this series. Seattle's offensive catalyst Mathew Barzal sat out the final five games of the regular season with an illness that might have been the mumps, and his status for Game 1 remains unclear. The Thunderbirds weren't the same team without him while Barzal was auditioning for the New York Islanders to start the season, but this absence should presumably be short-lived.
Tri-City won't have its top scoring threat in Michael Rasmussen, who underwent surgery for a fractured wrist and probably won't play again this season. That's a big blow to the Americans' attack, with Rasmussen ranking right up there with Glass and Yamamoto as the WHL's second-best forward prospect for this year's NHL draft behind Brandon's Nolan Patrick.
Tough news for top BC prospect in 2017 @NHL draft. Michael Rasmussen has broken wrist & is out 3 months. 32G,23A in 50GP for @TCAmericans.

— Joey Kenward (@kenwardskorner) March 3, 2017
If Barzal isn't back, Seattle will become more reliant on Scott Eansor, who stepped up to play a key role in last year's playoffs after surprisingly making the U.S. world-junior team. Eansor battled injuries this season too — managing 38 points in 40 games — and just returned for Seattle's finale, but he's one of the T-Birds' more battle-tested players. If Barzal is back, he's the straw that stirs Seattle's offensive drink while centering one of the league's most potent lines with his NHL-drafted peers Ryan Gropp and Keegan Kolesar. Steve Konowalchuk opted to load up his top trio and and they have been pretty much unstoppable.
Tri-City will have to score by committee without Rasmussen, but Parker Wotherspoon might be the Americans' most important player in this series. A former defence partner of Brandon Carlo — now of the Boston Bruins — Wotherspoon could be the next Carlo in making the jump to the NHL sooner than later and making a bigger impact than most expect. A potential teammate of Barzal with the Islanders in the years to come, Wotherspoon is looking like a steal as a fourth-rounder from 2015 with good size, skill and skating ability from the back end. Wotherspoon finished fourth in the WHL among defence scoring leaders with 66 points and was second in the Western Conference behind only Seattle's Ethan Bear (70 points).
https://twitter.com/zakkthebear/status/835563017815339008
ANALYSIS: This could be one of the higher-scoring series, with or without that aforementioned starpower. Both these teams play an up-tempo style, but Tri-City hasn't had much success running and gunning with Seattle this season. Not too many teams can trade scoring chances with the T-Birds and come out on top, so that might not be in the Americans' best interests, but it's tough to change your game at this time of the year. I think Portland would have had a better chance in fighting fire with fire, but Tri-City will certainly go down swinging for the fences. You feel for the goaltenders in this matchup, but the fans should be in for a treat however long it lasts.
PREDICTION: Seattle in 5
---
Eastern Conference
East Division
Regina Pats (E1) vs. Calgary Hitmen (WC2)
SEASON SERIES: 3-1-0-0 for Regina
KEY PLAYERS: Regina had the league's top-two scorers in Sam Steel and Adam Brooks with 131 and 130 points, respectively. There was a 21-point gap between them and their nearest rival. Steel and Brooks actually play on different lines, but they are most definitely a 1-2 punch for the Pats. All the offence runs through them and the Hitmen are going to have their hands full.
EERILY SIMILAR! @ebs_14 scored 50 in 09/10, @ssteel23 in 16/17. Both 50th's vs Brandon, on the PP, from the left circle!#JoinTheRegiment pic.twitter.com/KEaCU5ZfcM

— Regina Pats (@WHLPats) March 20, 2017
Calgary's leading scorer was Matteo Gennaro, with 80 points — 24 more than his nearest teammate — but the Hitmen's go-to guy is defenceman Jake Bean, who played for Canada at the world juniors and was drafted 13th overall by Carolina last year. Bean has been good, not great, in the WHL this season — finishing with 45 points in 43 games, but only eight goals. He was tied for 18th among defence leaders but nowhere near Regina's frontrunner Connor Hobbs, who was the WHL's version of Brent Burns with 31 goals and 85 points.
The @tommygunsbarber Top Defenceman of the Year goes to @JakeBean_2!!! #hitmenawards pic.twitter.com/LISPcfUkAE

— Calgary Hitmen (@WHLHitmen) March 19, 2017
ANALYSIS: As you can tell from those statistical comparisons, this matchup isn't close. It's lopsided and Calgary will be lucky to win a game. Regina will be without rookie sensation Nick Henry for the series opener — he'll be serving a one-game suspension — and the Pats previously lost fellow top-nine forward Jake Leschyshyn to a season-ending knee injury, but this team hasn't skipped a beat.
The Pats will host next year's Memorial Cup and they are the favourites to represent the WHL at this year's national championship tournament in Windsor, Ont., in May. The Hitmen will serve as Regina's first stepping stone in a long playoff run.
PREDICTION: Regina in 4
---
Moose Jaw Warriors (E2) vs. Swift Current Broncos (E3)
SEASON SERIES: 4-2-0-0 for Moose Jaw
KEY PLAYERS: Goal-scorers and goaltenders — both will be important here. For Moose Jaw, it's Jayden Halbgewachs and Zach Sawchenko. For Swift Current, it's Tyler Steenbergen and Jordan Papirny. Four undrafted players who, in hindsight, probably all should have been selected by NHL teams last year. A few clubs must be kicking themselves, but the first three names will likely be called this year and Papirny will almost certainly get signed by somebody — perhaps the Vegas Golden Knights, to be reunited with his former coach and GM, Kelly McCrimmon.
Emanuel Viveiros said that SC Broncos' Papirny and Sissons have both been cleared to start practicing and should be available for Game 1.

— Matthew Gourlie (@MattGourlie) March 19, 2017
Sissons has missed the Broncos' last five games, Papirny hasn't started in net in their last seven straight games.

— Matthew Gourlie (@MattGourlie) March 19, 2017
Halbgewachs, the birthday boy who turned 20 today, was also part of that elite 50-goal club, while Steenbergen tied with Lethbridge's Tyler Wong for the league lead with 51. Regina's Steel (50) rounded out that group, for those wondering. Halbgewachs and Steenbergen are both undersized snipers and while I rarely get to see them being based in the Western Conference, their numbers don't lie. When they were here in Kelowna, both made impressions on me — Steenbergen scoring twice in a 5-1 win on Oct. 15 and Halbgewachs assisting on the overtime winner in a 3-2 victory on Jan. 18.
ICYMI: Jayden Halbgewachs with 4-3-7pts in the Warriors 10-5 win over Swift Current. Halbgewachs hits the 50G & 100pts milestone. pic.twitter.com/l0yBfOOoxv

— Moose Jaw Warriors (@MJWARRIORS) March 20, 2017
As for the goalies, if Ingram and Hart are the league's top two — and that could be my Western bias, albeit supported by their numbers — then a case can be made for Sawchenko and Papirny being Nos. 3 and 4. Their save percentages aren't on that level — at .917 and .907, respectively — but their skill levels aren't far off. Sawchenko was the CHL's top goaltender in consecutive weeks to end February — the first WHL netminder to accomplish that feat since Laurent Brossoit in 2012 — while Papirny has more playoff experience than any other goalie after backstopping Brandon to two straight WHL finals, losing to Kelowna in 2015 and beating Seattle last year. Swift Current traded for Papirny at the Jan. 10 deadline, hoping the over-ager could be a difference-maker in a series like this.
ANALYSIS: Still a Saskatchewan boy at heart — born and raised on a grain farm in the Prairies — I'm excited for this lone all-Saskatchewan matchup. I feel this series could be every bit as intense as the Kelowna-Kamloops matchup that I'll be covering here in B.C. I'm obviously not as familiar with these teams, but looking up and down the rosters, I really don't see much difference between Moose Jaw and Swift Current. The Warriors won the season series, bagging an extra four points and finishing five points ahead in the standings. These teams are just down the road from each other on the Trans-Canada Highway — a couple hours apart — so both fan bases should travel well and home-ice advantage might not be as meaningful as some of the other matchups around the league. To me, from the outside looking in, it's almost a coin flip.
PREDICTION: Moose Jaw in 7
---
Central Division
Medicine Hat Tigers (C1) vs. Brandon Wheat Kings (WC1)
SEASON SERIES: 3-1-0-0 for Medicine Hat
KEY PLAYERS: Medicine Hat had 10 players with more than 20 goals, eight with more than 25, and five with more than 30. Take your pick in terms of key players, the Tigers are arguably the league's deepest or most balanced team. There is so much firepower up front, but I'm going to go with a blueliner here again. David Quenneville is the name that jumps out at me, with 23 goals and 59 points in just 49 games as a defenceman. That is the third most goals despite playing 18 fewer games than both Regina's Hobbs (31) and Seattle's Bear (28). Had Quenneville played 67 games like them — prorating his stats — he would have matched Hobbs' league-leading goal total. To me, Quenneville seems like the Eastern Conference's version of Wotherspoon — a smaller version — and maybe it's no coincidence that Quenneville was also drafted by the Islanders. Strangely, he fell to the seventh round last year, finally getting selected 200th overall, but Quenneville would presumably go much higher in a redraft.
The more I look at David Quenneville highlights, the more I think he's gonna be a middle round steal for whoever gets him. Unreal player.

— Christian (@cjkewleyyyyyyyy) June 16, 2016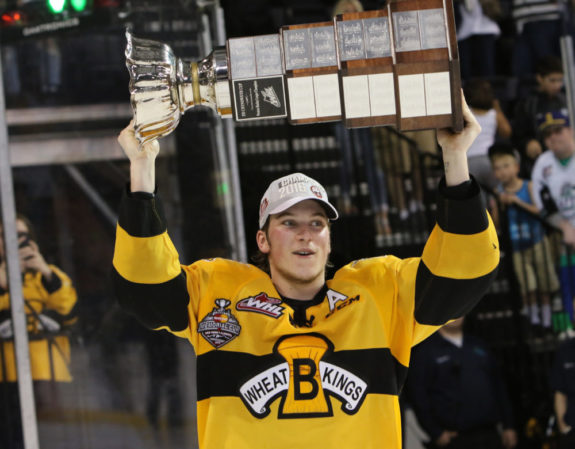 Brandon's key player is a no-brainer in Nolan Patrick, the consensus top prospect for this year's NHL draft. Despite missing 39 games to injury — and missing the world juniors as a result — Patrick showed no signs of rust or lingering effects in returning to put up 46 points, including 20 goals, in 33 games. He had 102 points, including 41 goals, in a full season last year when he went on to become the playoff MVP in leading the Wheat Kings to a league championship with 30 points, including 13 goals, in 21 post-season games. Patrick is the real deal and projects as a top-line centre for some lucky NHL team.
That's the good news. The bad news is Patrick might be hurt again — leaving last Friday's game against Regina with a lower-body injury and sitting out Saturday's rematch to wrap up the regular season. The Wheat Kings haven't updated Patrick's status — all the teams are hush-hush about injuries at this time of the year — so it'll be a wait and see whether he's in the lineup for Game 1.
ANALYSIS: Being the defending champion, Brandon won't be an easy out, but Medicine Hat's depth should be the difference in this series. How long it lasts will depend largely on Patrick's availability and his health, whether he's playing at full strength or at all. The Wheat Kings aren't a one-man team and they were staying afloat in the East playoff picture even without Patrick, but Brandon won't stand a chance against Medicine Hat without its captain. Brandon would be hard-pressed to win a single game without Patrick. The Tigers just have too many weapons for any sort of upset.
PREDICTION: Medicine Hat in 6 if Patrick plays the entire series; Medicine Hat in 4 if Patrick is a no go
---
Lethbridge Hurricanes (C2) vs. Red Deer Rebels (C3)
SEASON SERIES: 5-0-1-0 for Lethbridge
KEY PLAYERS: Lethbridge is led by its captain, Wong, who is a legitimate candidate for league MVP. Wong finished third in the WHL scoring race with 109 points and, as mentioned, tied for the most goals with 51. His leadership goes beyond that stat-line, though. Wong is a gamer and he'll take the Hurricanes on his shoulders in the postseason. Expect him to be leading by example right from the opening faceoff in Game 1. Worth noting, Wong is an undrafted over-ager who was a late cut by the AHL's Toronto Marlies prior to this season — much like Regina's Brooks, also an over-ager but a Maple Leafs draft pick.
He saved his best for last! Congratulations to @tylerwong_5! His 51 goals finishes first in @TheWHL in goals this year! #OhCaptainMyCaptain pic.twitter.com/GoNhEDZbGS

— Lethbridge Hurricanes (@WHLHurricanes) March 20, 2017
Red Deer has a workmanlike roster for the most part, but the Rebels' leading scorer Michael Spacek does have elite skill. He's a Winnipeg Jets draft pick — a fourth-rounder in 2015 — and was one of the Czech Republic's better players at this year's world juniors. Spacek is surrounded by mostly grinders in Red Deer, but he still managed to produce 85 points, including 30 goals, in 59 games. Not too shabby.
Not many prospects slicker than Michael Spacek. Such strong playmaking ability. He'll need 2-3 years in the AHL, but he could have a future https://t.co/9ujKKNv4Gn

— Peter Siamandas (@PegPeteHockey) March 11, 2017
ANALYSIS: Red Deer hosted last year's Memorial Cup and has several holdovers on this year's roster, so the Rebels won't be short on experience. The playoffs also favour those grinding-type players, to a degree, so Red Deer should be able to avoid the sweep. In saying that, Lethbridge dominated the season series — bookending it with 6-1 and 7-3 blowouts — and finished a whopping 22 points ahead of Red Deer in the standings despite being seeded second and third in the Central. I don't foresee another Lethbridge letdown in the first round like last year's five-game loss to then-underdog Regina. I think the Hurricanes will have learned from that lesson.
PREDICTION: Lethbridge in 5
---
Second Round and Beyond
No surprises, nor upsets, according to my predictions. Boring, I know, but I just couldn't bring myself to pick Portland over Prince George, Kamloops over Kelowna or Swift Current over Moose Jaw. Those were the three series that I considered upsets but ultimately sided with the favourites. Everett, Seattle, Regina, Medicine Hat and Lethbridge should all make it through relatively unscathed, without breaking much of a sweat.
In the division finals, I would take Kelowna over Prince George in five, Seattle over Everett in six, Regina over Moose Jaw in seven, and Medicine Hat over Lethbridge in seven. That second round would be much more competitive and every matchup could go either way.
In the conference finals, I could see Kelowna avenging last year's loss to Seattle, with the Rockets knocking off the Thunderbirds in seven. Regina and Medicine Hat go the distance in my mind too, with the Pats prevailing in seven. Those Kelowna-Seattle and Regina-Medicine Hat series would be absolute barnburners.
In the league final, I would go with Regina over Kelowna in seven, but that would be one for the ages.
Larry Fisher is a senior writer and head scout for The Hockey Writers, having been an at-large contributor for THW since August 2014. Fisher covers both the NHL and the WHL, specializing in prospects and NHL draft content, including his annual mock drafts that date back to 2012. Fisher has also been a beat writer for the WHL's Kelowna Rockets since 2008, formerly working as a sports reporter/editor for The Daily Courier in Kelowna, British Columbia, Canada from 2008-2019. Follow him on Twitter: @LarryFisher_KDC.