The Western Hockey League playoff picture probably won't be clear until the final day of the regular season this weekend.
However it shakes out come Sunday night, the postseason promises to be as entertaining and intense as it's been in many years — maybe a decade or more.
The reason is simple: Parity.
The goal of every league at every level, this major junior circuit is full of intrigue this spring, the most since I started covering the WHL, at least part-time, in the 2009 playoffs.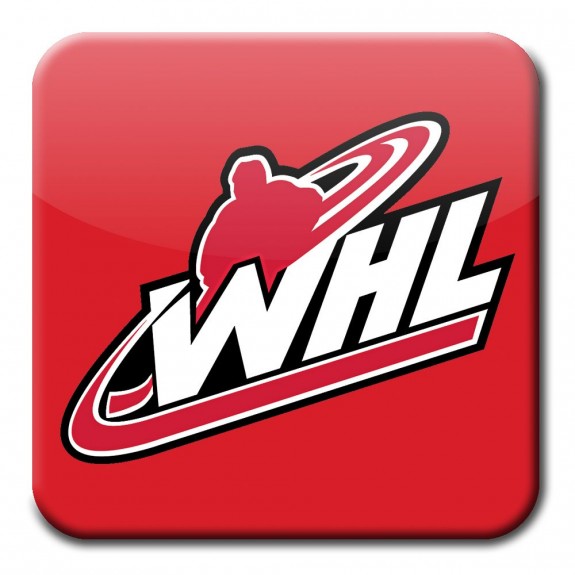 The scenarios in terms of potential matchups are still plentiful — only one series is set in stone, Moose Jaw versus Swift Current — but the first round is going to be high drama regardless, and it's just going to get better from there.
Sweeps will be few and far between — fans won't likely need to go broom shopping this year — and we could certainly see some upsets as early as the opening round.
The Regina Pats, who will host next year's Memorial Cup, are the team to beat and clinched the Scotty Munro Memorial Trophy as regular-season champion thanks to Tuesday's win combined with Medicine Hat's loss last night.
As a result, Regina will enter the playoffs as the Eastern Conference's top seed and would have home-ice advantage through to the league final.
Everything else remains up in the air right now — as far as the seeding goes, especially in the Western Conference — but 15 of the 16 spots are spoken for and the Calgary Hitmen are almost certain to claim the last berth.
Even without knowing the other seven matchups, we can start to look ahead at what awaits in the postseason. It may not be a playoff preview per se, but there's already lots to look forward to.
Western Conference
Let's start here, in my wheelhouse, where the biggest game of the season is taking place tonight in Kelowna. The host Rockets are making up their game in hand on the Prince George Cougars and can take over top spot in the B.C. Division with a win over the visiting Everett Silvertips, who could also leapfrog the Seattle Thunderbirds atop the U.S. Division with a victory. Seattle is in Spokane tonight, while Prince George is idle.
Kelowna Rockets
If Kelowna prevails, the Rockets and Cougars would be even on points, but Kelowna holds the tiebreaker and would control its own fate on the weekend, with only a home-and-home against the last-place Vancouver Giants remaining. Granted, Vancouver beat Victoria last night and could still play spoiler, but Kelowna has won five of six in their season series and would be on an eight-game winning streak overall.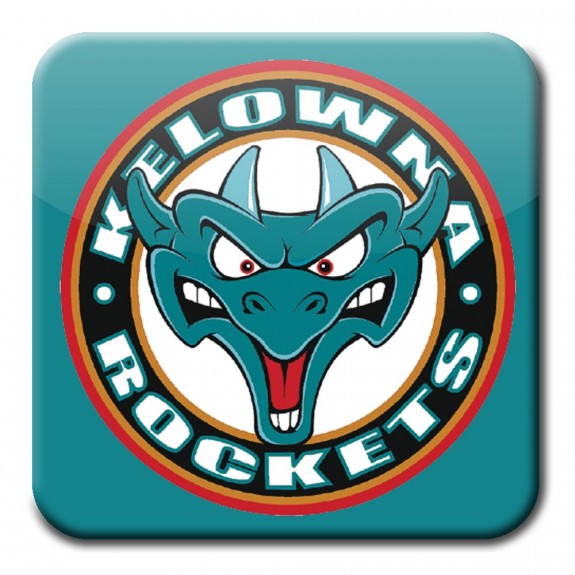 The Rockets have won seven in a row, with only one regulation loss in their last 15 games (13-1-1-0) dating back to Feb. 8. Over that dominant stretch, Kelowna scored four straight victories against Prince George to even their season series and also defeated all the other West contenders, including Seattle, Kamloops, and Everett in a shootout. The lone setback occurred on Feb. 25 in Kent, Wash., against the T-Birds, who dethroned the Rockets as league champs in the third round of last year's payoffs, the Western Conference final.
That rematch could come to fruition next month, but nothing is guaranteed in the wild West this year. The Rockets are rolling and appear well equipped to go on another deep run, but the B.C. Division is widely regarded as the toughest in the entire Canadian Hockey League this season.
Kelowna has battled injuries all season but played a half-dozen games with a fully healthy lineup to end last month in which the Rockets were averaging almost 6 1/2 goals per game. Assuming Tomas Soustal — their only injured player at present — is able to return for Kelowna's playoff opener and nobody else gets hurt this week, offensive depth will be the Rockets' biggest strength in the postseason.
The @Kelowna_Rockets have scored 3 or more goals in 15 straight games.
🏒🚨🔥

— Mark Francis (@Markenjoysmath) March 13, 2017
Leading the way has been trade-deadline ringer Reid Gardiner, presently on a 15-game point streak and only held off the scoresheet twice in 25 games since joining the Rockets in January. Gardiner has actually recorded a point in 19 straight games when Kelowna has scored at least a goal — 15 in a row since the Rockets were shut out 6-0 in Kamloops on Feb. 8. Impressive, though not quite on the same level as Alex DeBrincat's 25-game point streak in the Ontario Hockey League.
Gardiner is no Leon Draisaitl either, but he's been a consistent force for Kelowna since returning to junior from the AHL's top team, the Wilkes-Barre/Scranton Penguins. The comparisons to Draisaitl are inevitable. They were teammates for a couple seasons in Prince Albert and they were both playing pro when they became prized acquisitions for the Rockets, who relinquished first-round bantam draft picks to land each of them — the only times in over a quarter-century of existence that Kelowna's franchise has parted with its top selection.
Kelowna's leading scorer Kole Lind, a potential first-round pick in this year's NHL draft, has been slowing down lately with only two points, both assists, in his last five games. Dillon Dube, a Calgary prospect who played for Canada at the world juniors, has been picking up the slack with six goals and 11 points in Kelowna's last four games. A strange discrepancy since the two are linemates, along with another trade-deadline addition in Carsen Twarynski.
Calvin Thurkauf deserves a shout-out as well and would get my vote as Team MVP at Sunday's awards banquet for his efforts in centering Kelowna's top line with Gardiner and Arizona first-rounder Nick Merkley. The latter has also cooled off, without a goal in his last five games after scoring in seven of the previous eight and racking up 21 points in 13 February games to become a point-per-game player for the campaign — now with 60 points in 60 games.
http://gty.im/617676936
Cal Foote is the other MVP candidate and a lock for Kelowna's top defenceman award, while his younger brother Nolan, a forward, will surely be named the Rockets' top rookie. The sons of former NHLer Adam Foote, Cal is also a lock to be picked in the first round of this year's draft — likely in the teens, though I wouldn't hesitate to take him in the top 10, possibly as the top defenceman of the draft — and Nolan has the potential to go even higher in 2019. Cal gets the Shea Weber comparisons because of the Kelowna connection, and I honestly see a lot of Jamie Benn in Nolan.
Kelowna's perceived weakness is between the pipes, but over-age goaltender Michael Herringer has been rounding into form and will be looking to silence his critics in the playoffs.
Coached by Jason Smith, who captained the Oilers to within a win of the 2006 Stanley Cup but is in his first season behind a junior bench, the Rockets have the pieces in place to go all the way again, but the competition is stiffer than usual.
The Rockets are the team I cover on a daily basis — as their beat writer for the daily paper here in Kelowna — but let's take a quicker look at the rest of the playoff field, beginning with the rest of the B.C. Division where three of the four playoff-bound teams are coached by former NHL players in Smith, Richard Matvichuk (Prince George) and Dave Lowry (Victoria), while Don Hay (Kamloops) is a legend around these parts who has been to the NHL and back as a coach.
Prince George Cougars
Prince George has a much tougher home-and-home to close out the season, facing a possible first-round opponent in the Kamloops Blazers. The Cougars have won four of six against the Blazers, most recently sweeping a two-game home set in convincing fashion, 8-4 and 6-1, earlier this month.
The Cougars got a big boost in getting back top defenceman Brendan Guhle, who missed a month to injury, including all four of those February losses to Kelowna. Prince George is a different, much better team with Guhle in the lineup and there is a good chance he'll be in the NHL with Buffalo next season. The Cougars also plucked Guhle from Prince Albert prior to Christmas and he got a brief mid-season stint with the Sabres as an emergency call-up. Not overly flashy, but very effective.
WATCH: Brendan Guhle races in and finishes the 2v0 as part of his two point (1+1) night. Guhle now has 100 career WHL points #Sabres pic.twitter.com/JL9RCpnDRq

— Kris Baker (@SabresProspects) March 9, 2017
Prince George was another big buyer at the trade deadline, boldly bringing in two new imports in Radovan Bondra from Vancouver and Nikita Popugaev from Moose Jaw. Both big forwards, they haven't necessarily lived up to expectations and need to be better for the Cougars to have playoff success. Prince George is deep up front too — albeit not quite as dynamic as Kelowna — with seven forwards scoring 20-plus goals, including a trio of NHL draft picks in Jansen Harkins, Jesse Gabrielle and Brad Morrison.
Ty Edmonds is capable of stealing games in goal and the defence is probably underrated beyond Guhle.
The Cougars have been topping the B.C. standings essentially all season and are seemingly built for the playoffs with an older, bigger group than most their rivals. A dangerous team if they start firing on all cylinders again going into the postseason.
Kamloops Blazers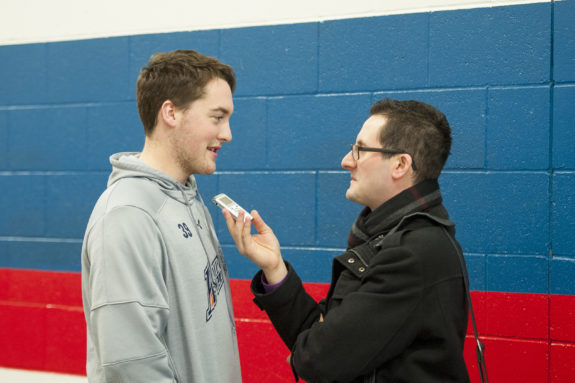 Backstopped by Connor Ingram, arguably the league's best goaltender, the Blazers have taken another step forward this season. They pushed the Rockets to overtime in a seventh-and-deciding game before bowing out in last year's first round — Ingram's heroics prolonged that series — and a rematch could be in the cards if Kelowna loses to Everett tonight and Prince George continues to have Kamloops' number on the weekend.
Kamloops has a solid, well-rounded roster and bolstered its offence from last year with the arrival of one of the league's top rookies and imports in San Jose prospect Rudolfs Balcers. He's got a bit of Oliver Bjorkstand in him, a flair that has translated into 40 goals thus far.
The Blazers put up a better fight than most anticipated last year, and they certainly won't be pushovers this time around. They might just score a knockout.
Victoria Royals
The Royals maybe overachieved last year and then underachieved this season, due in large part to injuries. If Victoria can get healthy in time for the playoffs, this team will be a handful for anybody and everybody. That's a big IF, though, with top-six forwards Tyler Soy and Ryan Peckford and top defenceman Chaz Reddekopp all sidelined for more than 10 games at present. Making matters worse, the mumps might be taking a toll on the Royals right now, with blueliner Mitchell Prowse and coach Lowry both showing symptoms and awaiting test results.
In better news, Matthew Phillips sniped his 50th goal on a penalty shot last night and has found another gear after winning the league's rookie of the year last season. Drafted by his hometown Calgary Flames, Phillips could be the next Johnny Gaudreau. Yes, he's tiny — shorter and certainly skinnier than Gaudreau — but there's no denying his talent and determination.
FANTASTIC PHILLY! @mattphillips_8 becomes the first Royals player to score 50 goals in a single season with his penalty shot marker! pic.twitter.com/kUR8UqMMUW

— Victoria Royals (@victoriaroyals) March 15, 2017
The Royals would really miss Soy and Reddekopp if they aren't back for the start of the postseason, but Victoria still has Jack Walker, Vladimir Bobylev and Dante Hannoun in addition to Phillips up front. They definitely miss Joe Hicketts on defence this season, with Scott Walford doing his best to fill that void in Reddekopp's absence.
Griffen Outhouse had the best stats of any goaltender in the league last season — as Coleman Vollrath's backup — but he hasn't been as consistent in his first campaign as Victoria's starter. Outhouse needs to step it up if the Royals are going to stand any chance.
Seattle Thunderbirds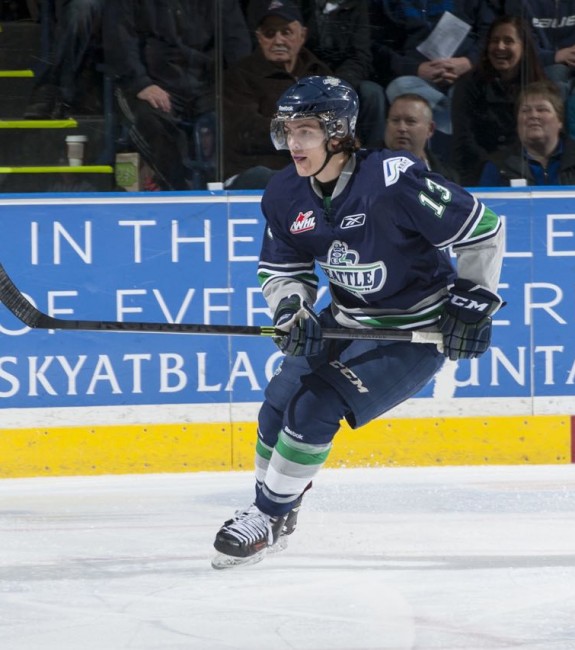 This team took off when Mathew Barzal returned from his audition with the Islanders, and the Thunderbirds haven't really looked back since. Seattle has loaded up its top line with Barzal between power forwards Keegan Kolesar and Ryan Gropp — both NHL-drafted prospects — and that trio is proving nearly unstoppable. Ethan Bear adds to the offensive firepower from the back end — second in the league in defence scoring — with those four largely carrying the club.
Steve Konowalchuk, another former NHLer coaching in the WHL, really leans on his best players and the T-Birds will go as far as they can take them again. Last year, it was all the way to the league final with much the same core. Worth noting, Barzal is also in isolation with a mumps' scare right now.
Everett Silvertips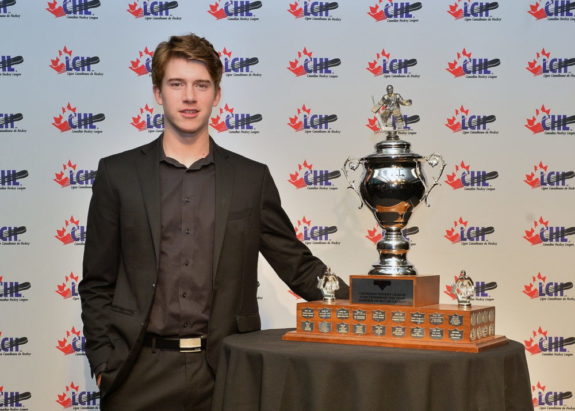 Carter Hart is the last line of defence for Everett, just as he was for Canada at this year's world juniors. That experience, albeit with some ups and downs and ending in a shootout defeat to the Americans for gold, really benefitted Hart and the pressure of the WHL playoffs will pale in comparison. Hart is as composed as they come for teenage goaltenders, and he'll give the Silvertips every opportunity to win in the postseason.
Kevin Constantine has always preached defensive structure and Everett is as stingy as ever this season, leading the league in goals against by a landslide. Offensively challenged, to some degree, Everett does have three legit blueliners in Noah Juulsen, Aaron Irving and Kevin Davis. They will have to get the job done at both ends in the postseason for the Silvertips to have success.
Portland Winterhawks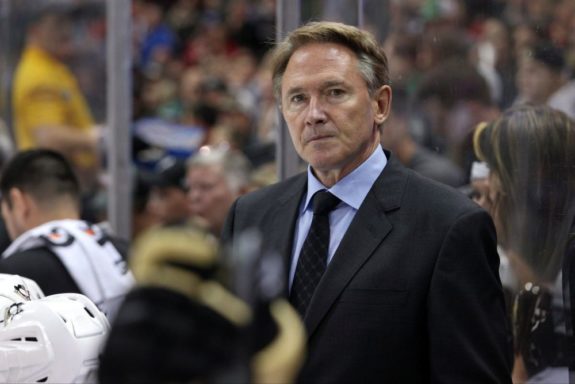 This team could make some noise. You heard it here first. The Winterhawks were flying under the radar for much of the season, but they have been soaring as of late. Nothing against Jamie Kompon and the work he did in Portland the past couple seasons, but the Winterhawks are a different beast when Mike Johnston is behind the bench. It is still baffling that Sidney Crosby and the Penguins struggled to score under his watch because the Winterhawks have always been a high-flying offensive team when Johnston is calling the shots. Portland is proving potent again now, scoring the third-most goals in the league behind only Medicine Hat and Regina.
The Winterhawks have been led by draft-eligible Cody Glass, who might get to 100 points — he's at 94 with three games left — and should get picked in the top 20, possibly even the top 10 in June. Glass is going to be a draft riser if he keeps scoring at this rate in the postseason. From the first time I saw Glass live, he reminded me of Ty Rattie — he even wears the same No. 8 — but the more I see him, the more I think Glass will be the better pro.
2017 prospect Cody Glass is your WHL player of the week with eight points in four games for Portland

— Ryan Kennedy (@THNRyanKennedy) March 13, 2017
Johnston has also been able to get the most out of his imports over the years in Portland and this season is no exception with Joachim Blichfeld and Henri Jokiharju both making big impacts. Skyler McKenzie has exploded in his third season — he had four and eight goals in his first two campaigns with Portland, he's at 42 right now — and Caleb Jones has been among the league's top all-around defencemen after being a world-junior standout for the golden Americans. The goaltending hasn't been too shabby either, for a team that isn't afraid to run and gun and trade scoring chances.
Tri-City Americans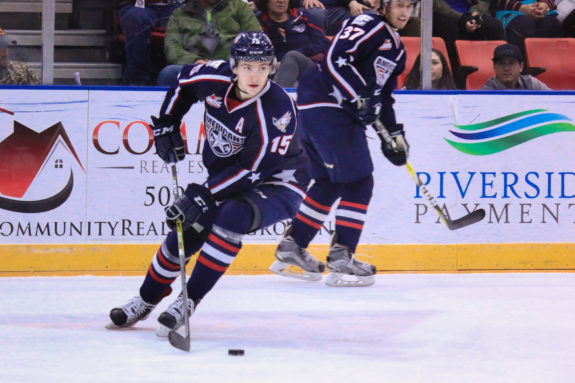 Another fun team to watch, with a lot of underrated offensive weapons, but Tri-City isn't the same team without its draft-eligible scoring sensation Michael Rasmussen, who hasn't played since Feb. 1 and is expected to miss upwards of three months with a fractured wrist. Rasmussen's season is probably over, so lesser-knowns like Morgan Geekie, Tyler Sandhu and Jordan Topping, amongst others, will have to score by committee in the playoffs. Parker Wotherspoon and Juuso Valimaki, another draft riser, will help drive the offence from the back end, but it might not be enough for Tri-City. The Americans, more than any other team in the Western Conference, will be in tough no matter who they play in the first round.
Eastern Conference
This isn't my area of expertise, since the crossover play between conferences is so limited in the WHL. Truth be told, I haven't seen a lot of the East teams live and even Regina was without league-leading scorer Sam Steel when the Pats were in Kelowna. We didn't get to see Nolan Patrick here either, with the consensus top prospect for this year's NHL draft missing 35 games due to injury, including Brandon's B.C. road trip in December.
Now that Patrick is healthy, you have to consider the Wheat Kings live underdogs as defending WHL champions and knowing he could singlehandedly steal a game or two, if not a round or two. Brandon will go into the playoffs as a wild-card team, literally and figuratively.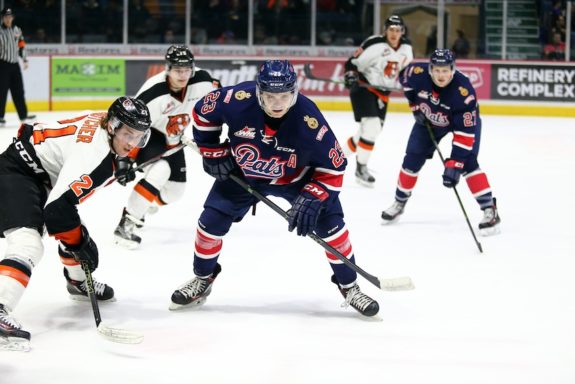 Regina is obviously a real force to be reckoned with. Steel is tearing it up with 127 points — and three games to go — the most by an under-19 player since Pat Falloon put up 138 points for Spokane in only 61 games in 1990-91. Steel has played 63 games thus far, and his supporting cast has been impressive as well, with the likes of Adam Brooks and Austin Wagner, plus overachiever Dawson Leedahl, dynamic rookie Nick Henry, hulking import Filip Ahl, and high-scoring defencemen Connor Hobbs — the league-leader for blueliners — and Josh Mahura.
Like Kelowna in the West, Regina's downfall could be goaltending, but Tyler Brown will try to make a name for himself in the postseason.
Medicine Hat is the other division winner — topping the Central — though rival Lethbridge has been hot on its heels downs the stretch and they wrap up the regular season with a home-and-home this weekend. That Tigers-Hurricanes series will be barnburner if both teams make the second round.
Over the last decade, the Tigers have always had a handful of undersized, high-scoring forwards — going back to the days of Tyler Ennis, Linden Vey, Emerson Etem and Hunter Shinkaruk — and that is the case again with Chad Butcher, Mason Shaw, Steven Owre and Max Gerlach. Medicine Hat has eight players with 25 or more goals — yes, EIGHT!
That is a league high — Regina has seven — and Lethbridge does have five, but the Tigers' balanced attack is topped by a trio of 34-goal men whereas the Hurricanes have a pair of 40-goal scorers with captain Tyler Wong likely to top 50 (he has 49 with three games left).
The aforementioned all-Saskatchewan series between regional rivals Moose Jaw and Swift Current could produce fireworks too. Moose Jaw has been coming on strong, with the Warriors cracking the CHL's controversial top-10 rankings last week (Kelowna should be on that list too in my biased opinion, maybe the Rockets finally make it today), but the Broncos are no slouch either. That could be a good ol' Prairie slugfest, trading goals more so than punches.
#CHL Top-10 Rankings Week 24: 1-SNB, 2-ER, 3-REG, 4-LDN, 5-SSM, 6-CHA, 7-MH, 8-OS, 9-ROU, 10-MJ. HM: EVT, LET, WSR pic.twitter.com/No646RGTCm

— Canadian Hockey League (@CHLHockey) March 8, 2017
Swift Current's Tyler Steenbergen has netted a league-high 51 goals, while Moose Jaw's little man Jayden Halbgewachs isn't far behind at 46 (fifth in the league). Those teams are pretty comparable top to bottom and the goaltending matchup is as good as it gets in the first round too, with Moose Jaw's Zach Sawchenko — who deserved to get drafted in 2016 — against Jordan Papirny, who backstopped Brandon's championship last season before getting traded to Swift Current at this year's deadline.
WHL Roundup: Zach Sawchenko backstopping talented @MJWARRIORS this season. https://t.co/3DpUXYhN1a @Edmontonsun @TheWHL pic.twitter.com/Dd7X4vwl4w

— Derek Van Diest (@DerekVanDiest) March 8, 2017
Red Deer and Calgary seem like the also-rans in the East, but the Rebels and Hitmen can't be completely written off. You just never know come playoff time and both those teams have their share of skilled players, just not enough of them in comparison to the other East powerhouses. Red Deer and Calgary also don't have the goaltending to bail them out, so I don't like their chances, but stranger things have happened.
All in all, we're in for an exciting postseason — perhaps one for the ages. Enjoy!
Larry Fisher is a senior writer and head scout for The Hockey Writers, having been an at-large contributor for THW since August 2014. Fisher covers both the NHL and the WHL, specializing in prospects and NHL draft content, including his annual mock drafts that date back to 2012. Fisher has also been a beat writer for the WHL's Kelowna Rockets since 2008, formerly working as a sports reporter/editor for The Daily Courier in Kelowna, British Columbia, Canada from 2008-2019. Follow him on Twitter: @LarryFisher_KDC.