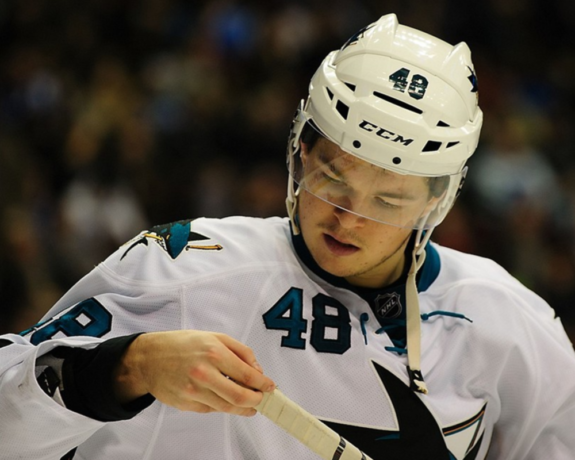 It didn't take NHL fans too long to forget Tomas Hertl's smiling face. Back in October, the San Jose Sharks rookie made a quite a splash by posting 11 points in his first 13 games. One of the best moments of the young season was Hertl's four-goal performance against the New York Rangers on October 8. With his mother and girlfriend in town and visiting from the Czech Republic, the (then) 19-year-old single-handedly dispatched the Blueshirts and received a standing ovation that is typically reserved for veterans.
Questionable Hit Derails Calder-Worthy Season
There was some concern that Hertl would cool off after his hot start. Another 10 points through 13 contests in November had pundits rushing to name him the Calder Trophy winner with more than 75% of the season remaining. It might seem silly now, but it didn't seem out of line at the time. We didn't really have a chance to see how high Hertl could fly during the regular season, thanks to Dustin Brown of the L.A. Kings. On December 19, Los Angeles' captain and noted hitter cut across and delivered a nasty knee-on-knee check to Hertl. The prognosis wasn't good for San Jose's rising rookie star. Kevin Kurz of CSNBayArea.com originally reported that Hertl could miss six-to-nine months following surgery to repair his MCL and PCL ligaments. Luckily for the Sharks, Brown didn't do any damage to Hertl's ACL—damage to that ligament is extremely detrimental to hockey players, especially those that rely on speed to make a difference out on the ice. While Hertl recovered, the likes of Nathan MacKinnon, Ondrej Palat and Tyler Johnson made their respective marks on the NHL, and were named finalists for the Calder Trophy. There will always be the lingering thought of what might have been had Brown not wiped the youngster out though.
MacKinnon will win the Calder but it would have been really interesting had SJ's Tomas Hertl not been injured. Great year for rookies. — Bob McKenzie (@TSNBobMcKenzie) April 23, 2014

In a what-have-you-done-for-me-lately league, the (now) 20-year-old Hertl was old news. He quietly returned for San Jose's final two contests of the regular season, failing to register a point or to whip up much fanfare. What a difference 11 days can make. That's how long it's been since he made his comeback against the Colorado Avalanche. With Hertl back in the lineup, San Jose's chances to go all the way have increased substantially. You can check out the odds at All Pro Sports Book.
How Hertl Keys San Jose's Offensive Machine
Over that course of time he's gone from an afterthought on the East Coast to top-10 NHL scorer. That's an easy distinction to earn so early in the postseason, but while players like Lars Eller and Rene Bourque look like surprises right now, Hertl was among the league's top producers prior to Brown's ejection-worthy hit. Several Sharks deserve a lot of credit for the 0-3 hole that the Kings are in. Patrick Marleau has been the overtime hero, and Joe Thornton is producing at a solid clip. Like he was back in October and November, the youngster is the key to San Jose's attack. With Hertl in the lineup, head coach Todd McLellan can spread the offensive wealth in a way that impossible without him.
Tomas Hertl has 17 goals in 40 games (reg season + playoffs). His goals/game avg. (.425) leads all rookies (min. 25 games played). #SJSharks — Pete Jensen (@NHLJensen) April 23, 2014
For instance, Joe Pavelski might not be able to skate on the first line without Hertl playing on the third. For most teams, putting Pavelski with Thornton and Brent Burns would be "loading up." That isn't the case in San Jose right now. That leaves Logan Couture and Patrick Marleau to plug away on the second line, while Hertl can be a threat on a remarkably face and ferocious third line alongside James Sheppard and Tommy Wingels.
There are several keys to winning a Stanley Cup. Consistent goaltending, strong puck possesion numbers and solid special teams all go a long way. There might not be a more important factor than depth though. The Boston Bruins are a hot pick to come out of the Eastern Conference because they have Carl Soderberg and Loui Eriksson on the third line. If you're looking for a knock on the Pittsburgh Penguins, it's that their bottom-six doesn't produce at a high rate.
That's why getting Hertl back is such a large positive for San Jose. He scores goals and can make some pretty passes and that shows up on the stat sheet, but his presence is bigger than that. With Hertl lacing up the skates and making an impact, teams are forced to pick their poison. Opposing coaches have to ask themselves who they want to control and who they want to match up with.
When the Sharks are rolling three lines that provide a legitimate scoring threat, it's impossible to maintain favorable mathcups at all times. Without Hertl, San Jose can comfortably roll two offensive-minded lines. With Hertl they can roll three, and the difference that makes can be seen both on the score board and in the advanced stats column. It's no coincidence that San Jose's sudden surge as a Stanley Cup contender has coincided with Hertl getting him game legs under him once again.
******
That Sharks haven't won anything yet. There's no award for taking the first three games of a series. In the quarterfinal, the only real reward for a sweep is extra rest, but San Jose isn't even at that point yet. They're up 3-0 because of a calculated offensive explosion, but the Kings are a tough and proud team.
There are several undeniable truths when it comes to the NHL playoffs—the saying that "the fourth win is always the toughest" is among those truths. There's something special about Hertl, however. From his infectious grin and obvious love of the game to his recent discovery (and amazement) of Dave and Buster's, the kid is a blast to watch out on the ice and is a true character.
After years of frustration and attempts to find the missing piece via free agency and trades, wouldn't it be fitting that a 20-year-old proved to be the missing piece of San Jose's Stanley Cup roster?