Joey Hishon Set to Make NHL Debut
Joey "The Magician" Hishon is set to make his NHL debut. Though this has been a long time coming for the often injured center, no one would have predicted it would have been in a playoff game. After being an "off the board" first round selection by the Avalanche at 17th overall in the 2010 entry draft, Hishon went on to record 87 points in just 50 games the next season for the Owen Sound Attack. The undersized forward went on to lead the team to an OHL championship, earning a birth in the Memorial Cup tournament. That is, until this happened:
Following his concussion, Joey missed 22 months of hockey and there were questions of whether he would ever return to the game. Once he did, Hishon continued to be hampered by nagging groin and hip flexor injuries, as well as more concussion like symptoms that forced him to miss games. With his injury history and contract status it seemed unlikely Hishon would ever play in the league, let alone suit up with the Avalanche; until now.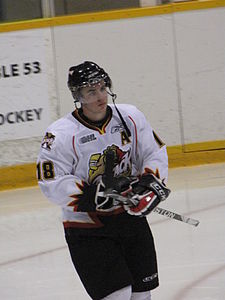 While the Stratford, Ontario native has struggled to stay healthy, there has never been a question about his heart or talent. It's hard not to cheer on a player like Hishon after a promising career took an ugly turn. Coming back from a concussion problems is never easy, and making his NHL debut in a playoff game will provide an even greater test.
"Obviously watching is a lot different than playing, but the guys will help me with that." he told reporters Wednesday. "I've done a lot of mental preparation to be ready for this situation .. I'm just going to work as hard as I can and try to enjoy the experience".
He and Ryan O'Reilly have been close friends since childhood, and they will be paired up on the Avalanche second power play unit. Hishon will replace Paul Carey on the team's fourth line with Malone and Bordeleau. This will provide him with some big bodied protection while he gets his feet wet and adjusts to the physicality of the NHL playoffs. Do not be surprised if he gets moved on to O'Reilly's line at even strength if that unit continues its offensive struggles. Hishon has produced 24 points in 50 games for a low scoring Lake Erie Monsters team in his first full season in three years.
Tyson Barrie Aftermath
Wild forward Matt Cooke has been suspended for kneeing Avalanche defenseman Tyson Barrie. Video: http://t.co/FmOyHriqkT

— NHL Player Safety (@NHLPlayerSafety) April 24, 2014
That's the good news. The bad news is that Barrie is now sidelined for 4-6 weeks. Someone will have to step up to fill the void, and tomorrow that someone is Ryan Wilson. Wilson is another Avalanche player that has struggled with consistency due to injuries, and he has seen himself in the press box for most of this season. Although he will not be able to replicate Barrie's offense, he is still a very capable NHL defenseman and will add a noticeable physical element from the blue line.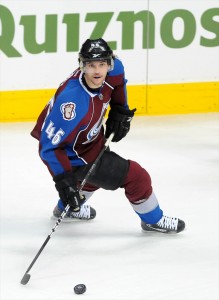 Stefan Elliott is another Lake Erie Monster player that could make his playoffs debut before the series is over. Although he has spent the year in the minors, he does have 58 games of NHL experience and a tonne of potential. He is the only defenseman the Avalanche have that can fill the offensive void left by Barrie. Funnily enough, he too is a former WHL defenseman of the year. If the Avs' continue to have problems breaking out or skating up ice in transition, look for Elliott to suit up for game six. If the Avalanche still have a chance of going deep this year, Elliott will have to be a major factor.