Over the past quarter century, Detroit Red Wings fans have witnessed success that only a few teams in certain eras of the NHL can parallel. With that sustained prosperity comes team popularity across different demographics.
More than a few celebrities are known to be Red Wings fans, helping to spread the team's story to their fans. Dave Coulier, Tim Allen, Kid Rock, Ted Nugent, and Kristen Bell are all confirmed Red Wings fans. Bell grew up a fan and had a big crush on Chris Osgood during his first tenure with the Red Wings.
TV shows, music videos, and movies often reference an easily recognizable team when hockey is mentioned. Since the mid-1990s, that team has typically been the Red Wings. Celebrity influence and two decades of dominance equals two decades of sporadic cultural references. Here are the top 10 Detroit Red Wings pop culture references.
10. Dr. Perry Cox and His Love for the Red Wings
On the TV show Scrubs, Dr. Cox was often seen in a Red Wings jersey, usually with Chris Chelios and #24 on the back. The actor, John McGinley, also narrated the Red Wings' 2008 Championship DVD and is a neighbor of Chelios at his Malibu home.
9. Tupac
This may not have been Tupac's finest moment, but at least he had the right jersey on. He infamously spit on reporters on his way to his car. I'm more curious about the jersey. Why Red Wings and why that day?
8. Mack Maine's Jersey in the "Got Money" Music Video
Sticking with rap music, New Orleans rapper Mack Maine made a cameo appearance in Lil' Wayne and T-Pain's "Got Money" music video sporting a Red Wings jersey. The video came out shortly after the Red Wings captured the 2008 Stanley Cup.
7. Red Wings Defeat Stan's Peewee Team on South Park
In Comedy Central's South Park, Stan, one of the main characters, is tasked to coach a peewee hockey team in his hometown a la Gordon Bombay in the first Mighty Ducks movie. His team makes it all the way to the championship game, but has to play the Red Wings and gets crushed as a result.
6. Mike Posner's Jacket
Mike grew up in suburban Detroit and has always been a Red Wings fan. He actually ran track with my cousins at Groves High School in Beverly Hills, Michigan. In his first big video, "Cooler Than Me", Posner sports a Sergei Fedorov varsity jacket styled after Fedorov's 1997 jersey with the Stanley Cup patch. Where can I get a jacket like that?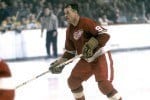 5. Gordie Howe's Cameo on The Simpsons
In 1992, The Simpsons aired an episode that featured Bart responding to his teacher's personal ad as a fake person. When Mrs. Krabappel asked for "Woodrow" to provide a picture of himself so she could know what he looks like, Bart sends her a cut out picture of Gordie Howe. In the end credits, Howe's career statistics are shown as an homage to Mr. Hockey.
4. Detroit vs. Everybody
In one of the more popular songs off Eminem's album, Shady XV, the Red Wings are referenced quite a few times in the music video. Joe Louis Arena, Red Wings hoodies, and a guy sporting a Henrik Zetterberg jersey all make appearances representing the Wings (who are featured more often than any other Detroit sports team in the song).
3. Dave Coulier on Full House
In multiple episodes of Full House, Dave Coulier, or "Uncle Joey", rocks a Red Wings jersey around the house. Coulier, a big Red Wings fan in real life, also appeared in Detroit's 1997 championship video interviewing fans prior to the Stanley Cup Finals against Philadelphia.
2. Mike Posner and Big Sean in "Top of the World"
As mentioned before, Posner is a big Red Wings fan. Big Sean is as well and is also from Michigan, as seen in the "Detroit vs. Everybody" video. In the "Top of the World" video, Posner and Big Sean wear a Detroit sports fan's dream wardrobe. There's Tigers, Lions, Pistons, and Red Wings apparel everywhere throughout the song. Big Sean is also rapping on the stairs leading up to the Joe Louis Arena.
The most important part of this video, however, is Pavel Datsyuk's appearance. Datsyuk pulls a Birdman and is standing by Mike Posner and Big Sean as they rap. He doesn't sing or rap, but is there to validate the success. Enjoy this gem.
1. Cameron in Ferris Bueller's Day Off
Poor, misunderstood Cameron. It's all about Ferris and Cameron is just there. Throughout the entire movie, Cameron wears a Gordie Howe Red Wings jersey, despite being in Chicago. Gutsy move.