Whether it is with a thunderous hip check or a shattering body check, certain players know how to put skaters on the ice a la Scott Stevens. As a result, when these players are on the ice, you better keep your head up or you're going to fall flat on your back. Besides a great goal, there is nothing a hockey fan loves more than a nice clean and hard hit.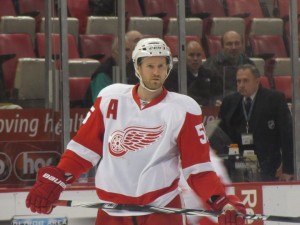 Below you will find a power ranking of the 10 best hardest hitters in the NHL right now.
Please remember that quantity doesn't necessarily mean quality!
10. Matt Martin, New York Islanders, 314 hits in 67 games

Among the league leaders in hits the past two seasons, Martin can certainly give devastating hits thanks to his 6'3", 210-lb frame.
9. Cal Clutterbuck, Minnesota Wild, 232 hits in 61 games

The league-leader in hits in 2011 (336), 2010 (318) et 2009 (356), Clutterbuck is a hitting machine despite his somewhat smaller body at 5'11", 213-lb.
8. Luke Schenn, Toronto Maple Leafs, 225 hits in 66 games

The young Maple Leafs defenseman is a pure hitter and will only get better once he improves his all-around game.
7. Dustin Brown, Los Angeles Kings, 242 hits in 69 games

You can count on the Kings' captain to always be among the league-leaders every year. Brown, and his 6'0", 200-lb frame, likes to hit his opponents as well as score goals.
6. Mark Fistric, Dallas Stars, 208 hits in 53 games

A very underrated defenseman, Fistric and his 6'2", 233-lb frame, can lay out the body and punish his opponents when they are not careful on the ice.
5. Brooks Orpik, Pittsburgh Penguins, 220 hits in 59 games

One of the best bruisers in the league, Orpik likes to distribute body-checks and hurt his opponents with his 6'2", 220-lb stature.
4. Chris Neil, Ottawa Senators, 231 hits in 61 games

On of the most efficient super pests in the NHL, Neil can fight, hit and score some goals. The 6'1", 215-lb, winger can lay the body and get under his opponents' skin.
3. Alexei Emelin, Montreal Canadiens, 211 hits in 57 games

The Russian rookie has been a pleasant surprise on the Canadiens' blue line steadily improving his play this season after coming to North America. The 6'2", 233-lb, who is the only physical Habs' rearguard, likes to hurt opposing players.
2. Milan Lucic, Boston Bruins, 158 hits in 67 games

The typical power forward, Lucic, 6'4", 220-lb, doesn't hit as much as the other players included in this list, but his hits are devastating, just ask Ryan Miller.
1. Niklas Kronwall, Detroit Red Wings, 113 hits in 69 games

The most punishing hitter in the NHL these days, Kronwall is the master of the hip check and he can also play hockey as shown by his 32 points this season.
Notable mentions:
Alex Edler, Ryan Callahan, Douglas Murray, Dion Phaneuf, Anton Volchenkov, Steve Ott, Troy Brouwer, Matt Greene, David Backes, Zdeno Chara, Johnny Boychuk, Tuomo Ruutu, Scott Hartnell, Patrick Kaleta, Zac Rinaldo
Who do you think is the hardest hitter in the NHL this season?
Follow me on Twitter for more updates on the National Hockey League and hockey in general.