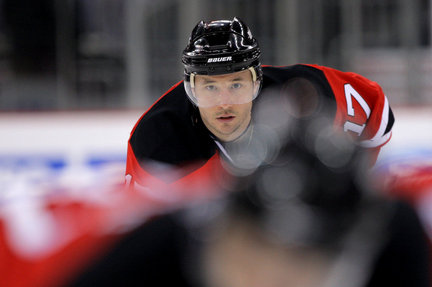 We finally arrived everyone! The 2015 trade deadline is upon us and it will either be really boring or really tense and eventful. It will also be a day where smart moves are made and/or really dumb moves are made. In short, we don't know. At first, you think Mats Zucarrello and Patrick Sharp could be traded and then they may or may not. All we know is, clichés will be pouring in from all walks of NHL media like nobody's business while reporting about today's actions.
The best one to me is that "no one knows how these trades will pan out until [insert number] years from now". That may be true, especially considering the massive amount of draft picks that will be passed around from team to team. I, on the other hand, have begged to differ on this opinion when it comes to talking about the value of draft picks. Either way, now that a good chunk of time has passed, we can start making conclusions about a particular mid-season trade deadline. Let's take a look back at the 52 trades made from January 31st to March 3rd, 2010 and find the best ones that truly made an impact on the landscape of the NHL.
10. March 3rd: Los Angeles trades RW Teddy Purcell and a 2010 Third Round Pick (D Brock Beukeboom) to Tampa Bay for C Jeff Halpern
This trade may and probably should not sound like much on the surface. Jeff Halpern was an aging center who's great faceoff numbers were just fools gold for a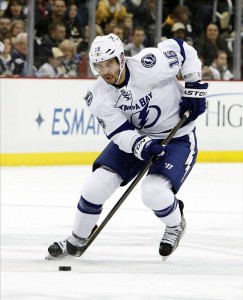 player with sheltered usage and poor puck possession (Steven Burtch's dCorsi does favor him, however).
Meanwhile, Purcell had turned himself into one of the more underrated forwards in the NHL. From 2011 to 2013 as he was the 33rd best scoring forward at even strength, based on points per 60 minutes. After that two season stretch, he resigned with Tampa Bay for three years worth $4.5 million per season. Imagine him staying with Los Angeles throughout his mid to late-twenties. What kind of impact would he have on any of those Stanley Cup runs and would his play have affected the decision making of Dean Lombardi during that time?
Beaukeboom never signed with an NHL team and is currently finishing his second season playing with the University of Prince Edward Island.
9. March 2nd: Ottawa trades a 2010 Second Round Pick (G Kent Simpson) to the New York Islanders for D Andy Sutton
We go to another transaction that again, probably shouldn't be a big deal. However, this one had some layers to it that brought some interesting ramifications. Kent Simpson has struggled mightily to become a starting goaltender at either the AHL or ECHL level. The 6'6″ Sutton would not resign with Ottawa after 2010 and would play for two more teams and 91 of his 676 career NHL games in the next two seasons before calling it a career.
The real fascinating part is what happened with the second round pick itself. That pick became the 58th overall pick that June and the Islanders eventually traded that pick to Chicago, along with another second round pick (35th overall) to move up and get the last pick in the first round. That pick became Brock Nelson and he has become one of the better up-and-coming forwards in the NHL.
To top it all off, Simpson returned to the Islanders organization after being a part of the Nick Leddy trade. More on Leddy is still to come.
8. February 11th: Montreal trades a 2010 Second Round Pick (LW Matt Nieto) to Florida for C Dominic Moore
Thanks Florida for having Dominic Moore forever in my nightmares! Really appreciate it.
In all seriousness, Moore's work on the fourth line over the years is why so many playoff teams covet him. He almost became a Rangers cult hero for his effort during the 2014 playoffs and seeing that a second round pick was exchanged for him proves how valuable a player he is in respective circles.
What's amazing is seeing that the Panthers could have had two chances of having a solid young professional hockey player in return. The first being Nieto, where his rights ended up getting traded to San Jose for the 59th overall pick in the draft (Rasmus Bengtsson) and a 2012 third round pick. That pick became Shane Gostisbehere, but Florida would trade that pick away to Philadelphia so they can get Kris Versteeg. So weird.
7. March 3rd: Washington trades a 2010 Second Round Pick (C Johan Larsson) to Minnesota for C Eric Belanger
As a Caps fan, this scars me. Despite losing some teeth while putting in yeoman's work in the playoffs, Belanger was another typical rental and would go on to sign with Phoenix next year. It's what happened to the 56th overall pick in the 2010 NHL draft that matters to me the most.
Now into his age-22 season, Larsson is shredding it at AHL Rochester and racking up 37 points in 41 games. Before he became one of the millions of great Sabres prospects, Larsson was part of the trade that sent Jason Pominville and Darcy Kuemper to Minnesota. We will never know if Washington would have Larsson develop into a promising forward the same way Buffalo has, or be used as trade bait like Minnesota has, but considering the eternal struggle to find a second line center and the fact that four second round picks have been traded away in six years from a franchise that has been so good at drafting players in the last decade, you can't help but wonder what would have happened if Washington did a better job of utilizing that pick.
6. March 3rd: Anaheim trades D Ryan Whitney and a 2010 6th round pick (D Brandon Davidson) to Edmonton for D Lubomir Visnovsky
At first, you see almost a like-for-like trade involving two veteran defenseman. However, Whitney's high point per game and per 60 minutes rates would mask his long injury list and lack of puck possession that he built up in Edmonton. Meanwhile, Visnovsky is still playing in the NHL at age-38 and has been a beautiful puck mover from the back end throughout his career. Clearly, Tyler Dellow was needed when overseeing this trade.
Davidson has been able to play four games with the Oilers this season, but it will be hard to see how he can play beyond a bottom pairing shutdown role at the NHL level.
5. March 3rd: Pheonix trades D Matt Jones, a 2010 Fourth Round pick (G Philipp Grubauer) and a 2010 Seventh Round Pick (Kellen Jones) to Toronto for F Lee Stempniak
While Lee Stempniak is not someone you see as an above average forward, his value has improved when looking at his underlying numbers. He has been mostly positive possession player and his responsibilities were increasing at this point in his career.
What the Maple Leafs got in return, though, should be the equivalent of having their lunch stolen from them. Matt Jones was out the entire 2010 season due to injury and would never play professional hockey ever again. The Leafs could have had a productive goaltending prospect in Grubauer, but instead, his rights were traded to Washington for the 116th and 146th overall picks. That turned into Petter Granberg and Daniel Brodin as Granberg has played in seven NHL games this year while Brodin is still playing in Sweden. The 2010 seventh round pick was traded to Edmonton for a 2011 sixth round pick, which was traded with Carter Ashton to Tampa Bay for a 2016 conditional seventh round pick.
So in other words, Lee Stempniak was worth three low-end draft picks that may never materialize at the NHL level, let alone the NHL level. Good times, Brian Burke.
4. March 3rd: Boston trades RW Craig Weller, RW Byron Bitz and a 2010 Second Round pick (D Alex Petrovic) to Florida for D Dennis Seidenberg and D Matt Bartkowski
If there was ever an example of how careless Florida gave away their veteran players every trade deadline pre-Dave Tallon, this was one of them.
Bitz would never play a single game after the 2010 season and the Panthers decided against handing a qualifying offer to him that summer. He would only play 10 more NHL games and 24 AHL games in 2012 before calling it a career. Craig Weller would never go on to play beyond the AHL level ever again after 2010 and Petrovic is now the last hope for Florida to save face in this embarrassment of a transaction for them. So far, the young defenseman has only played 31 career NHL games and his NHL translation seems to worsen every season after juniors.
Seidenberg has been everything the Bruins have hoped for in the Boston blueline while Bartkowski has been the team's seventh defenseman throughout his time in Bruins colors.
3. February 12th: Minnesota trades D Nick Leddy and D Kim Johnsson to Chicago for D Cam Barker
In 2004, Cam Barker was drafted with the third overall pick by the Chicago Blackhawks, hoping to become the franchise defenseman whenever they returned to prominence. That never materialized as he would only play 110 more NHL games in the next three years before playing in the KHL.
Johnsson would only play eight regular season games with the Blackhawks before putting an end to his hockey career, but it was Leddy that became the piece no one saw blossoming. Despite being traded to the New York Islanders this year, the still young defenseman was plying his trade at the University of Minnesota after being selected 16th overall in the 2009 draft. Leddy would play a huge part of Chicago's blue line since 2010 and has become one of the better blueliners in the league, despite the lack of playing time he received.
2. January 31st: Toronto trades F Matt Stajan, F Nicklas Hagman, F Jamal Mayers and D Ian White to Calgary for D Dion Phaneuf, F Frederik Sjostrom and D Keith Aulie
To this day, I don't know if there was a genuine winner in this trade, but at the very least, this trade contained the most quality NHL players in any mid-season 2010 transaction. While Phaneuf has played 458 career games with Toronto, Stajan has played 310 with Calgary while Hagman, Sjostrom and Aulie have played over 85 for their new teams.
While all the players acquired by Toronto have seen their puck possession get worse and worse every year, Stajan and Hagman have been solid throughout their careers despite Stajan's lack of individual shots toward the net. As much as you can argue that Calgary won this trade by a landslide, both the Flames and Maple Leafs have combined for one playoff appearance in five years. Also, when in doubt, Phaneuf has been the Leafs captain since 2010 and has been Toronto's top defenseman, based on the grossly overrated total time on ice per game.
Both Jamal Mayers and Ian White would not last a full 2011 season with Calgary.
1. February 4th: New Jersey trades D Johnny Oduya, RW Niclas Bergfors, C Patrice Cormier and a 2010 First Round Pick (C Kevin Hayes) to Atlanta for LW Ilya Kovalchuk and D Anssi Salmela
There is no way you can have a countdown about the 2010 trade deadline without talking about the Ilya Kolvalchuk trade. This trade not only altered the soon-to-be Winnipeg Jets and New Jersey Devils, but also the Chicago Blackhawks in the process.
Almost every hockey fan can remember the ludicrous seventeen-year contract New Jersey handed to Kovalchuk after the 2010 season and how the star left winger "retired" so he can play in the KHL after the 2012 season to start the beginning of the end of the Lou Lamoriello era. However, plenty of interesting pieces went other directions.
Bergfors would open the doors for Jets management to trade him for Radek Dvorak in 2011 while Patrice Cormier has never materialized into anything beyond the punk that threw this cheap shot when he was only 20 years old. Anssi Salmela would only play 57 games with the Devils in two years before playing in the KHL and the Swedish Hockey League
It is Johnny Oduya and the eventual rights to Kevin Hayes that make this trade special. Oduya would be sent to Chicago after 172 games with the Thrashers/Jets in 2012 for their second and third round picks in 2013. That second round pick would then be traded to Washington for the 84th and 114th overall picks in that same draft. Overall, Winnipeg came out with Jimmy Lodge, J.C. Lipon, Jan Kostalek from that haul from a draft class that already had wonder prospects Josh Morissey, Nic Petan and Eric Comrie.
As for the 2010 first round pick, the then-Thrashers would also trade that to the Blackhawks to get some immediate help. In return, Atlanta exchanged that pick with Marty Reasoner, Joey Crabb and Jeremy Morin for Akim Aliu, Brent Sopel, Ben Eager and Dustin Byfuglien.
In all, the Thrashers helped give Chicago the cap relief it needed to build a second Stanley Cup winning team in 2012 while they built a core group of players on their own.
Ben covers the Washington Capitals at the hockey writers. He has been blogging about the NHL since March 2013. Follow him @DCSportsDork