The Toronto Maple Leafs' season is over so it's time for a retrospective look at the 2015-16 NHL season. Management told everyone to expect the Maple Leafs to have a painful season, and they were right with the Leafs finishing 30th overall in the NHL standings. That was expected and nobody was surprised or even disappointed with the team, but what wasn't expected was how bad of a season a few Leafs' players would have.
5. Daniel Winnik
Daniel Winnik had a great season with the Maple Leafs in 2014-15 with 25 points in 58 games before being traded to the Pittsburgh Penguins. The Leafs then brought Winnik back to the team in the offseason by signing him to a 2 year deal. It seemed like he would fit nicely in a third line role and act as a mentor to all the young players that would eventually be called up to the Leafs. Unfortunately Winnik had trouble matching his previous season with the Leafs with only 14 points in 56 games and was then traded to the Washington Capitals at the trade deadline.
4. Kasperi Kapanen
Kasperi Kapanen came to the Maple Leafs in the Phil Kessel trade with the Pittsburgh Penguins and was considered to be the best part of the trade going back to the Leafs. Kapanen was picked 22nd overall in the 1st round of the 2014 NHL Entry Draft, but so far hasn't lived up to expectations. It is still too early to say that he is a bust at only 19 years old, but considering he is a former 1st round pick and was part of blockbuster trade for Kessel it meant that expectations for Kapanen were much higher than it should've been.
In 44 games with the Toronto Marlies Kapanen had just 25 points and was then held pointless in 7 games with the Maple Leafs. In the 7 games with the Leafs he showed that he had tremendous skill, but because of the difference in the style of hockey in Finland compared to the NHL it meant that Kapanen was never really effective. Kapanen was never able to cut into the middle of the ice with the puck and as a result was often forced to the outside. Out of everyone on this list expect Kapanen to rebound next season and impress everyone.
3. Joffrey Lupul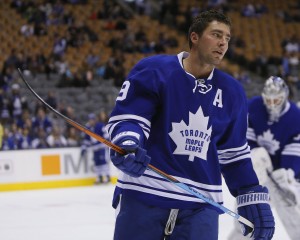 It seems like getting injured every season is finally taking its toll on Joffrey Lupul and it might even mean that this could have been his last season in the NHL. It is looking more likely that Lupul will finish out his contract on injured reserve along with Stephane Robidas. Injury problems have been a major part of Lupul's NHL career, but in the last few years the injuries have happened more often and have kept him out of the lineup longer. This season Lupul had just 14 points in 46 games, which shows him to be on the decline in terms of point production. So even if he does manage to make it back onto the ice he might not be very effective.
2. Michael Grabner
When the Maple Leafs traded five players to the New York Islanders for Michael Grabner it was a trade to free up contract space. Grabner wasn't expected to lead the Leafs in scoring, but after having a decline in production since the 2010-11 season there was hope that the improved ice-time with the Leafs could revitalize his dwindling NHL career. Grabner's best season was in 2010-11 when he put up 52 points in 76 games and his production has steadily decreased each year since. Unfortunately Grabner was a massive disappointment for the Leafs.
This season with the Leafs Grabner finished with 18 points in 80 games, which wouldn't look as bad if he wasn't getting top line minutes most of the season. By getting top minutes it became painfully clear that Grabner had great speed, which was always wasted because of his bad shot and inability to finish on a play. He would often get breakaways, but would always end up wasting the chance. Don't expect to see Grabner back with the Leafs next season unless he takes a massive pay cut.
1. Jonathan Bernier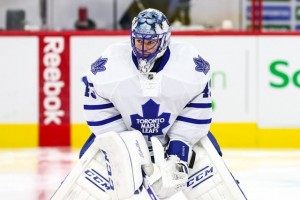 Jonathan Bernier's season was doomed after losing his first 11 games of the season and not getting his first win until December 15th. Bernier continued to struggle throughout the year until the trade deadline. For the last quarter of the season he started to look like the goalie he was last season with great saves and managed to give the Leafs a chance to win in a number of games. Bernier ended the season with a 2.88 goals against average and a .908 save percentage, which shows how badly his early blunders effected his overall statistics.
During the early part of the season Bernier struggled to keep pucks out of the net, often letting a goal in on the first shot on multiple occasions. There were a lot of goals that as an NHL goalie Bernier should've stopped, but for whatever reason just lost his ability as a goalie. Bernier was then sent down to the AHL on a conditioning stint, which was meant to help rebuild his confidence in his game. It did seem to help get his game back and he was able to help the Leafs earn a few wins. It's unsure what Bernier's future with the Leafs is at this point, since that terrible start ruined everyone's confidence in him as a goalie, but hopefully he can find a way to redeem himself next season.
Toronto Maple Leafs contributor for The Hockey Writers.
I've been a fan of the Toronto Maple Leafs since I was a kid and have always had an interest in writing. At The Hockey Writers, I get to enjoy both of my passions as well as writing about small convoluted details in player contracts and stats.