The 2014-15 NHL season is not yet over, but fans have been treated to their fair share of exciting storylines so far, both good and bad.
The Bill Masterton Memorial Trophy generally has got the good covered come the awards ceremony, but it only applies to players, and more and more often players who have come back from career-threatening absences or illnesses. Where's the fun in that?
What about the players who emerge from out of nowhere to set the league on fire and the teams that defy the odds and capture fans' imaginations? Here are the top five feel-good stories from this current 2014-15 NHL season:
5. Calgary Flames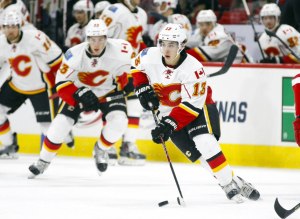 An honorable mention probably deserves to go to the Winnipeg Jets, who may or may not be on the verge of clinching their first playoff berth ever since leaving Atlanta.
While that's technically true of the Calgary Flames (the playoff berth part in general; they've made them like 20 times since leaving Atlanta), Canadian hockey fans had been growing restless, waiting for the Jets to make their first playoff appearance.
No one (except maybe TSN's Aaron Ward, who predicted as much before the season started) thought the Flames would come within a sniff of the postseason. And, yet, here they are, trading two-point blows every night it feels like with the reigning Stanley Cup-champion Los Angeles Kings, with the prize being either a wild-card spot or the last one up for grabs in the Pacific Division.
Yes, the odds are against them, especially with their captain and best player Mark Giordano out, but most everyone loves a good underdog story.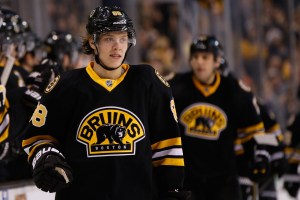 4. David Pastrnak
It's not often an 18-year-old makes the NHL. It's rarer still for them to make an impact right away. Hell, it's hard for even first-overall picks to jump right into the fire, but Boston Bruins forward David Pastrnak, taken 25th overall last spring, has enjoyed a decent amount of success since being recalled a second time from the Providence Bruins back in January.
In each of his second and third games back (following a fairly uneventful five-game stretch earlier in the season), he scored two goals while enjoying top-line minutes. As most would expect from an 18-year-old, he then went scoreless (one assist) in his following eight games. Since then, though, he has five goals and 10 assists in his last 20 games.
He's admittedly far from taking the league by storm, but he's actually producing at a faster rate than teammate Patrice Bergeron did when he first entered the league in 2003-04 as an 18-year-old. That's an undeniable good sign for Bruins fans.
3. Andrew Hammond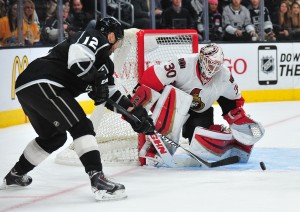 Twenty-seven-year-old Ottawa senators rookie phenom Andrew Hammond is now 15 games into his career and he has yet to lose in regulation.
It technically took him until game No. 14 just to let in more than two goals (he let in two in just over 20 minutes in his first-ever game), tying a record set by Bruins Hall-of-Famer Frank Brimsek in 1938-39.
It's actually quite a coincidence that the record he tied belongs to a Bruin, seeing as his streak of consecutive games having allowed two or fewer goals to start his career was snapped by Boston last week. The Bruins are also of course the team the Senators are chasing for the last playoff spot in the Eastern Conference.
While signs of him falling back down to Earth are becoming more and more evident, with him allowing seven goals in his last two games (Boston and the Toronto Maple Leafs), everyone's enjoying the ride as long as it lasts. And, if he does end up spiraling downward all the way, he has free McDonald's for life to fall back on as well and cushion his fall.
2. Devan Dubnyk
It's probably fair to say at this point in time that it wasn't Devan Dubnyk, but the Edmonton Oilers instead last season during their acrimonious break-up.
After a fairly decent 2013 campaign in Edmonton (2.57 GAA, .921 save percentage), Dubnyk was less than stellar last season for the Oilers (3.36 GAA, .894 save percentage). He was then less than stellar for the Nashville Predators (4.35 GAA, .850 GAA) after being traded… and the Hamilton Bulldogs in the American Hockey League (3.33 GAA, .893 save percentage) after being traded again.
So, everyone just assumed Dubnyk was about as done as charcoal, burnt out and about as likely to resurface in the NHL as a submarine (submarines clearly have no business in the NHL). Then the Arizona Coyotes reached out, inexplicably deciding to give him a shot at backing up Mike Smith this season.
Before long, he was outplaying Smith (which admittedly wasn't hard to do) and the decision was made by the Coyotes to blow up the team and take their chances in the draft lottery. But Dubnyk, being way too competent, had to go, ultimately getting sent to the desperate-for-competent-goaltending Minnesota Wild for just a third-round pick.
Even if the Coyotes probably would have been willing to trade away their one major obstacle to a first-overall pick (and Connor McDavid) for just about anything, one can argue the deal by Wild general manager Chuck Fletcher was the steal of the season.
Since being acquired, Dubnyk is 22-6-1 with a .935 save percentage and a 1.76 GAA. Those are Vezina and Hart Memorial Trophy-candidate Carey Price-like numbers right there. And, indeed, Dubnyk has been receiving Vezina buzz lately, serving as the catalyst for the Wild's resurgence in the West.
At one point the Wild, despite starting the season with two straight shutouts, were 18-19-5. In fact, that was just prior to Dubnyk coming aboard and starting 30 straight games. Minnesota is now 40-25-7 and a virtual lock to make the postseason.
The only real question is now, where would Minnesota be in the standings had they had Dubnyk since the start of the year? Considering Dubnyk's .780 points percentage as a member of the team and their 72 games played, at the top of them with 112 points.
Granted, no one can assume Dubnyk (and the Wild) would have realistically been able to keep this up over the course of an entire season. But it's fun to dream "what if?"
1. Garth Snow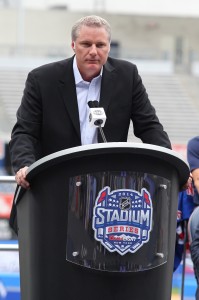 It's admittedly far from a one-man show for the New York Islanders (although John Tavares makes it look pretty close sometimes). But general manager Garth Snow has gone from the doghouse to the penthouse in just one season, with key offseason acquisitions Jaroslav Halak, Nick Leddy, and Johnny Boychuk contributing to an impressive campaign.
Last season, Snow essentially gambled (badly) and lost (even more badly) that Thomas Vanek would help the Islanders return to the postseason after making the playoffs in 2013 for the first time since 2006-07. It was a drought of playoff futility that had lasted five straight seasons (an ongoing 20 if you're looking to the last time the Islanders have won a series, but Snow can hardly be blamed for that).
So, once the Islanders started last season a mediocre 4-4-3, Snow pulled the trigger on an ill-advised trade: Vanek for Matt Moulson and a couple of picks, including what turned out to be the Islanders' first-round selection this upcoming draft (the Connor McDavid one). Much less important to this story, but what still added fuel to the fire Snow movement, was the trade deadline deal that saw Vanek ultimately go to the Canadiens for essentially five cents on the dollar.
Needless to say, Snow needed the Islanders to do well this year in order to prevent the Buffalo Sabres from earning a by-all-accounts generational talent on their dime. He's more than delivered, most definitely saving his job in the process, and likely set to earn an NHL General Manager of the Year Award nomination for his efforts.
The Islanders are 44-25-4, second in the Metropolitan Division, and are on the precipice of making the playoffs once again. With them currently owning a 3-1 record over their would-be first-round opponents in the Pittsburgh Penguins, that 20-year drought could potentially come to an end as well.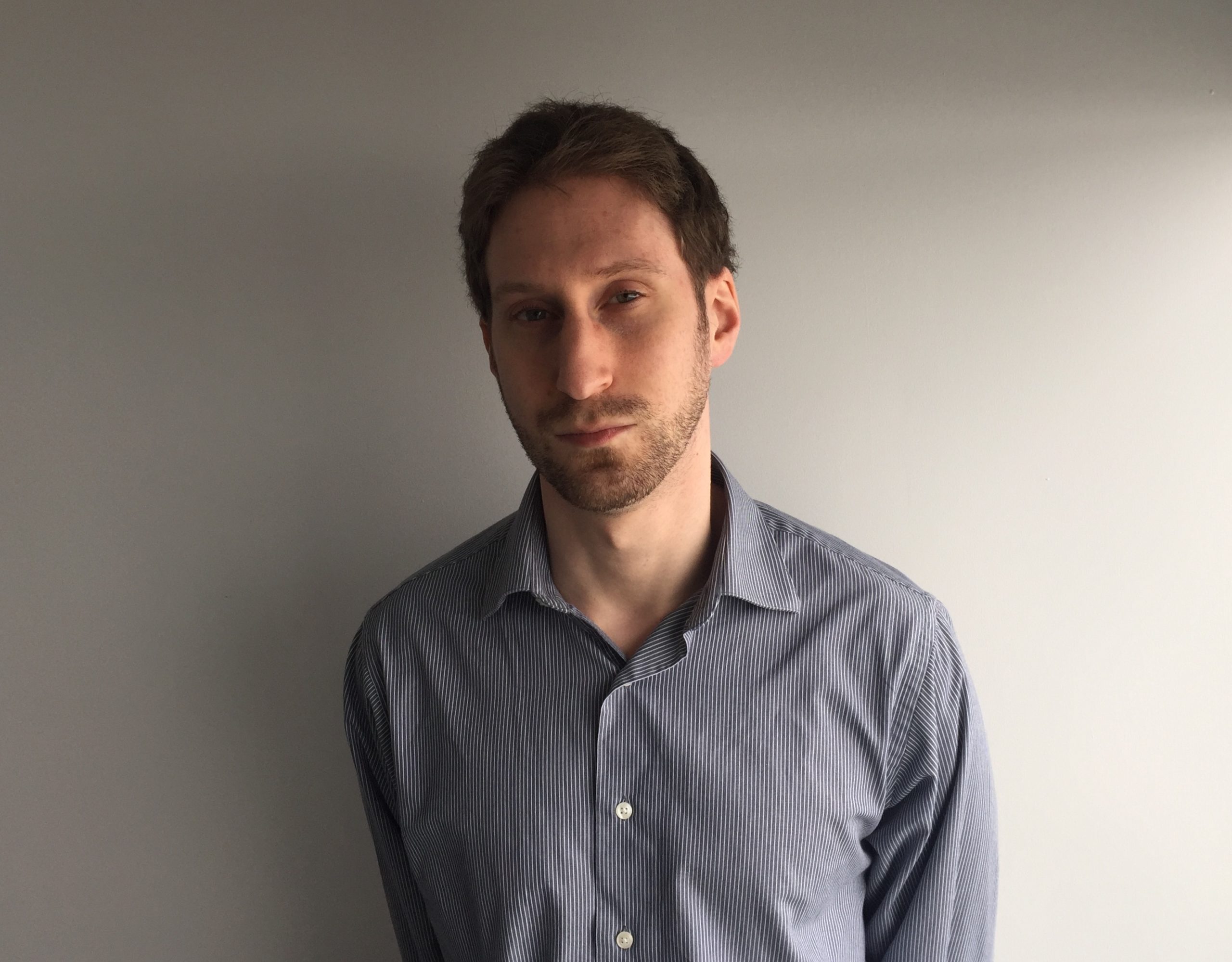 After 10 years of writing hockey, Ryan decided it was as good a time as any to actually join The Hockey Writers for the 2014-15 season. Having appeared as a guest on such programs as CBC Radio One's Daybreak, Ryan has also written for the Montreal Gazette and Bleacher Report and worked for the NHL itself and his hometown Montreal Canadiens. He currently writes about all things Habs for THW, with it being a career highlight for him to have covered the 2021 Stanley Cup Final as a credentialed member of the press.