Niklas Backstrom. Ah, yes, do you still remember that name? No, no, not Nicklas Backstrom of the Washington Capitals. Niklas Backstrom, the backup goalie for the Minnesota Wild.
Surprisingly, he does still exist. And believe it or not, he's being paid almost $4 million to sit on the bench for the Wild.
Disappearing Goalies
Now I know what you're thinking: Who cares about Backstrom, we have Dubnyk now. And that is true. Devan Dubnyk looks like the solution for the Minnesota Wild in terms of goaltending, but the Wild haven't truly solved any long-term goaltender problems right now. Dubnyk is only around until the end of the year, unless he resigns in Minnesota.
But there are bigger questions here than just "what if Devan Dubnyk resigns."
What happened to Niklas Backstom? And what are the Wild going to do with him for another year? Backstrom is signed through the 2015-2016 season and becomes an unrestricted free agent after that. The Wild can't possibly pay him another $4 million next year to be the backup to a backup.
The 37-year-old goaltender hasn't played in a game since January 13 – that's over two months sitting on the bench. Before that, he appeared in only 19 games, earning a 5-7-3 record. That's pretty concerning considering he was supposed to be the starting goaltender for this team. With those stats in mind, I'm not at all suggesting Mike Yeo should let Backstrom play a game just for the heck of it, but he's being paid way too much to cheer for his teammates every game.
Backstrom used to be so good for the Wild, too, so I'm still a little confused about what happened there. He's a former Vezina finalist, an NHL All-Star, and an Olympic medal winner. I actually feel bad for the guy. Although maybe he is just past his prime now.
Backstrom isn't the only issue, though.
Are you there, Darcy Kuemper?
Darcy Kuemper seemed to be a superstar for the Wild at the beginning of the season. After much negotiating and contract trouble, Minnesota and Kuemper finally agreed to a deal and Kuemper looked like he would be the next big thing for this team. But that plan has failed, as well, and now Kuemper is consistently occupying a space on the bench.
Kuemper may have just had a fluke hot streak at the end of last season and this was bound to happen Dubnyk or no Dubnyk. Or maybe he's a great goaltender and just isn't getting the opportunity to refine his skills. I really don't know. But I do know that Kuemper is also being paid a good chunk of change and like Backstrom, he is signed through next season.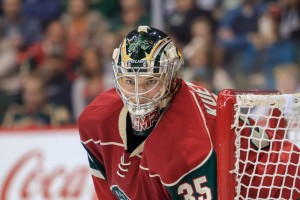 The Wild can't just keep two goaltenders around as backups. Not to mention Josh Harding is still floating around somewhere in this organization, as well as Johan Gustafsson and John Curry. The three of them will become free agents at the end of the season. So that leaves the Wild in a strange situation at the end of the season.
Looking Ahead
I guess we don't know that Minnesota will resign Dubnyk, but it seems pretty hard to imagine Chuck Fletcher is just going to let him walk away at the end of the season after the incredible performance he's had so far.
So hypothetically, if Dubnyk has found a permanent home and resigns here, that leaves the Wild with two less-than-stellar backup options in Niklas Backstrom and Darcy Kuemper. Neither of them are going to want to play in Iowa, and the team can't just renegotiate their contracts. But I also don't see the point in carrying three goalies on the roster if Dubnyk decides he can play like this consistently.
I honestly don't know how this situation is all going to work out. I'm just going to keep my fingers crossed that Dubnyk keeps playing well, and we can all pretend the Wild have no goaltender issues for a little while longer.
Alli covers the Minnesota Wild and has been a contributing writer with THW since August 2014. She is currently a journalism and sports management student at the University of Minnesota. For all of your Minnesota Wild news and updates, follow her on twitter: @allibaker23