The Christmas break is now over and teams are coming up to the halfway point of the 2014-15 season. So far, some teams which were expected to struggle for a playoff position have surged to the top of the standings, while others have hit slumps they may not be able to dig out of. Some star players have also fallen far short of the expectations placed upon them at the beginning of the season. Also, why not check out the Top 5 Overachieving Stars So Far in 2014-15 while you're at it. Anyway, the following five players had great expectations on them from their team, fans and from themselves as well. However, through nearly half of the season, they simply have not lived up to those expectations.
Top 5:
5: Nathan MacKinnon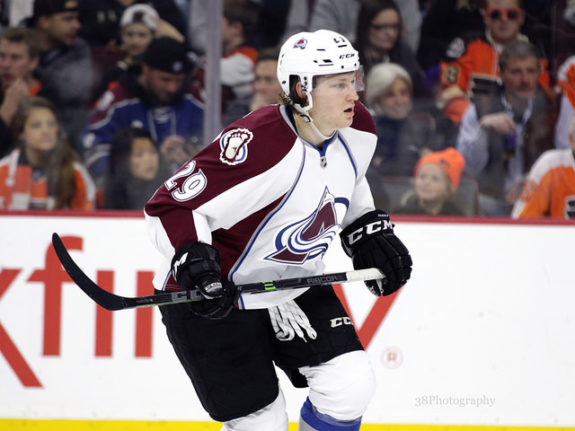 The 19 year old sophomore and reigning Calder Trophy winner, Nathan MacKinnon had sky high expectations placed upon him for this season. He was expected to not only lead his team in offence, but perhaps move up to the Top 10 in scoring in the NHL. Asides from personal goals, he was also looked upon to prove that the Colorado Avalanche's 2013-14 season was no fluke. However, MacKinnon has yet to accomplish any of those goals. He has put up 6 goals and 16 assists through 35 games, a pace that would leave him far behind his rookie season totals. Also, his Avalanche are currently last in the Central Division and 12th in the Western Conference. Although MacKinnon had a spectacular rookie year and an incredible debut playoff series, he is still only 19 years old and should not be looked upon to carry a not so great team to the playoffs, let alone finish top 10 in league scoring. This kid still undoubtably has a bright future ahead of him.
4: Taylor Hall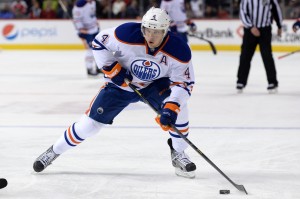 Each year, the Edmonton Oilers seem to finally have a chance to find themselves back in the playoff picture. However, year after year, they fail to meet those goals, no matter how many great first round or even first overall picks their roster features. Taylor Hall is looked upon to be the leader of this team and has shown the most promise of all Oiler hopefuls so far in his career. However, even Sidney Crosby would see his totals take a significant dip playing for a team this horrible, as is the case with Hall. After putting up his second consecutive season of over point per game production, Taylor Hall was expected to continue his upwards trend and possibly lead the Oilers to a respectable season. That hasn't been the case so far, as Hall has just 10 goals and 11 assists in 30 games, with his Oilers the current favourites to win the Connor McDavid sweepstakes. At this pace, Hall will put up his lowest totals since his rookie campaign. Aside from that, he is also finding himself amidst trade rumours for the first time ever, as rumours of his unwillingness to cooperate with the team's system of play are surfacing. It's a cloudy future in Edmonton.
3: Paul Stastny
The first four years of Paul Stastny's career were remarkable as it looked like the NHL had found it's newest superstar. However, since then, Stastny's play seemed to continually decline as his contract with the Colorado Avalanche concluded this past July. He then chose St. Louis as his new home, but a return to stardom has yet to come for Stastny. Through 27 games he has just seven goals and seven assists, a rate which is the lowest points per game he has ever produced in his nine year career. Stastny was signed in the offseason and expected to not only be a leader in the locker room, but with his offence on the ice as well. That hasn't happened yet, as Stastny is currently 8th in team scoring. Luckily for him, the Blues have more than a enough depth on their team to continue to compete and even lead in the Western Conference. Just imagine where they'd be if Stastny was performing the way he was expected to.
2: Thomas Vanek
Thomas Vanek was the other superstar UFA signing this past summer, along with Stastny, and also the second to be greatly underachieving thus far in 2014-15. After playing for 3 different teams in 2013-14, this season was expected to allow Vanek to play his best while being able to play in a sustained role over an entire season. However in the first year of his three year contract, Vanek has brought much less than what he was expected to bring to the table. Vanek is known for being a consistent 20 goal scorer, in fact, he's never scored less than 20 in a season. This year, he's on pace for just 15 goals and 55 points, by far his worst season in his entire 10 year career. The Minnesota Wild are struggling without his expected presence, falling to 10th in the Western Conference. Their goal scoring ability as a team as been sufficient, but their power play has been operating at a dismal 13.9% through nearly half the season. Both Thomas Vanek and their special teams must improve vastly if they want to make the playoffs this season.
1: Anze Kopitar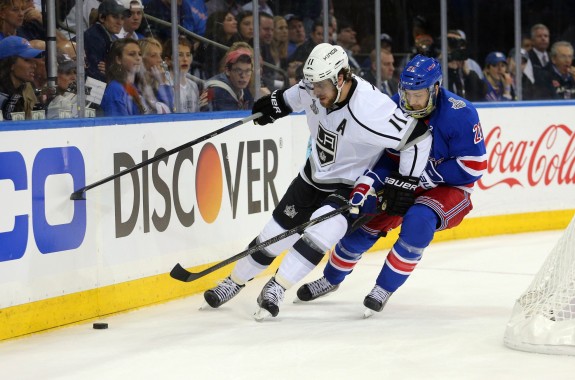 Anze Kopitar, the most prolific Slovenian born player to ever strap on skates, is known as one of the most consistent players in the NHL today, annually racking up around 70-80 point seasons, providing the Los Angeles Kings the only offence they ever really get. However, 2014-15 has been different for Kopitar, as he had only 14 points in 29 games before somehow putting up an incredible 12 points in his last five games. However, due to the Kings depth and unbeatable defence year in and year out, Kopitar's team is still right in the mix of things nearly halfway through the year, sitting in their usual low spot in the playoff picture. It's a fair assumption that Kopitar will need to find his usual form if the Kings want to go on their 3rd Stanley Cup run in 4 years. Although the Kings have proven twice that defence trumps offence in the playoffs, Kopitar's offence is almost all they've got at times, and you can't win if you can't score.
Disagree with our list? Think another star is underachieving? Let us know in the comments!