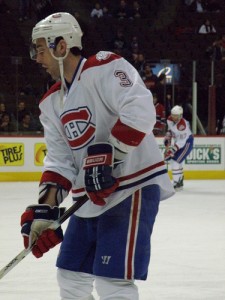 Lately some Canadiens past and present have been making news but not quite for the right reasons. This got me thinking: what were the all-time Habs run-ins with the law?
Being a professional athlete can be tough – all that money, fame, adoration – the media constantly prodding you for your position on water conservation. Yes, it can be especially challenging – but nothing quite puts the "aw" in "law" than a pro athlete staring into the abyss of a possible prison sentence or heavy fine. Vick, Pistorius, Hernandez, O.J. — they know it all too well. To boot, pro athletes have to deal with the reality of being tried twice: first in an actual court of law and second, in the court of public opinion.
From Nathan Beaulieu and his father Jacques' recent tussles to Mario Tremblay's DUI to Chris Nilan's off-ice dealings with Whitey Bulger, our hockey heroes amply reveal that though they may be treated like gods, they're just normal, flawed human beings like the rest of us:
5. John Kordic (1992)
The What? Troubled, conflicted enforcer had a variety of drug and alcohol related run-ins with law enforcement over his short playing career. Kordic was at his best with the Montreal Canadiens, winning the Stanley Cup in 1986; but he longed to leave his tough-guy image behind, something he struggled with for the rest of his life.
The Verdict: Kordic's inner torment and struggles with drugs, alcohol and steroids got the better of him and his last run-in with the police would ultimately be his final one. First he was arrested after a domestic disturbance with his fiancé. A few weeks later, he was staying at a small motel outside of Quebec City when staff called the police after an agitated Kordic threatened said staff when he thought they were trying to "frame" him. He was subsequently subdued by nine police officers, but then suffered heart and lung failure on the way to hospital. He was 27.
4. Shayne Corson (1992)
The What? Shane Corson was a gritty, tenacious and often hard-headed winger on and off the ice. And that was the problem. The guy liked frequenting the Crescent St. bar scene in downtown Montreal — as many Montreal pro athletes have done through the years — but the trouble was, trouble seemed to be Corson's regular companion. After a variety of extracurricular activities gone wrong, the problem child Corson continued to butt heads with then Habs head coach (and ex-cop) Pat Burns, culminating in the '92 season with what's known as the "The Zoo Bar Incident." Corson took part in a nightclub altercation where he was accused of throwing shot glasses at a man who was speaking with a woman whom Corson had met earlier that evening. Corson then started a fight with the man which led to his second arrest in two years.
The Verdict: Corson never really recovered from the incident, at least in the eyes of Burns and Canadiens GM Serge Savard. Corson was suspended by the Canadiens and warned he'd be traded if he was involved in any more bar brawls. Burns, when asked about the incident, famously uttered: "Shayne Corson can go eat shit." Corson was traded to the Edmonton Oilers the following season.
3. Patrick Roy (2000)
The What? Playing for the Colorado Avalanche, the HOF goaltender is arrested at his home in Littleton, CO after his wife called the police. Roy, apparently in a fit of anger, tore a door off of its hinges. Roy was arrested and charged with criminal mischief. He faced deportation if convicted.
The Verdict: The charges against Roy were dismissed in 2001; ultimately the couple divorced in 2005. Their children have each quit playing hockey. Roy was named head coach of the Avalanche in 2013.
Sidenote: Roy's public image took yet another beating due to the on-ice antics of his sons Jonathan and Frederick — each displaying the characteristic Roy temper in their own inimitable style.
2. The "Richard Riot" (1955)
The What? Maurice "Rocket" Richard was to the Canadiens like Steve Jobs was to Apple. When he was there, they were gold. But in 1955, NHL Commissioner Clarence Campbell suspended the hockey hero for the rest of the regular season and playoffs for going berzerk with his stick after receiving a gash over his eye on the Bruins' Hal Laycoe and then on a linesman. The game following the suspension announcement — whom many around the league thought could've been more severe given the circumstances — with Richard out of the lineup, Commissioner Campbell nevertheless attended the game with his wife in their usual seats. Stoking the flames of discontent just by his mere presence, he was pelted non-stop by the Forum faithful. A riot ensued that spilled out onto the streets of Montreal.
The Verdict: The Canadiens would lose that spring but with Richard back in the lineup, the team went on to win an NHL record five straight cups starting the next season. Maybe that's why the city likes to riot after Habs playoff exits (or wins for that matter)!? They might think it could usher in the second coming of  another five straight cups!?
1. "Pursegate" (2008)
The What? In one of the more surreal and somewhat laughable incidents (though Habs brass surely were not laughing), on a visit to Tampa Bay the Canadiens hold their annual rookie dinner where the new NHLers are tasked to pick up the cheque. Maybe that explains why later while at a bar Ryan O'Byrne "accidentally" walked out with a young woman's purse and was arrested for third degree grand theft. Teammate Tom Kostopolous came to his rescue, only to on resisting arrest. Maybe he liked the way the purse matched his pants? Not a joking matter (though we all found it hilarious) as the theft charge is a felony and if found guilty, the rookie dman wouldn't have been able to gain entry into the United States which would have effectively ended his playing career.
The Verdict: Charges were dropped for both players, but they were found guilty of being just plain stupid in the court of public opinion.
Below is a short parody of the incident, in French. "Vol de sacoche."
Honourable Mentions
-The Kostitsyn brothers along with Roman Hamrlik. Accused of cavorting and buying cocaine from a well-known Montreal mobster. All three no longer play for the Canadiens.
-Guy Lafleur tried to do what was right for his son Mark but got caught in the crossfire. He took the reputational hit and his son pleaded guilty for a variety of charges, including drug possession and obstruction of justice. Lafleur is still and always will be a legend in Montreal.
There's gotta be more! Let me know.
Follow me (or don't) on twitter: @HabsFanLeafLand
I'm a goalie — apparently that says a lot. Writer, producer and bon vivant I'm from Montreal but live in Toronto and write from that perspective on HabsFanInLeafLand.com. Young enough to be hip; old enough to remember where I was when Guy Lafleur scored against the Bruins in the infamous "too many men" game in the '79 playoffs. Can you say that?
You can contact Ari Grief on Facebook or on twitter @habsfanleafland