Linus Omark could be back in Oiler blue and orange this season.
It was news that was a surprise to many, but Omark clearly wants to prove he can stick in North America.
The Swedish YouTube sensation  just signed a one year, $600,000 deal with the team. He was a restricted free agent with the club.
The small but skilled forward left Edmonton for Zug of the Swiss league and greener pastures. He was successful and led the Swiss league in scoring last season with 69 points in 48 games.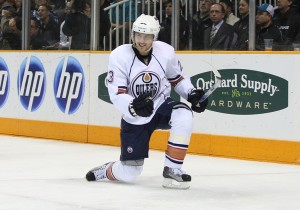 There has certainly been a number of knocks against Omark, the fact that he is one-dimensional, he's small at 5'10" and was inconsistent when given his chance previously with the Oilers. It's not as though fans were clamouring to have him back.
The move is one that could benefit the team though, it's a low cost, two way contract for a team that needs bottom six forwards. Omark is skilled enough to play in the NHL, he sees the ice well, has excellent offensive instincts and has slick hands, as seen in his numerous YouTube shootout goals. He's also stronger than he looks and protects the puck down low well. His shootout prowess would be an added bonus.
He clearly wants to be back in the NHL, as he could get more money in Europe, but chose to sign a one year deal with the Oilers. It will be a year he'll want to prove himself and set himself up for a new contract, be it in Edmonton or another city. That motivation could work in the favour of the Oilers too
There's no guarantee he'll even make the Oilers with wingers Taylor Hall, Jordan Eberle, Nail Yakupov, David Perron and Ales Hemsky all on the depth chart in front of him and then battling with Ryan Jones, Ryan Smyth, Mike Brown and Jesse Joensuu among others for one of the bottom six spots. He does have a leg up on talent on most of the latter group and with a good camp could make it hard for the Oiler brass to send him down.
Either way, it's a good, low cost signing by the Oilers that if it works out will be a huge asset, and if not, it won't break the bank.
https://twitter.com/RealLinusOmark/status/372415373540200448
The NHL regular season schedule was released on Friday. Check out our partners at TiqIQ for the best deals on Edmonton Oilers tickets for all 2013-14 games.