Only an hour into free agency this year, veteran defenseman Rob Scuderi, signed a four-year, $3.4 million contract with the Pittsburgh Penguins.  At 34, Scuderi may have not been the spryest of defensemen, or fleet-footed, but always provided stability on the defense and a calming presence in the locker-room.  With Scuderi returning to his roots in Pittsburgh, the question remains, what will the Kings do to replace his spot on the defense corps.
Is Scuderi Replaceable for the Kings?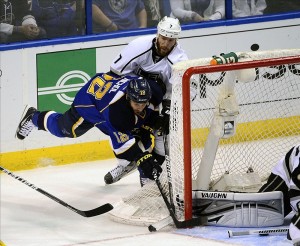 "Scudsy … he's The Piece," stated Jordan Staal after Game 6 of the Stanley Cup Finals against the Detroit Red Wings in 2009 referring to Rob Scuderi and his goal-stopping kick-save.  Scuderi's true value has been on display each offseason that he has been an unrestricted free agent, as both times, he has not only received a raise in salary, but has been snapped up quickly each time.
When a player like Scuderi, who doesn't light up the scoreboard on a frequent basis or lay earth-shattering hits every night, is off the board in mere hours, there's a reason.  Scuderi played a pivotal role in both the Pittsburgh Penguins' 2009 Stanley Cup victory and the Los Angeles Kings' 2012 Stanley Cup Championship, shutting down opponent's top-offensive forwards.
In his 4 years with the Kings, Scuderi contributed 49 points in 285 games with a combined plus-4 rating.  While Scuderi's 2012-13 campaign was still the defensively sound type of season the Kings' fans expect from him, it seemed at times that his lack of his speed hindered his ability to make a play.  Many Kings fans were not surprised by Scuderi's departure, nor upset by it, but the problem that the Kings will run into next season, is that there aren't many players like Rob Scuderi out there, which is why he flies off the shelf every Free Agency period.
Although Scuderi was not the player that had fans and celebrities snapping up Kings tickets at every turn, the importance of his stability and defensive positioning will make it difficult for the Kings to replace him.
Who Steps In for the Kings?
With a defense corps consisting of Drew Doughty, Keaton Ellerby, Alec Martinez, Willie Mitchell (if healthy), Jake Muzzin, Robyn Regehr, Jeff Schultz, and Slava Voynov, there are plenty of options for the Kings to consider.
The most likely option for the Kings to replace Scuderi, will be with veteran defenseman and frequent healthy scratch last season, Jeff Schultz.  Coming over from the Capitals, where he only saw 26 games on a defense not exactly known for its defensive capabilities.
After Schultz most likely manages to infuriate the majority of Kings fans with less-than-sound positioning and lack of agility, the next in-line for the spot alongside Slava Voynov, will be either Keaton Ellerby, Alec Martinez, or Robyin Regehr.  If the Kings decide to pair Regehr with Doughty that leaves the Kings with the choice between Ellerby or Martinez, two less-than-favorable options younger options.
Even with an 8 players making up the defense, the Kings will still have trouble replacing the intangibles that Scuderi brought to the table.  Without a viable option to replace Scuderi in the pipeline, the Kings could be in for a considerable learning curve trying to build the plane while flying it.