The Washington Capitals regular season gets started on October 1st in Chicago, as Alex Ovechkin and Braden Holtby begin the season against the Stanley Cup Champion Blackhawks. The Adam Oates led Capitals join the Metropolitan Division in the 2013-2014 season and will face tough opponents including the Pittsburgh Penguins, New York Rangers and the young and upcoming Columbus Blue Jackets on a nightly basis.
The Olympic break runs from February 9th to the 25th as top NHL players play for their respective countries in Sochi, Russia. All NHL teams will play every team at least once this season, after only playing Conference teams last year during the shortened 48 game season. The Hockey Writers lists can't miss games for Capitals' fans in the upcoming season below.
October 1st @Blackhawks
Washington's first opponent is the top one from last season, as the Capitals open the season against the Blackhawks when Chicago raises its 2012-2013 Stanley Cup banner. This is a great test for the team from the nation's capital to start the season, facing a high flying offense along with a strong blue line and stellar goalie in Corey Crawford.
The Capitals' defense will be challenged early this season and should have a ton to prove after another first round playoff exit last spring. The addition of Mikhail Grabovski is also something to watch, as they lost center Mike Ribeiro to the Phoenix Coyotes and fan favorite and fourth line grinder Matt Hendricks to the Nashville Predators in free agency this summer.
December 27th vs. Rangers
The Capitals came up short against the Blue Shirts from New York in the playoffs for the second straight season last year, ending with an embarrassing game seven loss at Verizon Center. The Rangers hired new head coach Alain Vigneault who could provide New York with a change in offensive philosophy and overall style of play, potentially providing more scoring opportunities for forwards Brad Richards and Rick Nash.
It will be interesting to see how Adam Oates utilizes his forwards and defensemen to generate scoring chances and quality opportunities, something that was explicitly lacking in game seven against the Rangers. It's always tough to beat Henrik Lundvquist.
January 15th @Penguins
A road contest against one of their biggest rivals always is a "must see" for Capitals' fans. Washington visits Pittsburgh less than one month before NHL players leave for the Olympics and the division race should be heating up by then. The rivalry could pick back up quite rapidly as Penguins' Captain Sidney Crosby hopes to have a full 82 game season following concussion injuries in preview years.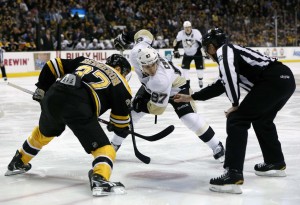 Pittsburgh came up short against the Boston Bruins in the postseason last year, but is a contender for the Stanley Cup once again. They lost respected NHL forward Jarome Iginla to Boston in the offseason, but a bounce back year from their goaltender Marc-Andre Fleury could go a long way to a strong 2013-2014 campaign.
February 2nd vs. Red Wings
This home contest will feature two Russian superstar forwards and future Olympic teammates in Pavel Datsyk and Alex Ovechkin. This cross-conference matchup features two clubs who have not competed like they would have liked throughout the past year or feature two big name coaches, one with a hall of fame pedigree and one in just his second year coach as an NHL bench boss.
The defensive matchups Oates selects against Detroit's top two lines should be something to look forward to, along with the play between the pipes with Detroit's Jimmy Howard and either Braden Holtby or Michal Neuvirth in Washington's net.
March 29th vs. Bruins
This late season matchup makes for a sure fire physical matchup. Led by Zdeno Chara and Johnny Boychuk on the blue line, the Capitals will have to work for every inch on the ice. Young net minder Tuukka Rask almost brought Boston another Stanley Cup last season, but their defense appeared to grow tired as the series reached its climax. This contest features two of the best two-way centers in the world with Patrice Bergeron and Nicklas Backstrom, both who have the ability to control the game when on the ice.
Stay tuned at The Hockey Writers for more Capitals updates as the season draws near.
You can follow Matthew on twitter @m_speck and email him at mspeck21@yahoo.com with any questions or comments.
The NHL regular season schedule was released on Friday. Check out our partners at TiqIQ for the best deals on Washington Capitals tickets for all 2013-14 games.