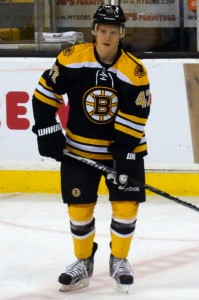 The Boston Bruins had a pretty great playoff run, coming within a minute of forcing a Game 7 in the Stanley Cup Finals. We saw a lot of great things from these Boston Bruins, but perhaps the best, and most surprising, thing was the breakout of young defenseman Torey Krug.
Krug had only played one game in the regular season, recording an assist in the Bruins loss to the Montreal Canadiens on March 27, but really broke out in the playoffs against the New York Rangers. Krug played in all five games and scored in four of them, four goals and one assist.
His great play may have parlayed into a starter's role for this upcoming season. With the absence of Andrew Ference, there is now a free spot open at defenseman and Krug looks to be the favorite at that spot. The question is, should he be the favorite or is he a one hit wonder?
Looking at Krug's playoff stats, you'd think, "Hey, this guy isn't bad", but looking more closely, there is cause for some concern. Krug had a great series against the Rangers as he really broke out and made his case. However, he was pretty much non-existent after then.
In the ten games after the Rangers series, Krug scored just one point, an assist in the Bruins blowout Game 2 win over Pittsburgh. Krug also had a dreadful Game 1 of the Stanley Cup Finals creating a very costly turnover that allowed Chicago to come back and was on the ice when the Blackhawks scored the game winner in the third overtime. After Krug's timely turnover, he didn't play for the rest of regulation, but as the game reached multiple overtimes, Krug worked his way back into the rotation.
Krug hasn't really shown that he can be the defenseman of the future for the Bruins. Players go on streaks in the postseason and never really live up to expectations in the regular season, i.e. Steve Penney. It's too early to tell if Torey Krug is going to be a one-hit wonder, but you can't base a projected starter's role on one series against the New York Rangers.
One thing working against Torey Krug is his lack of NHL experience. While Krug has played in 15 career playoff games, he has only played in three career NHL regular season games. I know players have to start somewhere, but the way that people are anointing Krug as a starter next season, it seems a tad presumptuous.
We'll see how Torey Krug does during training camp, but it might be best for him and the Boston Bruins to start the season in Providence. A better option would be using the veteran Wade Redden in place of Krug until he gets more seasoning down in Providence. Krug has had his moments, such as the Rangers series, but he still plays like a rookie. That turnover in the Stanley Cup Finals was a huge mistake that goaltender Tuukka Rask called 'terrible'. If he wants to have any future with the Bruins, or the NHL, he needs to tighten up his game and some time in the AHL might be the trick.
Redden was picked up by the Bruins from the St. Louis Blues and played sparingly for the B's, but now that Redden has been in the Boston system for some time, he can now get used to the system and scheme that Claude Julien runs. You also have Matt Bartkowski gunning for a spot on the Boston blueline, but the same questions about Krug could be raised for Bartkowski.
Like I said earlier, it's still too early to tell if Torey Krug will be a one-hit wonder, but don't expect him to light up the scoreboards either.
Do you think Torey Krug is a one-hit wonder or not? Comment below or sent me a Tweet, @MarkWGraham
The NHL regular season schedule was released on Friday. Check out our partners at TiqIQ for the best deals on Boston Bruins tickets for all 2013-14 games.