My father used to tell me that hockey was the most dynamic game in the world. It can also bring constant surprises.
The Toronto Maple Leafs flew into Edmonton to meet an Oilers team that had won five games in a row and was led by the powerful twosome of Connor McDavid and Leon Draisaitl who ranked first and second on the NHL scoring leader board. In addition, the Maple Leafs were missing starting goalie Frederik Andersen and the team's leading score Auston Matthews, who were both out with injuries.
Related: Maple Leafs' Moves Suggest Matthews Could be Out a While
Oh, and there's more. On Saturday night backup goalie Jack Campbell threw a 4-0 shutout at the Oilers; but, he was injured in that game so couldn't go on Monday night. With second-string goalie Campbell again out with an injury, third-string goalie Michael Hutchinson stepped up. He shut the Oilers out again by a score of 3-0.
The firepower of the Edmonton Oilers had been extinguished for two games in a row. But can that success last? In this post I want to ask four questions that the Maple Leafs face as they head into Wednesday's game. All four come from watching the team's success over the past few games and – as a fan – are questions that I'm curious about.
Question One: Will Auston Matthews Play Against the Oilers?
On Monday, Auston Matthews missed his second-straight game to nurse his nagging wrist injury. Although it was called a game-time decision, which suggests the injury isn't too serious, it was the second game in a row Matthews' been out. That makes me wonder how serious the injury is. Is it a big deal, or is Maple Leafs' head coach Sheldon Keefe leveraging the team's good play to try to extend the healing time for his best player?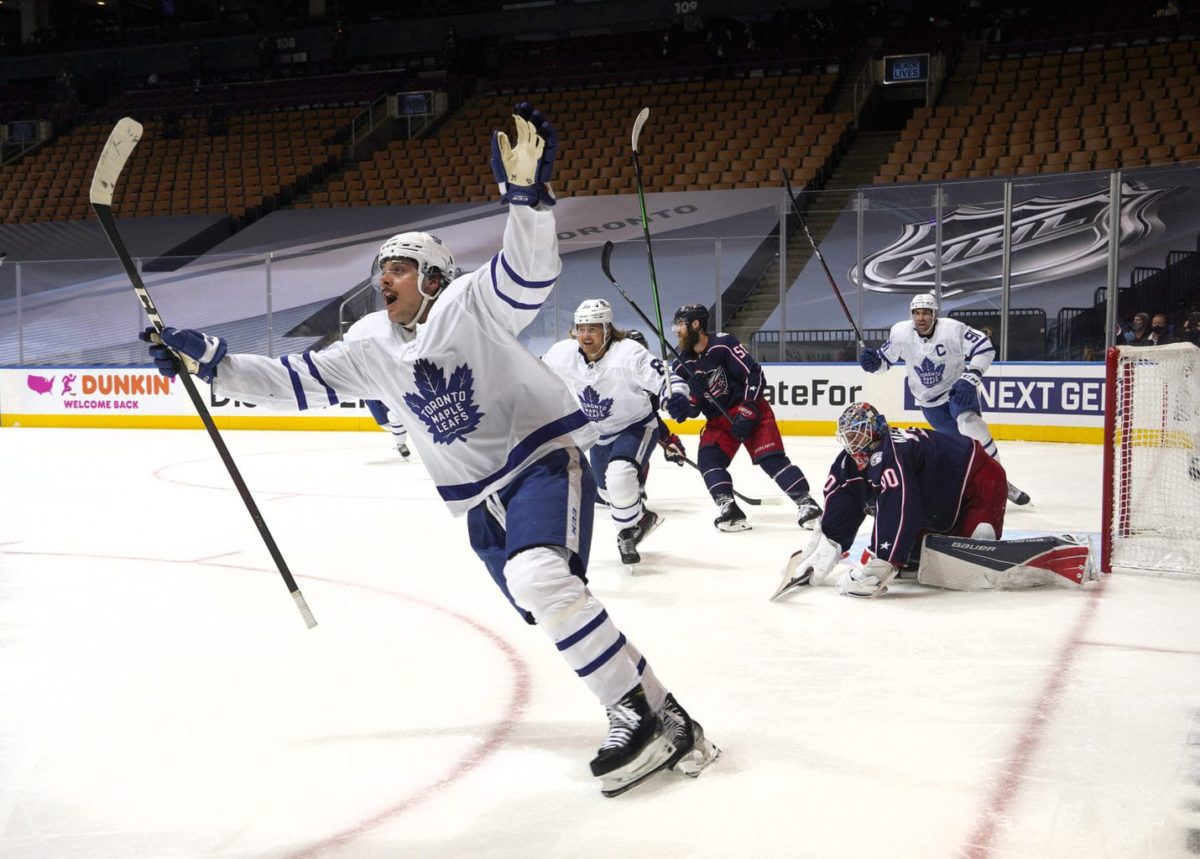 The 23-year-old Matthews has 31 points (18 goals, 13 assists) on the season after playing 20 games. He's travelling with the team and took part in both Sunday's practice (although no line rushes) and Monday's optional skate. But will he play on Wednesday, or will the team err on the side of caution?
Given the way the team has responded to missing its star player(s), there seems no need to rush Matthews back into game action. However, right now it isn't clear to fans how injured Matthews might be. I'm thinking he'll play; and, if he doesn't, I'll start to wonder more about how injured he might be.
Question Two: If Andersen Is Ready to Play on Wednesday, Will He Start in Goal?
The stellar play of third-string goalie Michael Hutchinson in net both this season in general and during Monday's game specifically begs the question whether Frederik Andersen should start if he's ready to return from his injury. In fact, if Campbell's ready would he start in goal.
Related: The Best NHL Players of All-Time, by Decade
In essence, the curious question is also about Maple Leafs' head coach Sheldon Keefe's way of operating. Will he trust the depth chart – which clearly has Andersen as the starter, Campbell as the second, and Hutchinson as the third? Or, will he ride the hot goalie? And Hutchinson couldn't have been hotter on Monday night.
Hutchinson stopped all 31 shots he faced during Monday's 3-0 win over the Oilers. Hutchinson had also shutout the New York Islanders in early January 2020 in his first go-round with the team. It was also the sixth shutout of his career.
Might coach Keefe face a difficult decision about which goalie to use if either Andersen or Campbell are ready to return? Or, has Hutchinson earned another start on Wednesday regardless?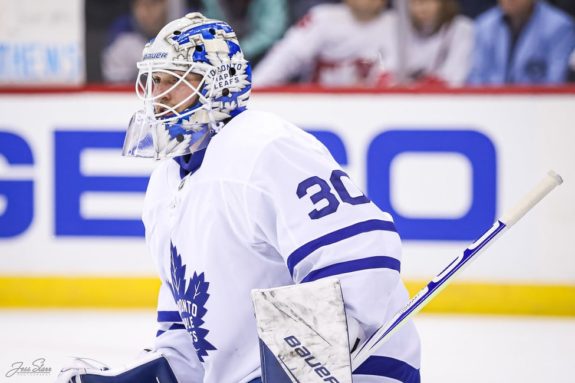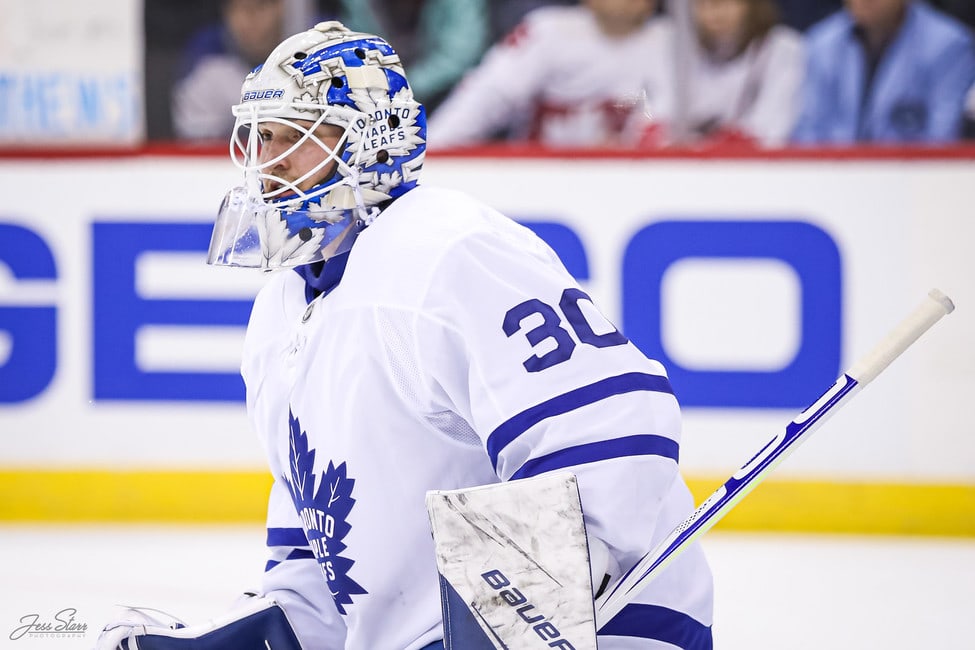 The 30-year-old Hutchinson hasn't been a disappointment. Still, with Andersen looking close to returning, wise money suggests that Hutchinson's time in the net won't likely last much longer. On the season thus far, Hutchinson has a 3-1-0 record this year 1.76 goals-against-average and .943 save percentage in the four games he's played.
To compare Hutchinson's play with the NHL's best this season, Andrei Vasilevskiy of the Tampa Bay Lightning has a 1.75 goals-against-average and both Vasilevskiy and the Edmonton Oilers' Mike Smith both have an NHL-leading save percentage of .938 (which means Hutchinson's percentage is better).
In fact, the Maple Leafs' team depth has been surprisingly helpful this season. Fans expected depth from the forwards, but perhaps not so much from the defense and certainly not with the team's goalies. Both those areas have been huge surprises and have carried the team.
Question Three: Can William Nylander Keep Up His Solid Play?
In December 2019, within a month after Keefe had just taken over the head-coaching job from Mike Babcock, William Nylander was benched for two periods during a game against the Detroit Red Wings. He simply wasn't working hard enough as a back-checker. This season, recently against the Montreal Canadiens, he was benched for the last half of the third period for not keeping up with the rest of the team.
Related: NHL's Top 5 Defensive Defensemen of the Decade
After both those benchings, Nylander responded well. Over the past four games, he's been more active in the play and has started to hit the score sheet with regularity. During the Maple Leafs' second game against the Calgary Flames, Nylander scored the game-tying goal by battling in that dirty area in front of the crease. Then he scored the game-winner in overtime on a great shot. In short, he's been involved and it's showed.
Against the Oilers on Monday night, he scored a goal and an assist. In an oddity for him, he even won his only faceoff attempt. His pace has definitely picked up and he now has a three-game goal-scoring streak, and it comes at a time when the team needs him most (with Matthews out of the lineup).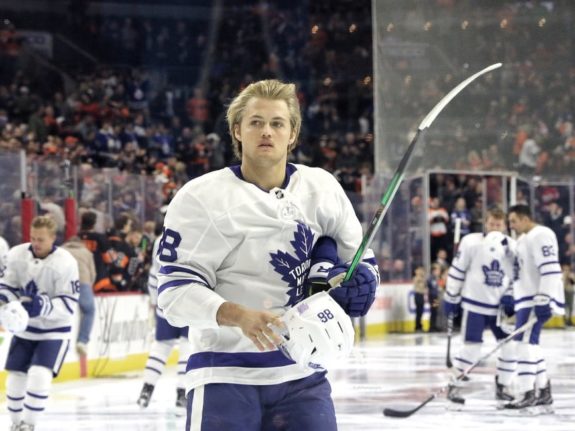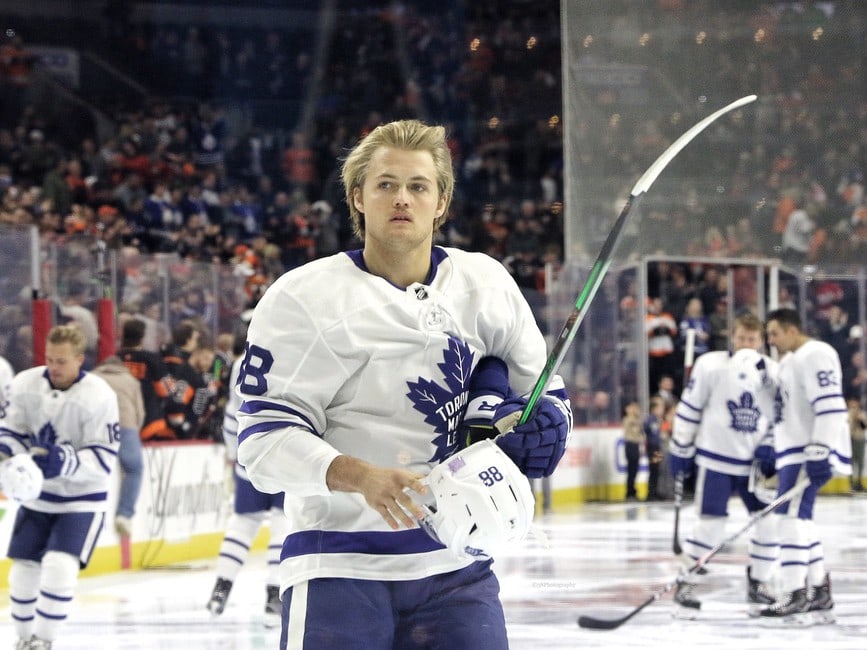 The question is whether he can and will continue the pace where he's scored four goals and an assist in this last three games. The 24-year-old enigmatic Swedish winger now has nine goals and 10 assists (for 19 points) in 23 games this season.
Question Four: When Will Ilya Mikheyev Score His Next Goal?
For my money, Ilya Mihkeyev's been one of the better players in the Maple Leafs' lineup game after game. He's not Dave Keon – yet; who, in a 1971 NHL coaches' poll was voted to be the best checker, the second-best penalty killer, and the second-best NHL skater.
However, Mikheyev is fast on the puck and looks to be developing into a great defensive player. Furthermore, is it my imagination that he seems to have a short-handed breakaway almost every game?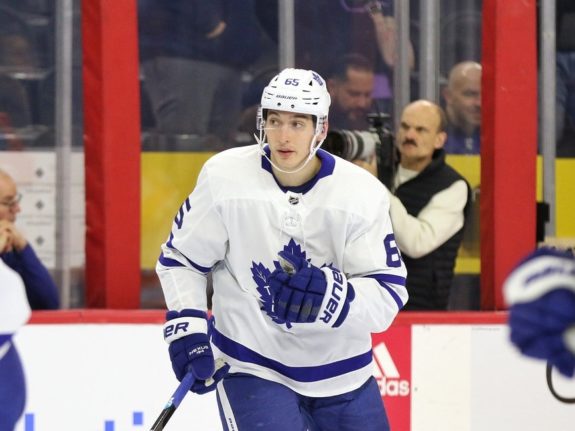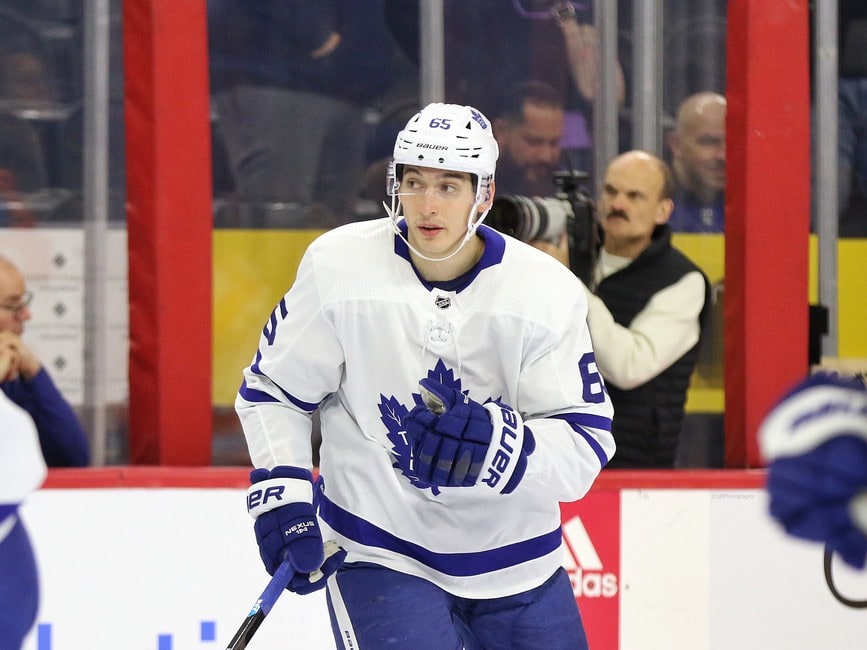 In last night's game, he scored a secondary assist on Zach Hyman's opening goal. However, he hasn't found much scoring consistency as a third-liner and has scored only six points in 23 games. Although I think the Maple Leafs' lineup can tolerate and even overcome the low scoring it's getting from the young Russian, it would be great if he could score a goal or two.
In fact, I'm hoping for him it's during Wednesday's game.
What's Next for the Maple Leafs?
Coach Keefe has to be pleased with his entire team's solid play, especially with star center Matthews on the mend. This team's depth seems to be one of its key attributes.  
Speaking of the health of the team, Keefe noted that the solid play of the replacements has "been really healthy for us to see."
Related: Maple Leafs' Keefe: If Nylander's Misunderstood, He Needs to Own It
Keefe added, "Obviously we want to get our people back here, obviously we're a stronger group when we're healthy. But it's a very good sign that you can still get a win, especially here on the road against a very good team."
Wednesday they'll have another go at the Oilers. Who will play, and how will they do?
---
---
The Old Prof (Jim Parsons, Sr.) taught for more than 40 years in the Faculty of Education at the University of Alberta. He's a Canadian boy, who has two degrees from the University of Kentucky and a doctorate from the University of Texas. He is now retired on Vancouver Island, where he lives with his family. His hobbies include playing with his hockey cards and simply being a sports fan – hockey, the Toronto Raptors, and CFL football (thinks Ricky Ray personifies how a professional athlete should act).
If you wonder why he doesn't use his real name, it's because his son – who's also Jim Parsons – wrote for The Hockey Writers first and asked Jim Sr. to use another name so readers wouldn't confuse their work.
Because Jim Sr. had worked in China, he adopted the Mandarin word for teacher (老師). The first character lǎo (老) means "old," and the second character shī (師) means "teacher." The literal translation of lǎoshī is "old teacher." That became his pen name. Today, other than writing for The Hockey Writers, he teaches graduate students research design at several Canadian universities.
He looks forward to sharing his insights about the Toronto Maple Leafs and about how sports engages life more fully. His Twitter address is https://twitter.com/TheOldProf