Toronto Maple Leafs, Jonathan Bernier Beat New York Islanders 5-2
Jonathan Bernier and the Toronto Maple Leafs overcame a rough start to beat the New York Islanders 5-2 tonight.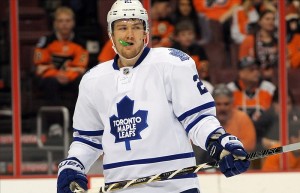 Nick Leddy opened the scoring at 2:48 in the first period to give the Islanders an early lead. Toronto responded six minutes later when James van Riemsdyk found the back of the net for his third goal of the season. However, the Islanders retook the lead on a power play goal from John Tavares in the final minutes of the opening frame.
If the game ended at this point, it could only be described as one of the Leafs' weakest efforts to date in the young season. They looked absolutely disorganized and completely vulnerable to start the game.
Fortunately, the Leafs were able to quickly turn things around in the second period, recording four unanswered goals courtesy of Phil Kessel (2), Roman Polak and David Clarkson.
Toronto also benefited from another strong performance from Bernier, who was coming off a 1-0 overtime loss to the Detroit Red Wings last Saturday. Bernier was particularly strong in the third period when New York outshot Toronto 17-5.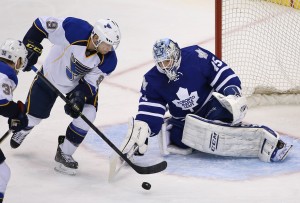 Jaroslav Halak played two periods for the Islanders before getting the axe. He allowed five goals on 23 shots – it was his shortest start of the season – while Chad Johnson put up five saves in a perfect relief appearance.
The win ends a two-game losing streak for the Leafs. Their season record now stands at 3-3-1, but that could change very soon as the Leafs return to action tomorrow night, visiting the Ottawa Senators.
This'll be their third straight game on the road before returning home on Saturday to face the Boston Bruins.
Bonus fact: the Leafs have now won seven straight contests in regulation against the Islanders.
---
Follow me on Twitter for regular posts about sports (especially the Toronto Maple Leafs and the Toronto Blue Jays), politics and other news topics: @williamefwilson