The NHL schedule was finally released last Friday, and aside from the absurd naming of the new "Metropolitan" division, there was a lot to like for fans all around the league. Let's be honest though, some teams appear to have gotten it better than others. The Rangers, for example, start their season on an ugly nine-game road trip, going coast-to-coast for nearly an entire month. Anaheim has an eight-game road trip in late October and into early November that takes them through eastern Canada and the United States. Then there are teams like the Bruins, Avalanche and Blues that have a fairly mild schedule, as none of their road trips go beyond a four-game stretch.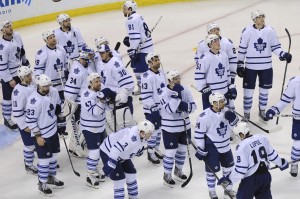 The Maple Leafs are in the middle of the pack. Here are some keys to the 2013-14 schedule for Toronto:
– 16 Back-t0-Backs, which again is middle of the pack, given that the league-low is 10 and league-high is 22. A particularly difficult one comes in early December when they host the Kings at home before flying out to take on the Blues the next night. Even without the back-to-back the physicality those teams bring is tough to handle.
– Longest Home-stand: 5 games November 16-25 vs Sabres, Islanders, Predators, Capitals, Jackets. No powerhouse teams there so better hope for at least 6 or 7 points.
-Longest Road-trip: 5 games March 10-18 vs Ducks, Sharks, Kings, Capitals, Wings. Eeek. Doesn't look easy at all. All strong teams and five games in nine nights is never easy.
-Most Home Games in a month: 10 Home games in December.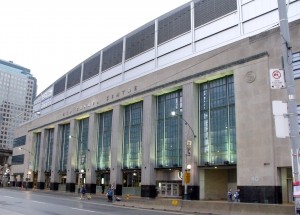 December will be a key month, as they play 10 of 14 at the ACC. Coming to town early on are difficult matchups such as the Sharks, Bruins, Kings and Blackhawks. Later on in December it gets easier thanks to teams like the Panthers, Coyotes, Hurricanes, and Sabres. Of course all of this will be featured on HBO's 24/7 leading up to the Winter Classic.
– Most Road games in a month: 9 Road games in March. Definitely the most important month as this will be when they are in the playoff hunt. It includes their season high 5-game road trip but also home-ice divisional matchups against the Canadiens, Wings and Lightning, all of whom could be neck-and-neck with Toronto for playoff positioning.
-Longest stretch without a game: 5 days off from November 3-8. They take on the Canucks in Vancouver and then have an extended break before taking on the Devils at home.
– 5 of the last 7 games of the season are against division rivals. The Leafs will likely be in the thick of the playoff race come late March and these last several games will have more meaning in the new playoff format where the top 3 teams in the division are guaranteed a spot in the top six. On paper, I'd say Boston and Detroit look most likely to secure the first two spots but the third spot could very well be the Maple Leafs to grab hold of.
5 Can't Miss Games
Opening Night October 1st @Montreal
The Bell Centre is always a rockin' and Leaf and Habs fans around the globe have become accustomed to this opening night classic. The historic franchises have started the season against each other 4 years in a row and the Maple Leafs have yet to lose in regulation during that span, going 3-0-1. Last season, Kessel beat up on the Canadiens, scoring 8 points in the 5 regular seasons games between the clubs.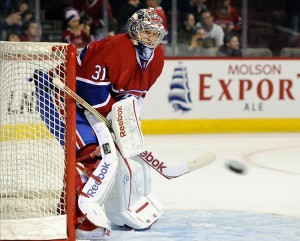 Phaneuf had 5 of his own, while Gallagher led Le Bleu, Blanc et Rouge with 4 points in 5 games against Toronto. Bozak had the game-winning goal last year when Toronto won the opener 2-1, though tending the net in that game was Ben Scrivens.
Which brings us to goaltending. Will Reimer get the nod or newcomer Jonathan Bernier? Reimer had 2 convincing wins last season against the Habs (6-0, 5-1) before getting pulled in the season finale in what turned out to be a 4-1 loss. He is 4-3-0 in his career against Montreal with a .919 save percentage. Bernier has started twice in his career against the Canadiens as a member of the Kings and lost both times; 2-1 in 2011 and 4-1 in 2010.
Saturday October 5th vs Ottawa
The home opener. The Battle of Ontario. Sounds wonderful,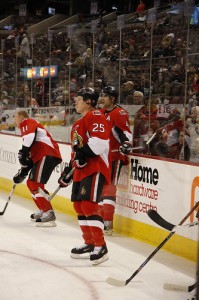 doesn't it? Before Toronto began opening their season against Montreal on a regular basis they would do so against the Sens. But in some ways I like this better because we see them both right away, and a game in Montreal is basically a home game anyway.
The Leafs were 4-1-0 against Ottawa last season and have an 18-9-2 record against them the past 5 seasons. And Ottawa is now without Alfredsson, though acquiring Bobby Ryan certainly makes them a bit deadlier up front. There won't be as much booing now (I wonder if fans will boo him when Detroit comes to town???) but I'm looking forward to Clarkson and Neil going at it, two foes who have seen plenty of each other and are already well acquaintanced, but who will certainly be seeing more of each other.
Saturday October 19th @Chicago
Not only is this original-six matchup a chance to see what the Leafs can do against the defending Stanley Cup champs, but it's also Dave Bolland's return to the Windy City. After scoring the cup-clinching goal with under a minute left in game 6 of the Finals, the Blackhawks ran into cap problems (again) and ended up shipping out Bolland to his hometown Maple Leafs.
These teams rarely see each other nowadays, but in limited action Chicago has had the clear upper-hand winning all 4 games the past 5 seasons. Every game was close though and this one, not far into the season, has all the makings of a Saturday night classic.
Saturday November 9th @Boston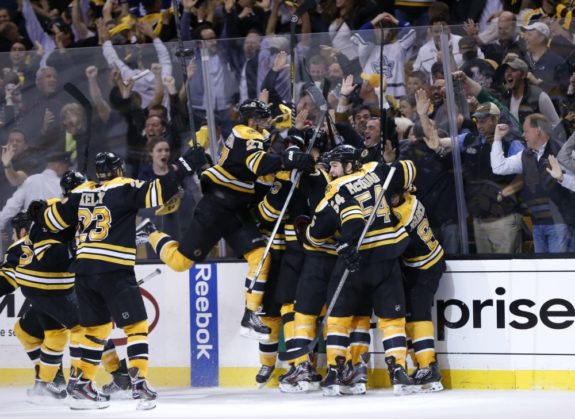 The dreaded return to the building where it all fell apart. The NHL was nice enough to wait 16 games before pitting the Leafs against their division rival Bruins at TD Garden. Though it will be 180 days after the fateful collapse, haunted memories of blowing a 3-goal lead with half a period remaining in game 7 are sure to be fresh in the minds of many Leaf players. Perhaps it's best if Bernier gets the start in this one?
After failing to win a regular season game against Boston in 6 tries in 2011-12′ (being outscored 36 to 10 in the process), Toronto fared better last season going 1-2-1 in just 4 games. Though the Bruins went through significant changes this off-season, their core of Rask, Chara, Krejci, Bergeron remains in tact. Toronto native Tyler Seguin however won't be taking part in this one.
These teams DO NOT like each other one bit, and this game could very well have the intensity of a playoff game.
NHL Winter Classic January 1st @The Big House
Though technically the Wings have "home-ice" for this year's Winter Classic, there will certainly be no shortage of blue and white at Michigan Stadium on January 1st. Detroit's move back to the Eastern Conference restores a great rivalry between the Original-Six teams and this game, to be played in front of over 100,000 rabid fans, will not disappoint. The teams also meet 10 days before on Saturday night in Toronto.
The Wings have beat up on the East in recent years, but not against the Maple Leafs as Detroit has dropped 4 of the past 5 meetings, dating back to 2008. It will be very interesting to see how Detroit's puck possession game translates to the Eastern Conference and by January you'd think Randy Carlyle and the coaching staff will have reviewed enough video to figure out how to keep the puck off the stick of Russian Wizard Pavel Datsyuk.
Honourable Mentions:
Dec 11 vs LA- Bernier faces his old team
March 23 vs NJ- Clarkson faces his old team in New Jersey
The NHL regular season schedule was released on Friday. Check out our partners at TiqIQ for the best deals on Toronto Maple Leafs tickets for all 2013-14 games.