The Toronto Maple Leafs signed John Tavares to a seven-year, $77-million contract, vaulting them up to the top spot as the favourite to win the Stanley Cup next year. The Leafs now boast Tavares, Auston Matthews and Nazem Kadri at centre with Mitch Marner, William Nylander and Patrick Marleau on the wing, forming arguably the best forward group in the NHL. Now the attention changes to how the Maple Leafs can improve their defence, and as it always seems to, William Nylander's name has appeared in trade rumours again.
The Case For & Against Trading Nylander
The idea to trade Nylander stems from the concept that after he, Matthews and Marner receive their big contracts (Nylander this summer and Matthews and Marner next summer), there won't be any money left to improve the defence. As someone who has played around with Cap Friendly's Armchair GM feature quite a bit, I can tell you that that's a pretty true statement for the 2019-20 season.
Nylander is a fantastic young player, but it's hard to tell how high his ceiling is. His 20 goals and 61 points from this past season put him in the range of players such as Nikolaj Ehlers, Jordan Eberle and Matt Duchene. All are very good players but not elite.
There's also some concern around Nylander's ability to thrive in the playoffs, as he was relatively invisible during the Maple Leafs' first-round exit against the Boston Bruins. If you were to trade Nylander for a right-handed defenceman, Connor Brown or Kaspari Kapanen would make decent replacements for him in the Leafs' top-six and you'd be solving your biggest need.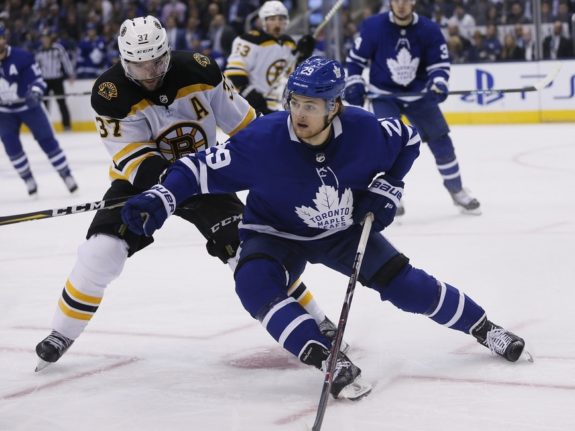 Looking at the case against trading William Nylander, it starts by expanding the analysis of his stats from a single season to his full career. After 185 NHL games played he has 135 points, which is more than Leon Draisaitl, Nikita Kucherov, Jamie Benn and Nathan MacKinnon had at that point in their careers (credit to @0ak_leafs on Twitter for that stat). He's also a World Championship MVP. This viewpoint would boost Nylander out of the Ehlers/Eberle tier and up into a much higher tier of potential player.
A second reason to keep Nylander is that the Maple Leafs' depth at wing may be overstated. Only four Leafs wingers had more than 15 goals last season. James van Riemsdyk (gone to free agency), Patrick Marleau (may retire at the end of his contract), Mitch Marner, and William Nylander. If you trade Nylander, all of a sudden the Leafs' biggest need may become a scoring winger to play alongside Matthews or Tavares. Does that sound familiar at all? It should. That's exactly what happened to the Edmonton Oilers when they traded away Taylor Hall.
But what about the salary cap? It's true that the Leafs will be in a salary cap crunch in 2019-20, but the year after, that Patrick Marleau will be off the books (add $6.25 million to the pot) and the salary cap will increase substantially thanks to the Seattle money that will likely come in (add at least another $5 million to the pot).
By then, some of the Leafs' defence prospects such as Timothy Liljegren, Emeli Rasanen and Rasmus Sandin may be ready for the NHL, and still on their cheap entry-level contracts as well. So we're talking about a one-year problem for the Maple Leafs. Solving a one-year cap issue by trading one of the best young players in the league is not a very good solution.
The Verdict: Should William Nylander be Traded?
I found it much easier to build the case against trading Nylander than for it, so if I were giving advice to Kyle Dubas, I would suggest that he does not actively shop Nylander, but still listens. If Jacob Trouba requested a trade out of Winnipeg again, I would consider him as an option. If for some reason the St. Louis Blues wanted to trade Colton Parayko, I would consider that as well. It's hard to see those trades being a good fit for the Jets and Blues, though.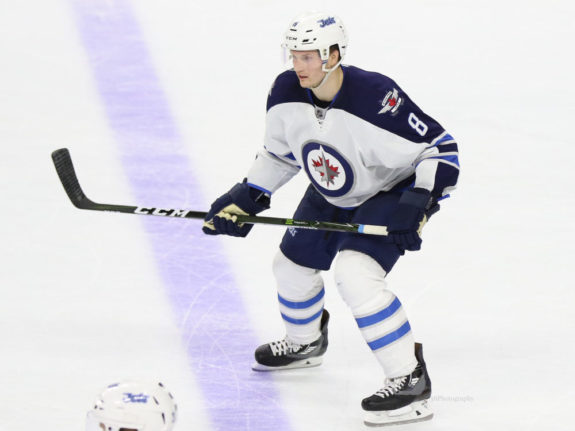 A Drouin-for-Sergachev-like deal for a young top prospect is appealing as well but unlikely. The Dallas Stars' Miro Heiskanen is the prospect that I may be willing to trade Nylander for, but the Stars were reportedly unwilling to even include him in a deal for Erik Karlsson, so that's not happening.
Considering a trade for anyone less than Trouba or Parayko would be a terrible idea. That's how you end up with a Taylor Hall-for-Adam Larsson trade. Anyone who suggests that Nylander should be traded for Chris Tanev should be smacked (looking at you Nick Kypreos).
Fortunately, Kyle Dubas has given every indication that he expects to keep Nylander along with Marner, Matthews and Tavares for a long time. When asked if the Maple Leafs can really keep all four of their star forwards, the Leafs GM responded:
We can, and we will. – Kyle Dubas
Trade for Faulk, Dumba or Montour
TSN's trade bait board has some interesting names. Beyond Jacob Trouba and Colton Parayko, there are a few right-shooting defencemen that wouldn't be as costly in a trade. Justin Faulk, Matt Dumba and Brandon Montour are all young, talented, right-shooting defencemen that could be possibilities. Of the three, Justin Faulk is the one that would probably cost the least in a trade, as the Carolina Hurricanes have a surplus of defenceman and seem eager to trade their captain.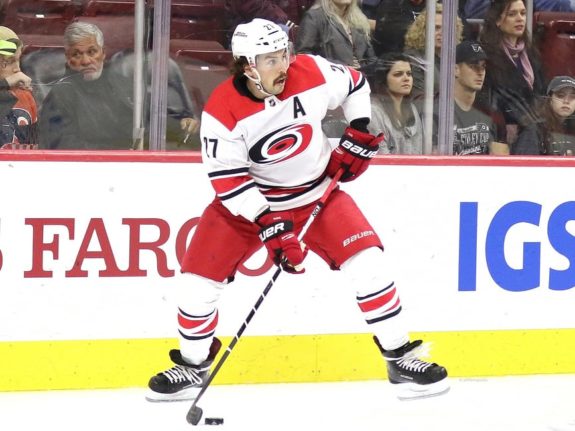 Would a package of one of Connor Brown/Kasperi Kapanen, one of Garret Sparks/Calvin Pickard and a second-round pick get it done? It's hard to say, but that's the package I would offer for Faulk.
Internal Competition for the Maple Leafs' Defence
The list of available free agents on defence is weak, so if the Leafs aren't able to swing one of the trades listed above, the best thing for them to do is be patient. Keep in mind that with the exact same defence last season, the Maple Leafs were tied for 11th in goals against, and they are replacing James van Riemsdyk and Tyler Bozak with the more defensively responsible John Tavares and Andreas Johnsson up front. Even with a weak defence, the Leafs are certainly going to make the playoffs, which means they can be patient and give some of their internal defencemen a shot to see what they have.
Nikita Zaitsev is coming off of a poor season, but he has the potential to bounce back. Connor Carrick may never have a better shot at securing a role as a permanent NHL defenceman and will be looking to take a step forward. Calle Rosen and Martin Marincin both had excellent playoff runs for the Toronto Marlies and will be looking to push for playing time along with other Marlies like Justin Holl and Andreas Borgman. Igor Ozhiganov comes to the Leafs from the KHL as well. With that much competition, there's a decent chance that someone will positively surprise us like Travis Dermott did last season.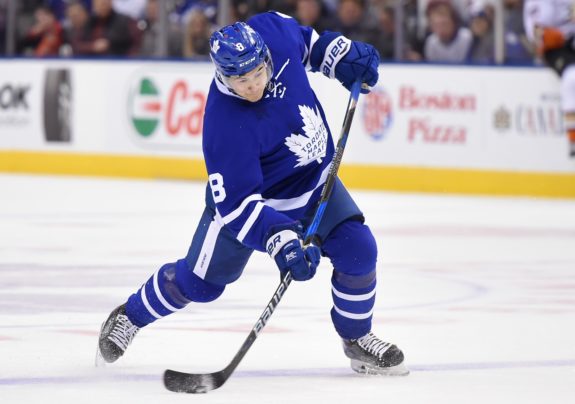 If that doesn't happen, the Leafs can use the trade deadline to improve the defence with rentals for the playoffs. Who knows who will become available between now and then? Next season, Timothy Liljegren, Emeli Rasanen or Rasmus Sandin may be ready for the NHL with nobody in their way for playing time.