When you think of the Pittsburgh Penguins, the first names that come to mind are Sidney Crosby, Evgeni Malkin, Phil Kessel, and Kris Letang.
All 30-something veterans who have accomplished just about everything you could imagine in the hockey world. To date, general manager Jim Rutherford's biggest offseason acquisitions are 31-year-old Jack Johnson and 41-year-old Matt Cullen.
So the words "youthful exuberance" don't usually come up a lot in conversation while discussing the club's roster heading into the 2018-19 NHL season. But given the responsibility placed upon the shoulders of Pittsburgh's most inexperienced players, the ultimate success or failure of the team might hinge on their performance.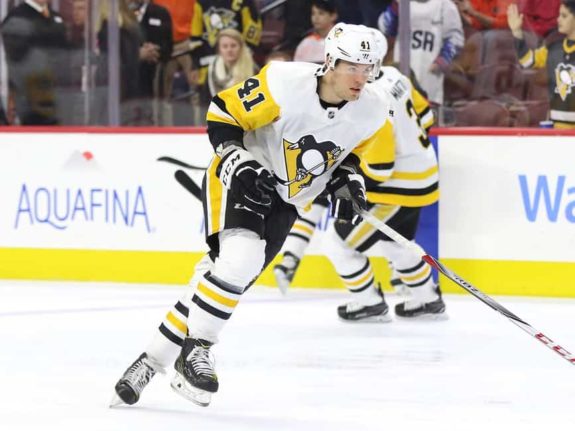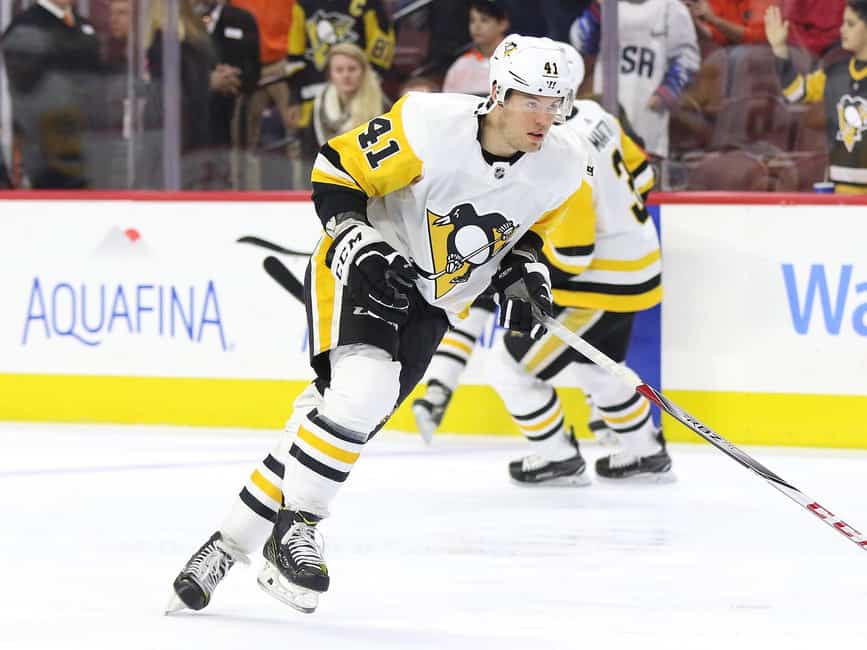 Daniel Sprong (21), Zach Aston-Reese (23), and Dominik Simon (23) are the three young Penguins with the most to prove, and all will likely be thrown into roles of great importance. Barring any unforeseen roster moves, this young trio will be vitally important to the team both on the ice, and from a financial standpoint.
Rutherford Hoping for Roster Balance
Coach Mike Sullivan's lineup was very top-heavy last season, and Rutherford has made it his goal to create balance throughout the lineup. Before the NHL draft, Trib Live's Jonathan Bombulie wrote about the importance of balance to 'GMJR'.
He already has plenty of strong links in his roster chain, starting with two generational stars occupying the top two center spots on the depth chart. The goal is to eliminate the weak links.
The aforementioned young players will be those links, and it's up to them how strong, or weak, they are.
Currently, the team's four lines will look something like this.
| | | |
| --- | --- | --- |
| GUENTZEL | CROSBY | HORNQVIST |
| ASTON-REESE | MALKIN | KESSEL |
| HAGELIN | BRASSARD | SPRONG |
| SIMON / CULLEN | SHEAHAN | RUST |
During the playoffs, Simon spent a lot of time playing with Crosby, but given the current makeup, he could play on any of the four lines. The same goes for Sprong and Aston-Reese, but without being able to read Sullivan's mind, let's assume that they will start the season as charted above.
If you include Jake Guentzel (23) in this scenario, each line will include a player 24 years old or younger. Sprong, Aston-Reese, and Simon have a combined experience of 80 regular-season games played with limited playoff time logged. As we have seen with LeBron James, championships are won by teams, not individuals. Crosby, Malkin, and Kessel cannot score all of the goals, so the youngsters better mature pretty quickly.
If Guentzel can reach the same level during the regular season that he finds in the playoffs, a pairing with Crosby could be one of the best in the league.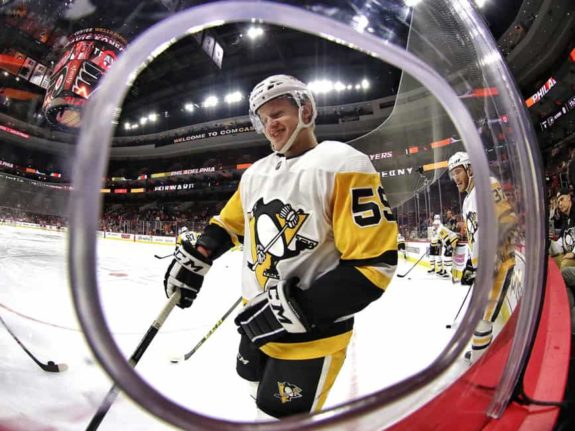 Sprong is likely the biggest wildcard of the bunch as a lot of people have started writing him off at 20-years old. Luckily he has Rutherford in his corner promising that he will have a larger role on the club this season. Of course, he has to earn it. I doubt that we would see a frequent line of Sprong, Crosby, and Guentzel, making it more likely to see him being centered by Malkin or Derick Brassard.
Aston-Reese lost an opportunity for extensive playoff experience when Tom Wilson broke his jaw with a dirty hit during the conference semifinals. But the former Northeastern University star shows lots of promise, and I like his chances to be a regular alongside Malkin.
Fans were very concerned when the Penguins brought back Matt "Dad" Cullen for fourth line duties. It is more likely that Cullen will be the 13th forward and Simon will be the regular alongside Riley Sheahan.
Balancing the Checkbook With Inexpensive Youth
The hallmark of a successful team is the mixture of star players – who we know will command large paychecks – and young players with decent potential and production. Also, much smaller paychecks.
When the Chicago Blackhawks were winning like the Penguins were supposed to under Ray Shero, their ability to compliment Jonathan Toews and Patrick Kane with younger, cheaper players like Brandon Saad is what allowed them to win multiple championships. More recently, the Penguins found success with their elite players being complimented by Bryan Rust, Conor Sheary, and Guentzel.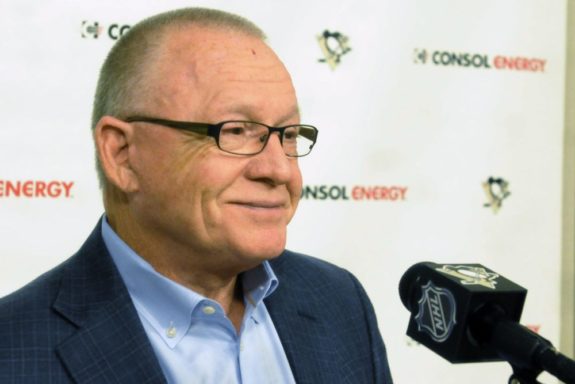 Now that Sheary and his $3-million contract are gone, and Rust is more expensive than he once was, it becomes that much more necessary for the current crop of cheap talent to produce at a moderately high level. With the amount of salary tied up in the big names, Pittsburgh cannot afford to bring in veteran players should the youngsters falter.
At less than a million for each contract, the Penguins need Guentzel, Sprong, Aston-Reese, and Simon to have a good price-to-production ratio.
Real Reason the Penguins Didn't Land Duclair
When the Columbus Blue Jackets signed 22-year-old Anthony Duclair, Penguins fans immediately compared the league-minimum contract that he received to the one given to Cullen. Apparently, Rutherford thought that the bottom-six needed more veteran leadership, and Cullen certainly is that. But I don't believe that it was the 41-year-old that prevented the signing of Duclair. Rather, the organization's overvaluing of Simon stopped a potentially valuable player from coming on board.
There were rumors that Simon would not accept a two-way contract and pondered going overseas as an alternative. Night after night he was placed on a line with Crosby, which continues to dumbfound me. I'm not saying that he is a bad player, and he did shows flashes of positive play, but he is not the type you would see playing on a top line for a championship team.
There are only so many roster spots available, and the bottom-six seems set. That is where Duclair would have landed, but it appears that the Penguins saw his role already being filled by Simon. In the long run, I believe that Duclair will be the better player, but time will tell.
In an interview with Czech outlet @iDNEScz, Dominik Simon said Sidney Crosby extended an offer to train with him in Halifax this summer. Also, he turned down a much higher offer from a Russian team than the two-year/$750K deal he signed with the Penguins: https://t.co/RLRsY12NhN

— Seth Rorabaugh (@SethRorabaugh) July 4, 2018
The Penguins don't need Sprong, Aston-Reese, and Simon to be stars right away; that's why the other guys get the big bucks. But if they can find a similar production to Sheary, Rust, and Tom Kuhnhackl in their early years, they will be fine. Even though I am a bit skeptical of Simon, I believe that the trio will be fine, and Guentzel will be a star.
Missing out on Duclair is a bummer, but that's life in the NHL.
Until next time.
Greg is a Pittsburgh Penguins writer for 'The Hockey Writers'.
He is a Pittsburgh area native who has written for multiple Penguins news and opinion sites. In addition to hockey writing, he is also an experienced YouTube creator.
Greg started with THW in 2015 as a Blue Jackets writer, and spent time as a Fantasy Hockey analyst.