So the Pittsburgh Penguins have signed Jack Johnson.
Take a deep breath. It'll be OK.
The mood in the city has taken a shift from doom and gloom to, "no worries, Sergei Gonchar will fix him." I would advise somewhere in the middle with a wait-and-see approach. There are definite reasons for both concern and optimism, but we really won't know the true results of the acquisition until sometime in November.
Jack Johnson Is an Advanced Stats Nightmare
Way back in August 2015, I had just come aboard THW and was covering the Columbus Blue Jackets. I wrote an article titled "The Blue Jackets Should Trade Jack Johnson". So to all those skeptical of this acquisition, I know how you feel, and unfortunately, many of the points that I made in that article have actually gotten worse.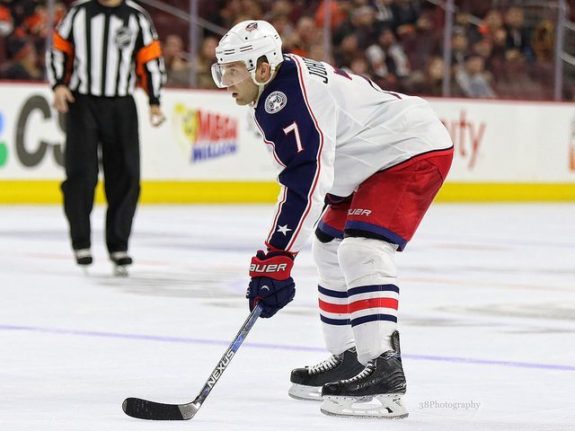 Johnson finished the 2017-18 NHL season with a Corsi-for percentage (CF%) of 47.27 per the Corsica Hockey website. To put that into perspective, Matt Hunwick who had the worst numbers on the Penguins, posted a 48.5-percent CF%. Chad Ruhwedel, who is moving on from Pittsburgh, recorded a 52.93-percent mark. No, I do not base my entire evaluation of a player based on this statistic, but possession numbers are a very good indicator of a player's value, and this was not an anomaly season for Johnson.
In 2016-17, his number was 49.46 percent, and in 2015-16 it was 46.35 percent. To simplify the number, it means when he was on the ice, the opposition controlled gameplay more than the Blue Jackets did. Last season, no other player on the Columbus roster had a worse goals-for percentage than Johnson with a mark 45.54 percent. It truly was a dreadful year for the defender.
I know that the premise of this article is to temper reactions a bit, but I included the above statistics to show that the negative reaction among the fan base is not unfounded. However, all is not lost, as there are reasons to be optimistic.
Sergei Gonchar and Jacques Martin to the Rescue
I have nothing but respect for the Blue Jackets organization, and their fans. But the Penguins have several advantages that Columbus does not.
Pittsburgh has a core group that has won multiple championships bringing with them a culture of winning and high expectations. They also have Mike Sullivan, Jacques Martin, and Sergei Gonchar to guide the wayward defenseman.
Why is it that everyone gives Sergei Gonchar seemingly sole credit for "fixing" defenseman? People seem to forget about Jacques Martin. Not discrediting Gonchar, moreso propping up a guy who is a renown defensive mastermind. Martin doesn't get enough credit, in my opinion.

— Jesse Marshall (@jmarshfof) June 30, 2018
Another positive is the depth on the Penguins roster. Kris Letang, Brian Dumoulin, and Justin Schultz are all capable of being number-one defenders on other teams. Olli Maatta and Jamie Oleksiak will both be in front of Johnson on the depth chart, so there is no pressure to be the top dog. For much of his career in Columbus, Johnson was expected to be the number-one defender and was paid as such. This will not be the case in Pittsburgh, and the 31-year old can be himself, and play without undue stress.
Hopefully for the Penguins, under these conditions, the talent that prompted Carolina to select him two picks after Sidney Crosby in the 2005 NHL Entry Draft will show and he can thrive. The Penguins don't need him to score a bunch of goals, they just need him to be better than Hunwick. Similar production to that of Ian Cole or Ben Lovejoy would suffice, and if his pedigree finally shows, the ceiling could be much higher.
Playing Devil's Advocate
Yes, the Penguins have Gonchar and a winning history, but this does not guarantee a clean slate for Johnson.
People are pointing to the turnaround that the team saw in Schultz after being acquired from Edmonton. It sounds nice, but there are some flaws in this theory. At 31, Johnson is five years older than Schultz when he was acquired. At 26, Schultz was young enough to break bad habits and be open to learning. I'm not saying that Crosby's high school BFF won't be able to learn, but he is definitely in the back-nine of his career, so exactly how much change can we expect?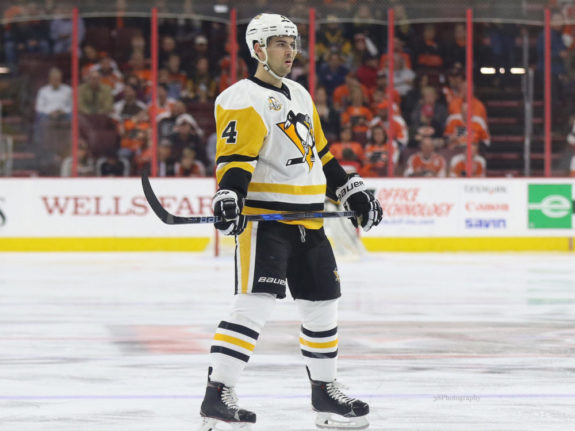 Trib Live's Mark Madden believes that Johnson will be fine after some work with Gonchar. I feel comfortable putting trust in the future Hall-of-Fame defender.
Assistant coach Sergei Gonchar should help Johnson. He's certainly aided retreads like Justin Schultz and Jamie Oleksiak with helpful one-on-one instruction.

Is Johnson next in that lineage?

The Penguins have specialized in blue-line reclamation projects. Gonchar is what Pirates' pitching coach Ray Searage is supposed to be.
Still playing a wait-and-see game, the more I look at it the more I think this is a high-risk, high-reward situation. Johnson has been through a lot in his career, and his personal life, so I wish him well. Fingers crossed for success for his sake, and the Penguins defensive corps, as well as the fans blood pressure who will be watching him. At this point, general manager Jim Rutherford has earned our trust. Hopefully, Johnson rewards him with a good year, or five.
Until next time.
Greg is a Pittsburgh Penguins writer for 'The Hockey Writers'.
He is a Pittsburgh area native who has written for multiple Penguins news and opinion sites. In addition to hockey writing, he is also an experienced YouTube creator.
Greg started with THW in 2015 as a Blue Jackets writer, and spent time as a Fantasy Hockey analyst.