With news surfacing that the Toronto Maple Leafs signed free agent star forward John Tavares on July 1, their pending free agents made their moves in taking the next steps in their NHL careers.
Tyler Bozak left. Leo Komarov left. Even Roman Polak signed elsewhere. But one of the most notable departures from the Maple Leafs was that of forward James van Riemsdyk – especially after the season he had offensively.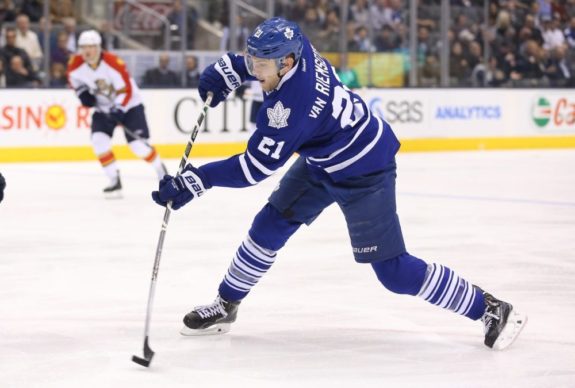 So while some will celebrate the addition of Tavares, in this column, we wave farewell to van Riemsdyk who spent the last six seasons with the Maple Leafs.
Becoming a Maple Leaf
It was the summer of 2012 when the Maple Leafs acquired a young van Riemsdyk from the Philadelphia Flyers in exchange for defenceman Luke Schenn. While Schenn joined his younger brother in Philadelphia, the Maple Leafs had acquired a big, young forward who would eventually develop his net-front presence.
Related: Flyers Sign James van Riemsdyk
In his first stint with the Flyers, van Riemsdyk reached 40 points in his sophomore season in 2010-11, scoring 20 goals and developing himself into one of the premier modern day power forwards.
While he only tallied 24 points in 43 games in his third and final season with the Flyers, the Maple Leafs saw far more in what they had acquired in the young American forward. After scoring 32 points in his first season with the Leafs, he nearly doubled that with 61 in 2013-14 and would go on to have a career year in points in 2016-17 when he notched 62 points in 82 games for the blue in white.
He followed that up with his second 30-goal season and a career-best 36-goal performance in 2017-18 which landed him his latest contract with the Flyers for his second stint with the team.
James van Riemsdyk: A Number's Game
In his career, he averages about 0.65 points per game – collecting 393 in 609 regular season contests. However, his Maple Leafs' numbers were always slightly higher. In 413 games, he collected 294 points and a 0.71 point-per-game average.
He finished his Leafs career with 154 goals, good enough for 26th on the franchise list and just four behind Bill Derlago. And he finished with 294 regular season points – a total that landed him 38th on the franchises all-time list and just three shy of tying Bryan McCabe and Tom Fergus.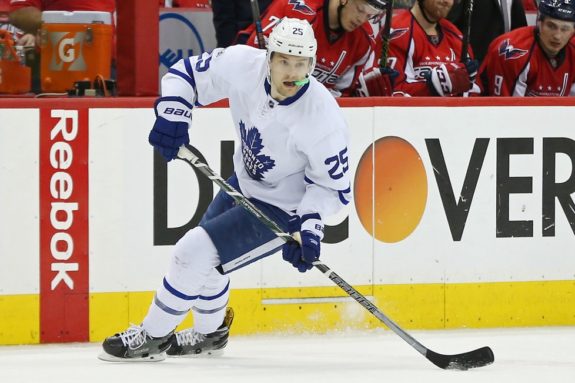 While he certainly didn't have the success he likely hoped for in Toronto, he was a part of three playoff series with the Maple Leafs and was named as one of the top 100 Maple Leafs in franchise history.
That said, the usually gentle giant that is van Riemsdyk decided that it was time to leave Toronto and the Maple Leafs' organization and landed right back where he started – with the Flyers.
Welcome Back to Philadelphia
After the year he had with the Maple Leafs – raking in 36 goals and setting a new career-high – the 29-year-old returned to where it all started for him by signing a five-year contract with the Flyers.
"Looking into it, the team that they have there, the pieces that they have in place and the pieces that seem to be coming, are making the organization very exciting," he said to the NHL Network. "It's going to be a good opportunity to go there and I think I'll have a chance to win, and obviously being from the general area it's nice to be able to share some of this stuff with my family and have that comfort already with the organization having been there before."
The contract runs through the 2022-23 season – at which point van Reimsdyk will be 33 years old – and carries a $7-million cap hit and annual average value (AAV). It's a raise of $2.75 million per season for the big winger.
While he was a force for the Maple Leafs last season, the Flyers will surely enjoy his puck control deep in the offensive zone and with that, the Maple Leafs and Leafs Nation bid James van Riemsdyk a heartfelt farewell.