After months of debate among fans, the Buffalo Sabres have finally revealed their plan in net. It was initially reported that former St. Louis Blues backup Carter Hutton had spent all of Wednesday afternoon in Buffalo visiting the team's facilities.
Today, the Sabres made the deal official, announcing that they had inked Hutton to a three-year, $8.25-million free-agent contract, an excellent value for a player who reportedly had multiple suitors.
Carter Hutton 3 year deal to come in at $2.75 AAV with #Sabres. Left more money the table elsewhere

— Andy Strickland (@andystrickland) July 1, 2018
The 32-year-old was widely considered the top unrestricted goaltender at the start of free agency after posting career-high numbers last season. As the Sabres transition away from perhaps the most fiercely debated (and criticized) netminder in the league in Robin Lehner, all eyes will be on Hutton as the team's presumed starter in 2018-19.
It remains to be seen whether or not he will continue to be as effective as he was last season but for now, fans should celebrate the considerable upgrade he represents in the short-term.
Three Years of Lehner
To say that arguments pertaining to Lehner's long-term viability as an NHL starter were truculent would be an understatement. Since the moment he was acquired via trade following the 2014-15 season (a deal that may have contributed to his eventual demise in Western New York), his play was held under a microscope.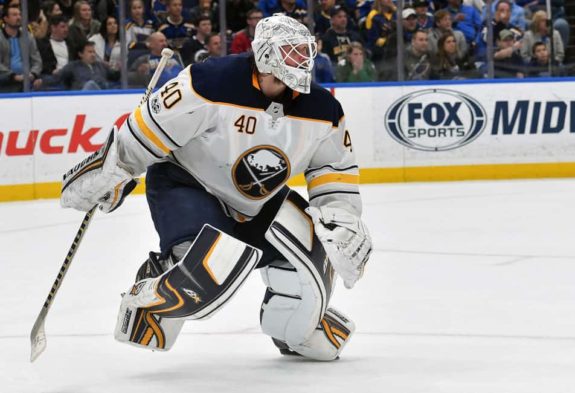 Former general manager, Tim Murray was not a master of asset management. Coming from the Ottawa Senators organization, he coveted Lehner (a player he personally scouted for Ottawa before they drafted him in 2009) in a big way. He made that clear when he parted with one of the Sabres' three first-round picks in the 2015 draft. Quite a price to pay for a player who was firmly entrenched as the Senators' third goalie.
With said price tag came sky-high expectations. It wasn't Lehner's fault that Murray overpaid, but he was indeed stuck with his share of the pressure. As time went on, it became more and more evident that it was too much for the hot-headed 26-year-old to handle.
After poor performances, he was quick to blame everyone but himself in postgame interviews and expressed an attitude that represented the ugly manifestation of a toxic culture in the Sabres locker room. By the end of the 2017-18 season, his third in Buffalo, it was no secret that the team would move on.
On June 22, the team announced that it would not qualify Lehner as a restricted free agent, allowing him to hit the unrestricted market.
Related: Botterill Doesn't Have Eyes for Lehner
Hutton's 2017-18 Campaign
Turning our attention to the Sabres newest acquisition in net, Hutton's career numbers have always been fairly good, but last season, he found a new level to his game. Leading up to the 2017-18 campaign, he was the poster child for consistency as a backup during his time with both the Blues and the Nashville Predators. After five straight seasons of good-to-great performances in relief duty, he finally got his chance to show that he could be a starter in the NHL.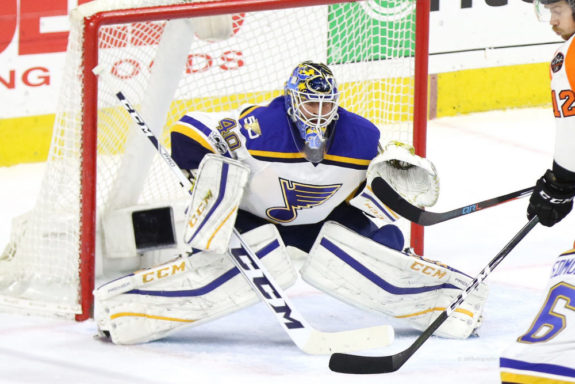 As Blues franchise goalie Jake Allen struggled last season, a healthy portion of the St. Louis fan base clamored for Hutton to get more starts. In January, they got their wish as he appeared in nine of the team's 11 contests that month, emerging victorious in seven of them. In 32 games (which included 26 starts), he led the league with a .931 save-percentage, surpassing the personal best of .918 he set in 2015-16.
If Hutton were a bit younger and the Blues didn't already have so much term and salary invested in Allen, perhaps his performance would have allowed him to stay in St. Louis. As a player who has spent years serving as the understudy for high-profile players like Allen and Pekka Rinne, his time has come to prove that last season wasn't just a flash in the pan.
He'll get that opportunity in Buffalo for a team that desperately needs stability between the pipes. The starting job won't be his only responsibility in Western New York.
Botterill's Long-Term Vision in Net
The acquisition of Hutton shows that Sabres general manager Jason Botterill has a defined plan for the team's goaltending situation, both now and moving forward. Leading up to the offseason, everyone knew that the franchise needed to pursue another netminder to play alongside Linus Ullmark, but it was unclear what type of player they would be looking for.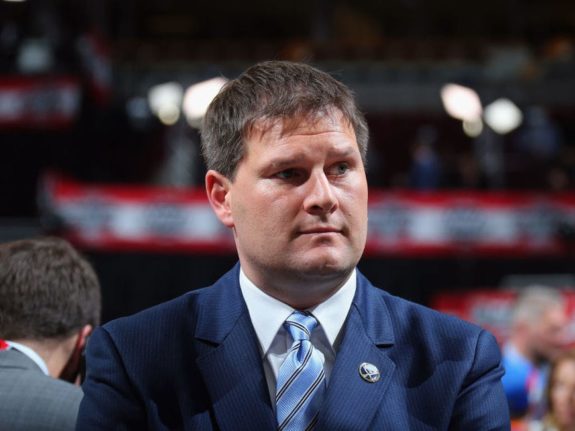 Despite Ullmark posting excellent numbers for the past two seasons as the Rochester Amerks' starting goalie, fans were still skeptical about his viability as a long-term starter at the NHL level. Botterill cleared up the conjecture last month when he declared Ullmark as the backup for 2017-18, a decision that followed suit with his notoriously patient approach to player development.
"We think Linus is ready for the next challenge here," he said. "But to hand him the number one role, I think that's unfair to any young goalie."
With that said, how will the Sabres goaltending responsibilities be split for both next season and moving forward? Ideally, Hutton would assume starting responsibilities in 50-55 games next year, allowing Ullmark to ease into a permanent role at the NHL level. Then, depending on how well the 24-year-old performs, his workload would increase in 2019-20.
What Botterill has essentially done here is purchase an insurance policy. He still believes that Ullmark has a good chance to become an effective starter in the NHL, but he doesn't want to put too much on him in his first full year. In Hutton, the organization now has a short-term deal on a goaltender who has shown that he is capable of performing at a high level.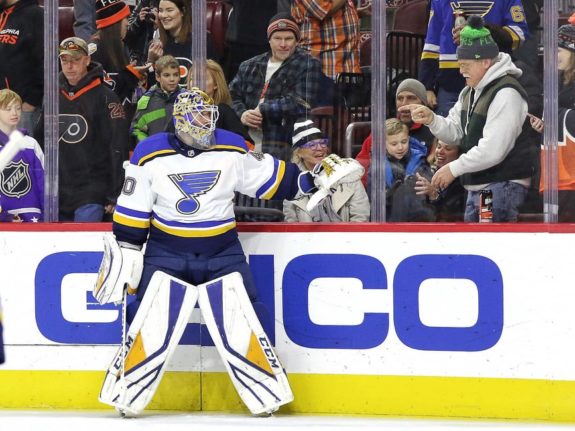 On top of being a reliable bridge-starter, Hutton is also an excellent mentor for Ullmark. During his time in St. Louis, he developed a reputation as an outstanding teammate and positive presence in the Blues' locker room. Not only will he set a good example for his young counterpart, but he becomes the latest carefully curated puzzle piece in Botterill's vision for a cultural overhaul in Buffalo.