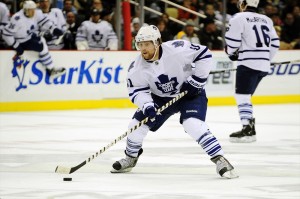 Name: Phil Kessel
Position: Right wing
DOB: October 2, 1987
Birthplace: Madison, Wisconsin, USA
Drafted: Round 1, pick 5
Height: 6'0″
Weight: 202 
Phil Kessel's career really took a huge step forward when he joined the United States National Under-18 Team. He was just as much of a goal scorer and point producer as he is now when he played for the U-18 team. Over two seasons, Kessel, who was 16 when he began playing for the team, scored 32 goals and 58 points over two seasons (44 games).
From there, it was off to the University of Minnesota, where he played just 39 games for the Golden Gophers. He continued to tear it up during his time in collegiate hockey as well, with 18 goals and 51 points.
The summer after the 2005-2006 season, Kessel was selected in the first round, fifth overall by the Boston Bruins. You may remember that draft class, as it is the same one in which Erik Johnson went first overall to the St. Louis Blues and Jordan Staal went second overall to the Pittsburgh Penguins.
Kessel made the Bruins roster out of training camp that year, but didn't have the most enjoyable start to his NHL career.
He was hospitalized on December 11, 2006 after it was determined that he had been suffering from a form of testicular cancer. Just five days later, Kessel was announced cancer-free and he would be back on the ice in no time.
"I couldn't believe it," Kessel said after it was declared that he was free of cancer. "It was tough. I had a hard time with it."
Later in the season, Kessel was assigned to the Providence Bruins, Boston's AHL affiliate, on a conditioning stint. Kessel played in two games for Providence; he scored one goal.
Kessel was named to the to the 2007 NHL YoungStars Game in Dallas, Texas; he scored a hat-trick.
He rounded out the season with the Bruins and wound up with 11 goals and 29 points in 70 games.
Kessel's development continued on through the next two seasons, as he managed 37 points in 2007-2008 and 60 points (including 36 goals) in 2008-2009. The '08-09 season was a massive stepping stone to a huge payday for Kessel, as he was traded to the Toronto Maple Leafs just prior to the 2009-2010 season.
The Maple Leafs immediately signed Kessel to a five-year, $27 million contract. This was an extremely risky move for Leafs general manager Brian Burke, as he gave up two first round draft picks and a second round draft pick as well as a large chunk of cap space for a player who came with no guarantee of being a superstar.
Kessel continued to succeed in Toronto, even without the top-level talent that he was allowed to skate with in Boston. He scored 62 goals over his first two seasons with the Maple Leafs and never scored less than 30 in one season. Still, fans were looking for more out of him.
The 2011-2012 season appears to be a breakout season for the All-Star winger. Through the first 25 games, Kessel had scored 16 goals and 32 points, good enough for the league lead in both categories.
It is outstanding how Phil Kessel has been able to overcome a major hurdle in life to become one of the NHL's leading scorers. Not only is he a tremendous hockey player, but in this day and age, when it is becoming harder to find good cause in using athletes as role models, Phil shows kids what perseverance and professionalism are all about.