TORONTO — Auston Matthews had two goals and an assist in his return to the lineup following a month on the sidelines with a shoulder injury as the Toronto Maple Leafs defeated the San Jose Sharks 5-3 for their third straight victory Wednesday.
John Tavares, with two, Patrick Marleau also scored for Toronto (18-8-0), while Mitch Marner added three assists. Frederik Andersen made 37 saves to improve to 8-2-0 over his last 10 starts. Andreas Johnsson had two assists.
Tomas Hertl, Joe Pavelski and Melker Karlsson replied for San Jose (12-9-5), which dropped to 1-2-2 over its last five. Logan Couture chipped in with two assists and Aaron Dell made 24 stops as No. 1 goalie Martin Jones got the night off following the Sharks' 3-2 overtime loss to the Buffalo Sabres on Tuesday.
Matthews sat out 14 games with a sore left shoulder after taking a clean hit from Winnipeg defenceman Jacob Trouba early in the second period of the Leafs' 3-2 victory over the Jets on Oct. 27.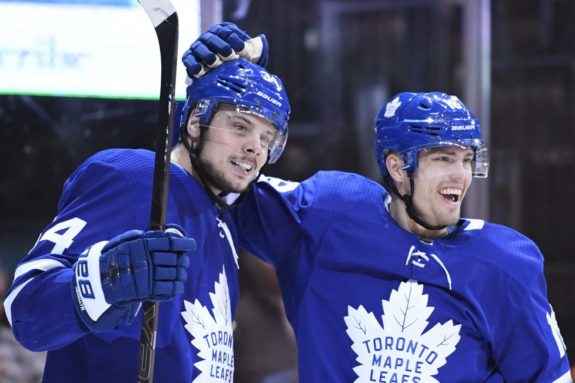 The 21-year-old star centre stormed out of the gate with 10 goals and six assists through seven games this season, but was held off the scoresheet in three consecutive outings before getting hurt.
The Calder Trophy winner was rookie of the year in 2016-17, Matthews was sidelined a total of 20 games last season thanks to three separate injuries, including the same problem with his right shoulder.
Matthews made an almost immediate impact Wednesday, taking a pass from Marner and finding Tavares at the edge of the crease on a power play for his 16th goal of the season at 3:38.
San Jose got that one back at 10:40 when Hertl banged the puck past Andersen after Leafs defenceman Travis Dermott could only partially block Kevin Labanc's pass in front on a Sharks' man advantage.
But the Leafs restored their lead just 39 seconds later on another power play when Matthews ripped his 11th upstairs shortside on a helpless Dell.
Matthews — who said Tuesday he's been "bored to death" the last month as he recuperated — has now scored in all four career games where he's returned from an injury.
Erik Karlsson nearly tied it on a point shot for San Jose that hit the shaft of Andersen's stick later in the period, and the Toronto netminder had to be sharp on another man advantage with stops on Pavelski and Evander Kane.
Nazem Kadri hit the post on a breakaway for Toronto right after his penalty expired, but Tavares made it 3-1 with 16.3 seconds left in the first when he finished off another brilliant pass from Marner, this time on an odd-man rush for his 17th.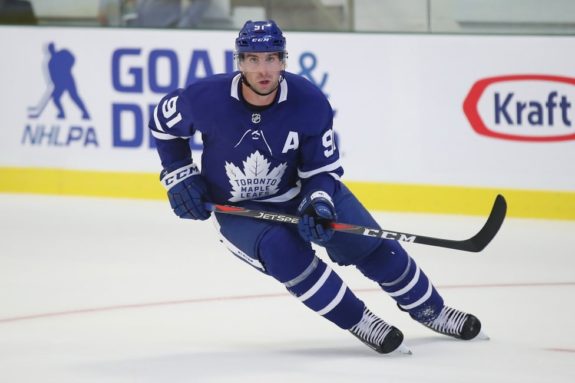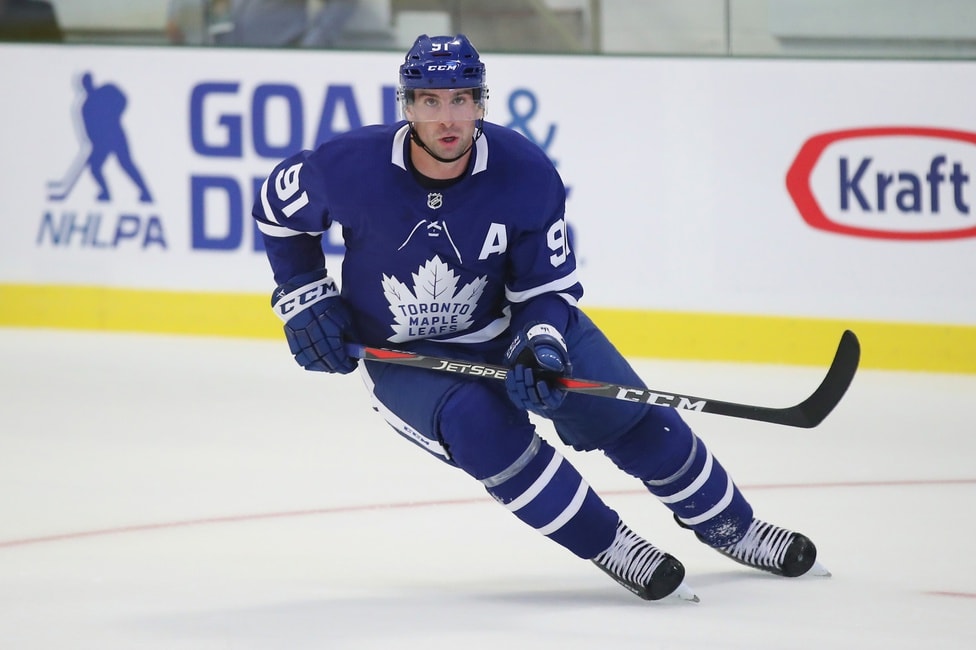 Toronto's power play connected a third time in three successive chances, this time with the No. 2 unit, at 1:53 of the second when Marleau took a clever pass from Johnsson and fired upstairs on Dell for his sixth and Toronto's third goal with the man advantage against the league's top penalty killing unit.
The 39-year-old Marleau, who played 19 seasons with the Sharks, had never previously scored against his former team in three previous games as a member of the Leafs, but now has at least one goal against all 31 NHL franchises.
Pavelski got San Jose back within two when he scored his eighth on yet another power play, rifling a shot from the bottom of the left faceoff circle that Andersen could only get a piece of with the inside of his pad at 4:18.
The Sharks found their legs as the period went on, leading 26-17 on the shot clock through 40 minutes, but still trailed 4-2 heading to the third.
Marner nearly made it 5-2 on a breakaway three minutes into the final period, but Dell did just enough to thwart his effort through the five-hole.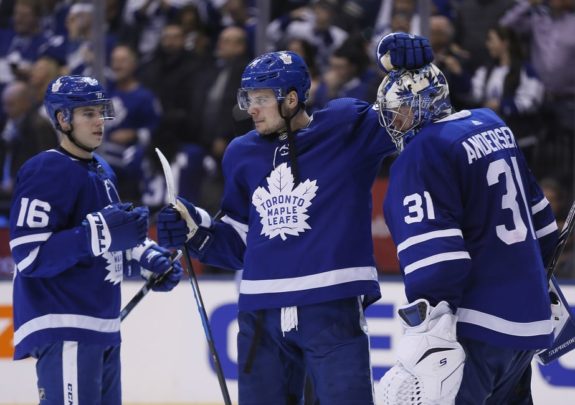 Dermott then recovered to deny Kane's breakaway chance at the other.
Matthews put the game out of reach for good with his 12th at 11:59 when tipped Johnsson's shot past Dell's glove at 10:59 off a feed from Kasperi Kapanen.
Melker Karlsson got one back for San Jose, his second, with 1:58 left in regulation, but the Sharks wouldn't get any closer with Dell on the bench for an extra attacker.
Notes: Toronto was 9-5-0 without Matthews and is 10-3-0 overall in its last 13 games. … Erik Karlsson, who was traded from Ottawa to San Jose in a eight-player blockbuster deal in September, will play his first game back in the nation's capital on Saturday afternoon. The Sharks then visit Montreal on Sunday. … The Leafs are on the road for their next two, beginning Saturday in Minnesota before visiting Buffalo on Tuesday.
___
Follow @JClipperton_CP on Twitter
Joshua Clipperton, The Canadian Press